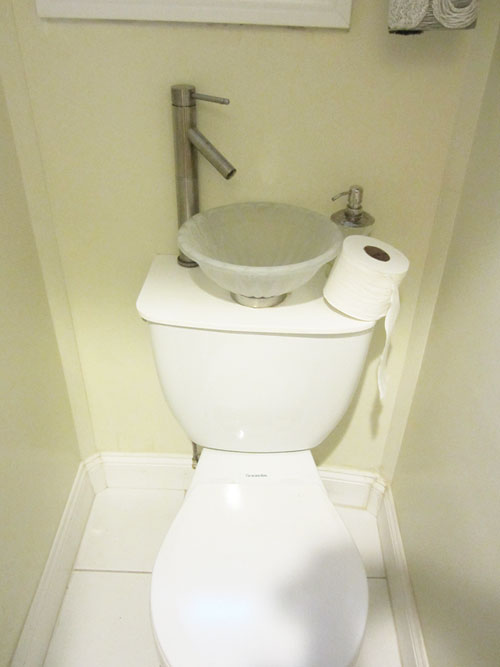 This really works, cold water only. The sink drains into the tank and then you flush. Just when I think I've seen it all after 30 years in the business.
Steve Hier
Miller-Hier Home Inspection
Chicago, Ill.
Ease of access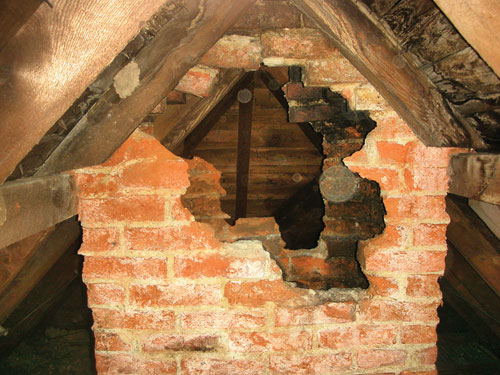 This is an active chimney for an oil-fired boiler. It does make it easier to inspect the rear of the attic.
Kevin Coady
Coady Inspection Service, Inc.
Flourtown, Pa.
Dangerous deck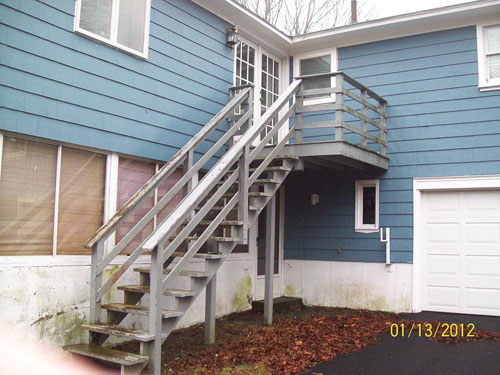 Introducing the death-defying, triple-flipping, balancing teeter-totter deck.
David Grudzinski
Advantage Home Inspections
Cranston, R.I.
Flash-in-the-pan renovation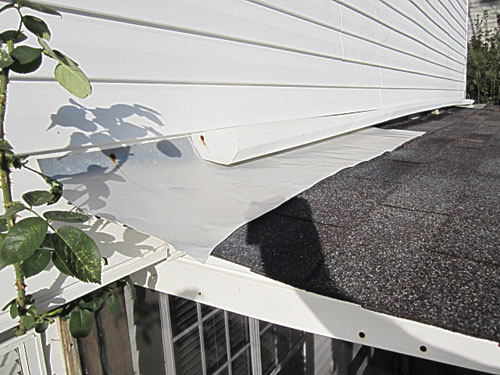 How about this roof-to-wall flashing detail? This weekend warrior must have lost the instruction manual!
Kirk Bingenheimer
B-Sure Inspections, LLC
Mt. Pleasant, S.C.
But snakes, yes.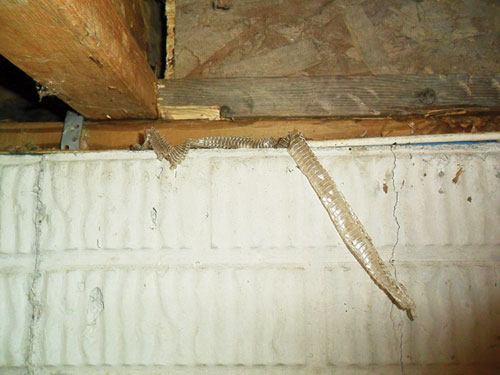 No, we don't have any mice in the house. Why do you ask?
Randy Via
C.L. Gleich & Associates, Inc.
Columbus, Ohio
The return of no return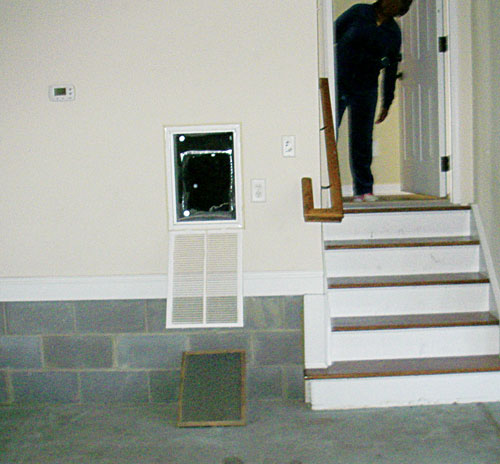 Hey, how about we install the HVAC return in the garage? So much for a fire separation and we'll just hope the owners don't leave the car running after they close the garage door. Sometimes, you just can't help but laugh at dumb.
Paul King
Inspector Paul, Inc
Fort Mill, S.C.
The concept did not filter through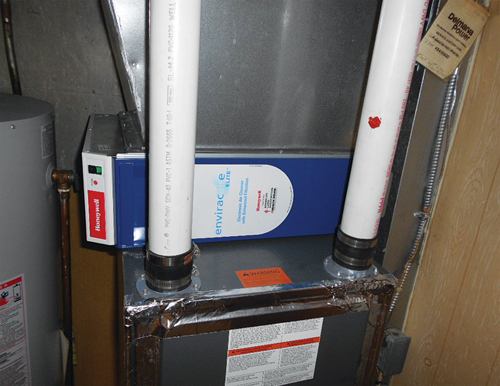 The installer put the intake and exhaust for the furnace in front of the electronic air filter access. The filter, therefore, could not be changed/cleaned. Clever, huh?
Clayton Ridings
Preferred Inspections
Arden, Del.
Zap!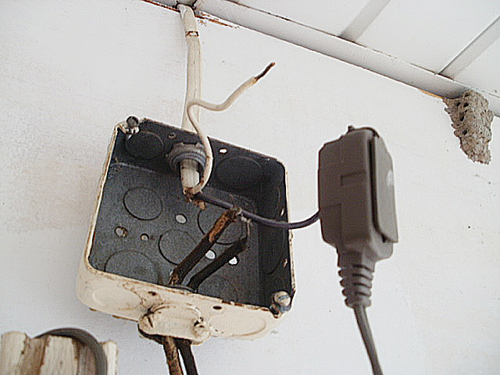 "Handyman" wiring! And yes, those leads were hot.
Greg H. Mathias
Catmando Real Estate Services, Inc.
Lewisburg, PA
Bzzzzz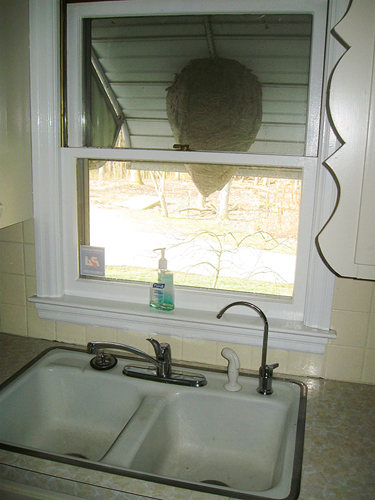 Window treatment stays with the house.
Nate Stitzlein
Crow Home Inspection, LLC
Baltimore, OH
Looks fine from below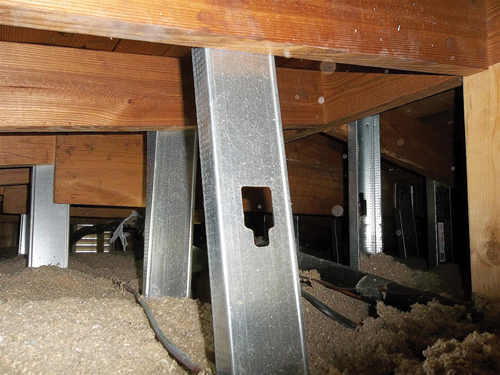 So, you want to open up the living room and expand a bedroom? Just remove 30+ feet of load bearing walls and hang the rafters using lightweight metal studs ... secured with drywall screws!
Geoff Clark
Thompson and Bender Inspections
St. Petersburg, Fla.
Belted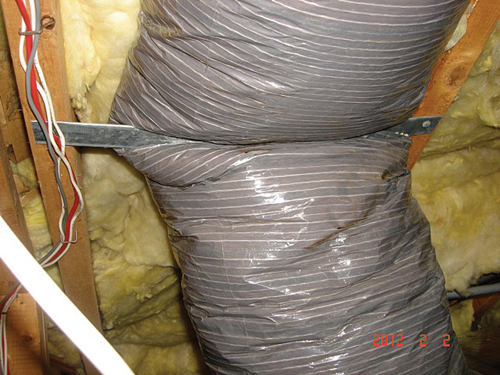 The complaint was little heat in the rooms below. I wonder why.
Jim Rooney
Freestate Home Inspections
Annapolis, MD
Tree house or house tree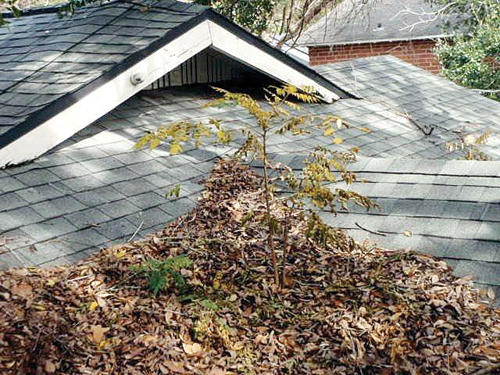 This tree was growing from the debris on the roof. You can see another one on the other side of the gable. The roots extended 6 feet down the valley.
Lou Prinzi
First Choice Building Inspections, Inc.
Jacksonville, Fla.