To the editor,

A front-cover picture of growing marijuana plants and the headline 'Marijuana Grow Operations' appears to be an instruction manual for California entrepreneurs. I didn't like seeing it in my mailbox, as I'm sure the postman didn't take time to read it, only seeing the pictures and thinking twice about our relationship. Thanks.

It is without logical thought to suggest that if you're sure it was a grow-op … you may advise customers that grow-ops result in health, safety, performance and durability issues. We can't advise on subjects we are not professionals in, period. Marijuana is not a health hazard like asbestos and does not result in the home becoming unsafe or unhealthy.

There are many homes with waterfalls, solar electrical, green roofs, leaky toilets, sinks, tubs, water lines that your photos depict as the DNA of the grow-op. All your clues would prove nothing in any court or any other arbitration or negotiation.
You're creating incredible liability. Actions by the tenant, homeowner, trustees, banks, realtors, loan companies, etc. could be outrageous and last for years, and cost tens of thousands of dollars. There is a huge problem bringing this issue into our industry; there is just no reason to do so. All the physical, mechanical and other issues relating to grow ops are already part of our inspections; report it as you find it.

Do not go where you don't belong (mold, radon, grow-op, cat hoarder, sheep shelter, etc.) unless you are fully insured and certified in that field. Lets stick with the standards.

Mark Whelan
ASHI Certified Inspector
HOMECHECK
Ojai, Calif.


More from Mr. Whelan

To the editor,

I take it from your letter that ... 'the buck stops here' means you are in control of the educational and other writings that appear in the Reporter. If so, I'm amazed that the entire membership of ASHI may be under your tutelage. Generally good and excellent educational writings appear in the Reporter, but I have had some problems with authors professing incorrect assumptions or claims in a few issues as you may remember.

Nothing personal, but how can you be qualified to edit an educational journal that you have no credentials for?

How can one make decisions, with no real work experience in home inspection or credentialed understanding with the Standards of Practice or Code of Ethics?

The choice of hundreds of marijuana plants covering a trade journal shocked me, as I am sure it did some others. Was the decision to print this article and the cover done as a result of your approval?

And if you think a brief statement in the Reporter is worthy of one old inspector's views, I would approve it.

Mark Whelan
ASHI Certified Inspector
HOMECHECK
Ojai, Calif.

See Editor's Note.


In Memoriam

Former member James H. Dunsing, 78, of Mount Prospect, Ill., passed away Wednesday, Sept. 29, 2010. The father of current ACI James Dunsing, he had been an ASHI member from 1986 to 1997. He was a self-employed entrepreneur his entire life, and owned and operated a home inspection business that he started in 1980. He is survived by his wife of 51 years, Jean (nee Bailey) Dunsing; sons Jay Dunsing and James (Juli) Dunsing; grandchildren Jeremy, Danielle, Nadine, and Nathan, and Jenna, Mark and Matthew Dunsing.
Memorial contributions may be given to the Episcopal Relief and Development Fund, P.O. Box 7058, Merrifield, VA 22116.


More Traveling Ads

In response to last's month invitation to share photos of work vehicles.

To the editor,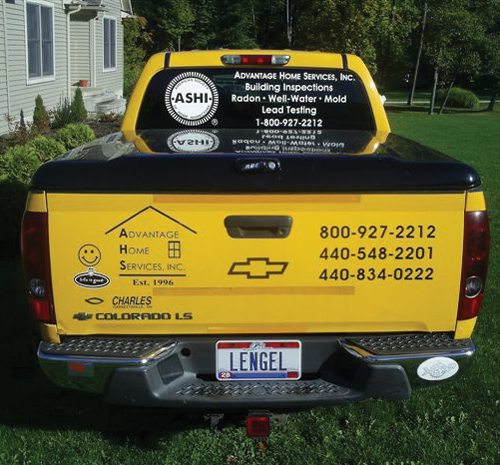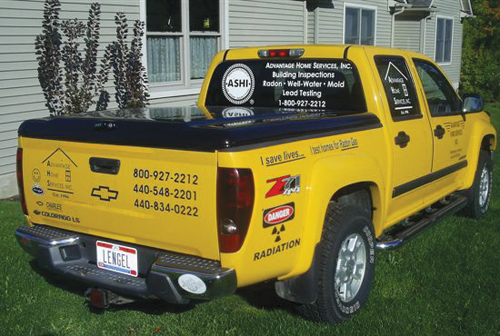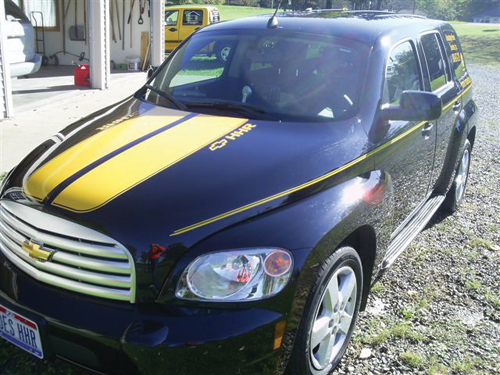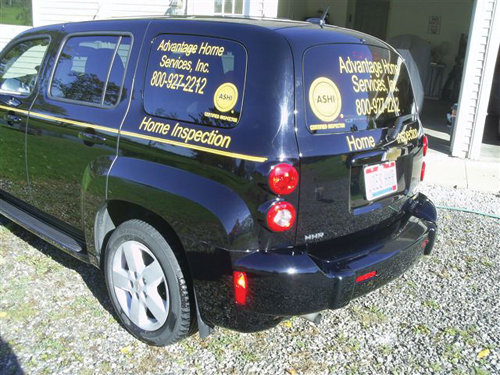 I've got'em beat. The '04 Chevy Colorado is my winter vehicle. Everybody knows me by my yellow truck!
The '09 Chevy HHR is my summer vehicle. The striping, company name and logos are all Scotch-brite reflective. Really lights it up at night.

The HHR is fun to drive and gets noticed a lot because of the black paint with the bright yellow stripes and lettering.
"Lil' HHR – ya' know you're lookin' fine – with your modified pin stripes and your 29.9 (mpg that is!)."

Joe Lengel
ASHI Certified Inspector
Advantage Home Services, Inc.
Garrettsville, Ohio



Bruce LaBell, Royal Inspection Services, Scottsdale, Ariz., submitted the photos below: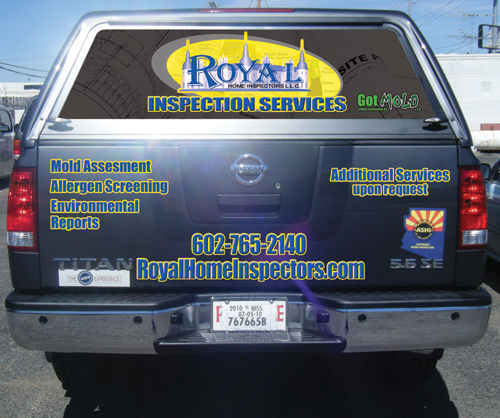 Larry Klock, Klock Engineering, LLC, Bridgeton, N.J., submitted the photo below: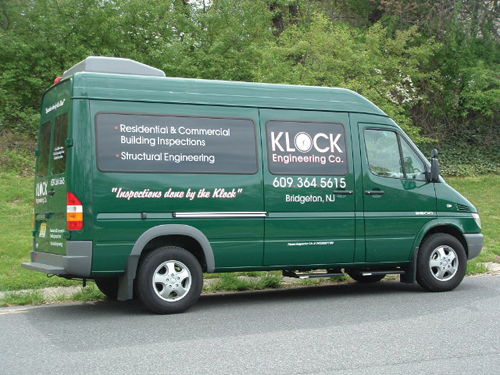 We would like to hear from you

Photos, letters, chapter news, Postcards from the Field, business articles, tips, success stories as well as technical articles are all welcomed. (Technical articles are reviewed by the ASHI Technical Review Committee.)

Make the Reporter a little better by contributing. E-mail Sandy Bourseau at sandyb@ashi.org.