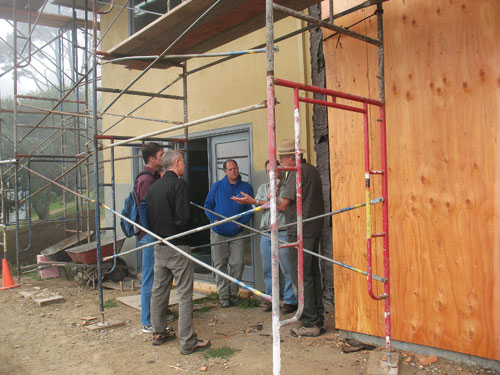 The Golden Gate Chapter described its most recent onsite programs as follows:
James Ziegler, PE, has invited us to tour a major seismic upgrade and rehab for an older Kensington home near the Hayward Fault. This is far beyond the normal scope and should be very interesting, especially for the engineers among us. The framing is still open so we can see all the goodies that normally would be inaccessible. Jaime will be there to answer questions. Among other things, the project includes:
• Foundation upgrades to address differential settlement, pier and grade beams, helical screws, spread footings and reinforced slabs.
• Dry rot repairs due to improper flashing.
• Seismic and wind loading upgrades, including use of a Simpson moment frame.
• Restoration of a historic tile roofing system.
• Electrical, mechanical and insulation upgrades.
• Radiant floor system (slab on grade and retrofit under floor and warm wall).
• Modification of roof framing.
• Storm water mitigation measures and treatment systems.
This type of program is offered eight to 10 times a year, allowing the chapter to make a little money while offering CEs and valuable information to members.
Submitted by Max Curtis.
Arizona ASHI Chapter Reaches Out to Realtors
Arizona ASHI reached out to the 641 real estate professionals at the Scottsdale Area Association of Realtors® 15th Annual Expo. The booth was manned by Dave Stanneart, public relations chair; Bruce LaBell, president; and Bill Vascassenno, ACI. The booth was located in a popular area where most of the attendees stopped by and were educated on the benefits of using ASHI Certified Home Inspectors.
Submitted by Bruce LaBell.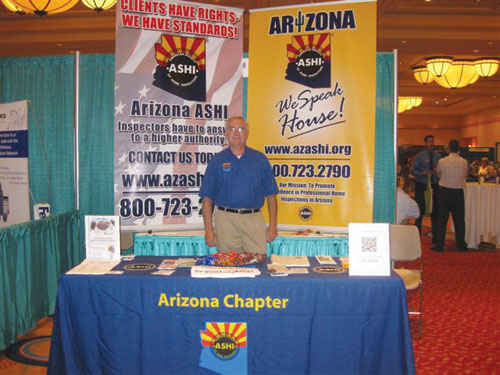 Photo above: Bill Vascassenno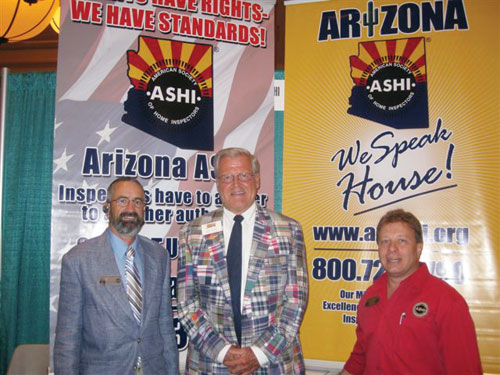 Photo above: Dave Stanneart, Robert W. Pierce Jr., SAAR chief executive officer and Bruce LaBell