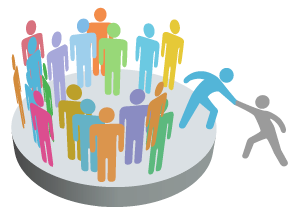 Did you know that, as part of the ASHI family, you have fellow inspectors in different states who can be great resources to you and your business?
ASHI home inspectors provide a great service to their local community. Just as people like firefighters, police officers and members of the armed forces provide vital services to communities across the country, home inspectors also use their expertise to provide an important service that canpotentially help save lives.
Chapters are the lifeline of ASHI, delivering all the benefits of membership in an inspector-friendly, nurturing environment. By attending chapter events, you will receive technical education, marketing and business-building tips and report-writing suggestions. Plus, as part of a chapter community, you'll have opportunities to network with others, build camaraderie and swap those "stories from the field."
If you're new to ASHI and want to learn from the best, join your local ASHI chapter and start meeting other inspectors. Many ASHI chapters have set up mentoring programs that are designed to match youwith a veteran member who will share his or her experiences with you.
Even if you are not new to ASHI, our chapters still need you. Why? Because ASHI's national leaders come directly from the chapters, and chapter leaders need you to share your expertise and interests so that they can keep the chapter's offerings relevant.
Think about it this way: Joining a chapter helps our organization grow. You joined ASHI because you saw the value in an organization that has built over 40 years of trust. Why not help build that same trust in a local chapter?
By joining an ASHI chapter, you'll be accessing the full value of your ASHI membership. Did you know that ASHI chapters carry out marketing and public relations events and activities that can help you build your business and educate the community about home inspectors and what you do?
ASHI just completed its first year of a program called the "Year of the Chapter." This membership drive resulted in 175 inspectors joining an ASHI chapter for the first time. We welcome these new chapter members and know that these new participants in ASHI's chapters will help strengthen the chapters they've joined, as well as boost the local services available to potential homebuyers.
Need another reason to join or become active in your chapter? You'll make friendships that last a lifetime. Let's face it: No inspector knows it all. But by being part of a chapter, you can become a better inspector because you'll have many opportunities to get involved and get to know other inspectors. As your relationships grow, you'll benefit from the collective wisdom of your chapter's community.
It's easy to join a chapter. Log on to the ASHI website at www.ashi.org, select the "Members Only" tab, find the chapter list and contact the person who's listed for the chapter you'd like to join. You can also click on the map and select the chapter closest to you. Chapter leaders will be happy to welcome you as you test out a meeting before joining.
If you have questions, please contact me (email russelld@ashi.org, 847-954-3185). ASHI's many chapter members are looking forward to meeting you!
By Russell K. Daniels, ASHI Assistant Executive Director and Director of Membership Services & Chapter Relations, russelld@ashi.org