The ASHI School offers a full range of high-quality educational programs to anyone affiliated with or interested in the home inspection field and related professions. Getting your home inspection training with The ASHI School is your best opportunity for succeeding in this growing profession. Pre-license home inspection courses are our specialty; however, we also offer several supplemental classes that can advance or enhance your home inspection career.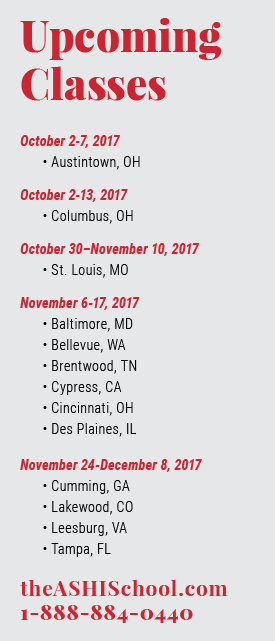 Our pre-license courses are designed to include a blend of pre-class study materials, live classroom lectures and hands-on home inspection training. The ASHI School offers more live field training than any other school for home inspection. Most successful home inspectors agree that hands-on training is the best way to learn the trade, so we put you in the field nearly every day! We want you to experience actual home inspections on real houses so that you can learn from knowledgeable, practicing home inspectors who will guide you through the process.
In addition, when you take our home inspection class, you will receive a first-year associate membership in the American Society of Home Inspectors. This membership allows you to join your local ASHI chapter and there are ASHI chapters located across the country. Being a member of your ASHI chapter will increase your ability to get "ride-along" field training with seasoned inspectors, provide you with numerous networking opportunities, and help you continue to increase and refine your knowledge about the home inspection business from the best resources… ASHI Inspectors.
The ASHI School currently holds pre-license classes in California, Colorado, Florida, Georgia, Illinois, Maryland, Missouri, Ohio, Tennessee, Virginia and Washington state. Soon, we will be offering classes in Arkansas, Arizona, Louisiana, Nevada, New Hampshire, New Jersey, North Carolina, Oregon, Texas and Vermont.
At all locations, courses are taught by ASHI Certified Inspectors who have a wealth of knowledge and experience. We believe that our educational program is the best because of these instructors and the highly regarded curriculum we offer through Carson Dunlop.
In addition to our traditional two-week classes, we are setting the stage to offer customized, one-week classes that match up with specific state requirements. This will help inspectors who have a state licensing requirement of 80 hours (as opposed to 120 hours) of training. The educational program will be tailored to each state's requirements.
The ASHI School's ancillary classes on the topics of radon, mold and commercial inspection are especially popular. And we plan to offer new specialty classes to cover business topics, including business (legal, budgeting, entering the business, strategic planning, contingency plans, exit strategy), report writing and marketing.
The ASHI School provides a free set of the National Home Inspector Examination (NHIE) Manual and Study Guide to each student. These resources are must-haves to prepare for and pass the exam. By providing these resources to each student, The ASHI School ensures that each student is fully equipped to study for the exam.