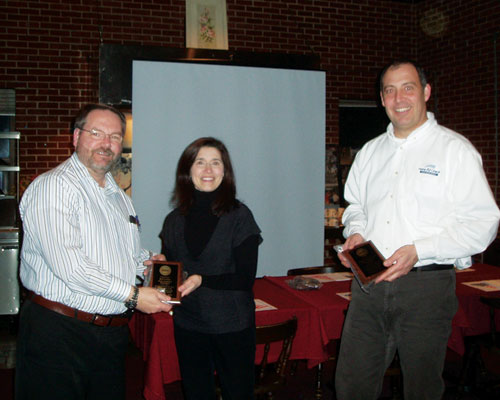 Coastal Connecticut Chapter President Frances Brennan (center) presents appreciation awards to Dr. Martin Spartz (right) and Bob Le May (left) of Prism Analytical Technologies for their presentation at the chapter's meeting on February 17, 2010.

Ron Passaro, ASHI founder and chapter member, reported, "They introduced chapter members to a new testing system that home inspectors can use for testing indoor air quality. It appears to be simple and affordable and may be something that our local members may take advantage of. Indoor air quality has become a substantial issue in a home purchase, and this new method may help bring information to our clients looking for an inexpensive method of indoor air testing."


Congratulations on Certification

To the editor,
Brendan Ryan, Bill Richardson and ASHI have created a wonderful benefit for us ASHI members with the successful completion of the ASHI Certification Program.

Congratulations on a job well done. This is another reason why ASHI does set you apart and ahead in this business.
Keep up the great work.

Thank you for all you've done for ASHI and our profession.

Bill Sutton, ACI
ASHI New England Chapter



Have you joined an ASHI chapter?

ASHI chapters offer the opportunity for all ASHI members to meet other home inspectors, network and learn. Get involved in ASHI at the local level. Find the chapter nearest you.

Online Chapter resources
To access ASHI chapter resources, log in as an ASHI member, then click on Chapters. You'll find public relations and marketing materials, chapter recruitment tools, leadership resources, legislative tools and more.

Discount Coupon Helps Build Chapters
ASHI offers a $30 discount coupon for new members who join the national society and a chapter at the same time. Here's how it works: The chapter downloads a coupon for the new member, discounts first-year chapter dues by $30 and sends the coupon to headquarters to be reimbursed. Use the coupon as an incentive to build the chapter and the society.

Questions? Contact Russell Daniells at russelld@ashi.org or 847-954-3185.