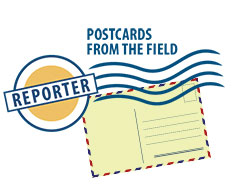 INSPECTIONWORLD® HEADING CONTEST WINNERS
New Postcards Email!!
Please send your name, city, state, photos, headings & captions to: postcards@ashi.org.


Having a Blast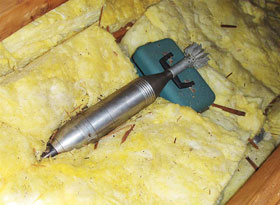 This shell was not marked inert, so it was suspected live. The fire department was called, then they called military specialists to remove it. It was found to be a dud.
John Dirks Jr.
Arundel Home Inspection, LLC
Severna Park, MD

HEADING:
Jason Havel
Nation Wide Inspections
San Diego, CA
Spider's Nightmare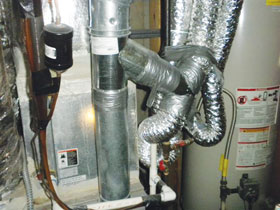 Why bother running the laundry, kitchen and bathroom exhaust ducts to the exterior when you can have this convenient furnace flue as a connection?
Scott Mitchell
The Quality Assurance Home Inspections
Suwanee, GA

HEADING:
Carolyn Stravinski
Chattahoochee Valley Home Inspections
Midland, GA

X Marks the Spot!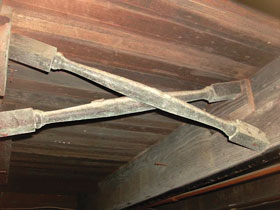 Now I know why there were missing spindles on the staircase!
Chris Hill
Top of the Hill Home Inspections
Bensalem, PA
HEADING:
Terry Kleptach
TK Home Inspection
N. Canton, OH
Not Appealing Paint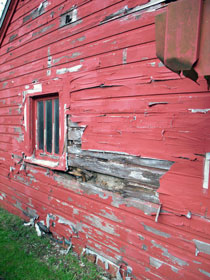 I was just wondering if the paint would void the warranty on the duct- tape siding.
Lawrence F. Niles
National Property Inspections
Wattsburg, PA

HEADING:
Jeremy O'Brien
Building Performance Institute, Inc.
Malta, NY

Sunken Water Heater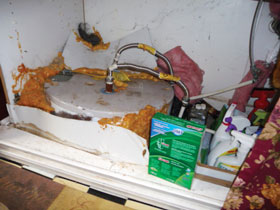 I found the most unsual water heater installation. It was half in the kitchen sink cabinet and half in the crawl space.
David G. Jones
Expert Inspection Service, Inc.
Chapel Hill, NC

HEADING:
Greg Allen
G.A. Home Services
Mableton, GA

Elbow Room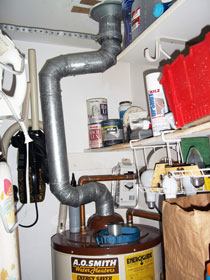 If the shelf for paints and other combustibles is too close to the water heater flue vent pipe, no problem: Just move the flue pipe!
Doug Ramsthaler
Precision Inspection Services, Inc.
Brick, NJ

HEADING:
Terry Kleptach
TK Home Inspection
N. Canton, OH