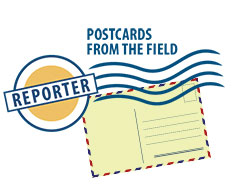 Got Great Postcards? We're running out! Please send your 1. name 2. company 3. city 4. state 5. photos 6. headings 7. captions to postcards@ashi.org.
New Postcards Email!!
Please send your name, city, state, photos, headings & captions to: postcards@ashi.org.


"Ooh, Honey, Look How Industrial-Chic This Handle Is, I Love It!"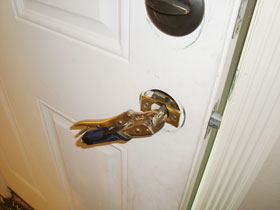 When the "Pro" at the home improvement store confuses door hardware with tool isles.
Daniel Land
Land Made Home Inspections
Bethel, CT
The Next Big Thing!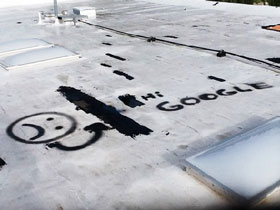 Does Google do drone roof inspections?
Matt Leahy
The Edge Home Inspections
Tucson, AZ
Rats For Dinner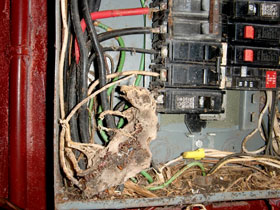 Why you need to make sure all openings are sealed on your electrical panel. AWW, RATS!! Looks like this guy got shorted out by his tail and then the roaches had a feast.
Barry Wong
Building Specs LLC
Kailua, HI
Sweet Dreams…ZZZZ
This "hammock" was found in the side yard of a four-plex I inspected. Right when I saw it, I said to myself, "Someone's got way too much time on their hands."
Jason Gingery
Viewpoint Inspections
Santa Cruz, CA
Head-Heated Boot Rack
This homeowner installed hot water baseboard right in front of the door. You have to step over it to go outside.
Lawrence Transue
Integrity Inspection Service
Easton, PA
Risky Business…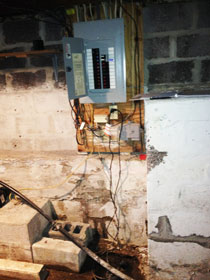 …is standing in sump pit while servicing the panel.
Mark Dolph
Northeastern Independent Home Inspections, Inc.
Roaring Brook Township, PA
Red Alert!
The intake and exhaust vents for a gas-fired direct-vent furnace. Blow out the exhaust fumes and suck them right back in for combustion.
Matthew Steger
WIN Home Inspection
Lancaster, PA
WOW!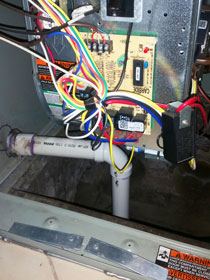 Hydronic heat?
Charles Ryan
Precision Property Inspection
Chicago, IL
Waste Not, Want Not
Creative recycling!
David Grudzinski
Advantage Home Inspections
Cranston, RI
When All Else Fails, Use Nails
Rolled asphalt roofing installed with nails. Can't say I've ever seen an install like this.
Matthew Steger
WIN Home Inspection
Lancaster, PA
Let's Deflect The Water…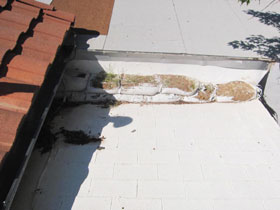 …and grow some weeds. Then the termites can have greens with lunch (see photo below).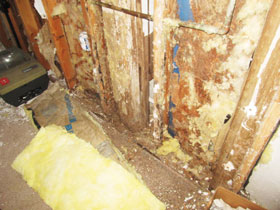 Randy West
Professional Building Consultants
Roseville, CA