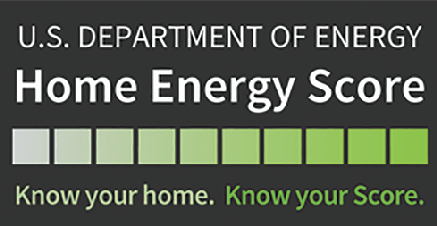 American Home Inspectors Training (AHIT) is the country's foremost training institution, with a mission to prepare graduates with technical expertise and business knowledge to launch and grow successful inspection businesses. As the industry evolves to encompass an ever-broader array of services that are expected from a credible inspector, it's critical that new inspectors choose the right services to offer—services that are marketable and profitable and don't require too much time or up-front expense to get started.



Although AHIT has always included "energy audit"−oriented trainings among its extensive offerings, it's the Home Energy Score that has the attention of their instructors and business advisors now, due to the Score's in-demand information and easy accessibility for new inspectors. An AHIT instructor named Brad Tusing told us,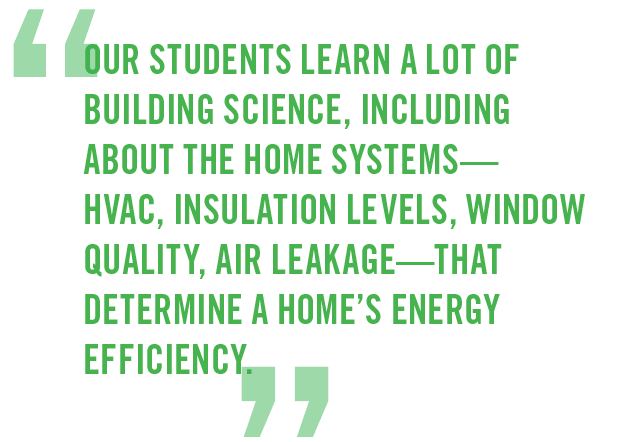 Covering not just technical aspects but also business development and marketing, AHIT instructors bring industry veterans' perspectives to the equation by noting that "a full energy audit isn't realistic in the context of a home inspection. The Home Energy Score strikes the right balance between offering credible, salable information while making only minimal demands upon on-site workload."
As inspectors across a range of business models and experience levels use the Home Energy Score to improve their businesses, AHIT's blank-slate clients seem especially excited about the idea of delivering actionable information to their homebuyer clients by detailing how comfortable their home is going to be and how much it's going to cost to actually live in.
"We've always offered a wide range of ancillary service training beyond our core inspection curriculum," Brad told us.
It's an important decision when building a business, and we're seeing a definite increase in the number of applicants who are interested in providing energy information.
With competition increasing in the industry, being able to co-brand with a trusted entity like the U.S. Department of Energy brings marketing benefits that new inspectors need, perhaps even more than more experienced inspectors.
AHIT's leadership team recently saw an opportunity to meet that need by partnering with the DOE's key industry ally in the inspection industry, ID Energy, with whom they are now delivering Home Energy Score training and support services within AHIT's effective and time-tested learning system. "They see it like we do," Brad said of his new partners at ID Energy. "It's about staying on the front end of a changing industry and providing outstanding service to every student, every time."
AHIT is now offering ID Energy's "Fast Track" Home Energy Score training online and is considering expanding the training to its classroom offerings as well. Visit www.ahit.com for more information.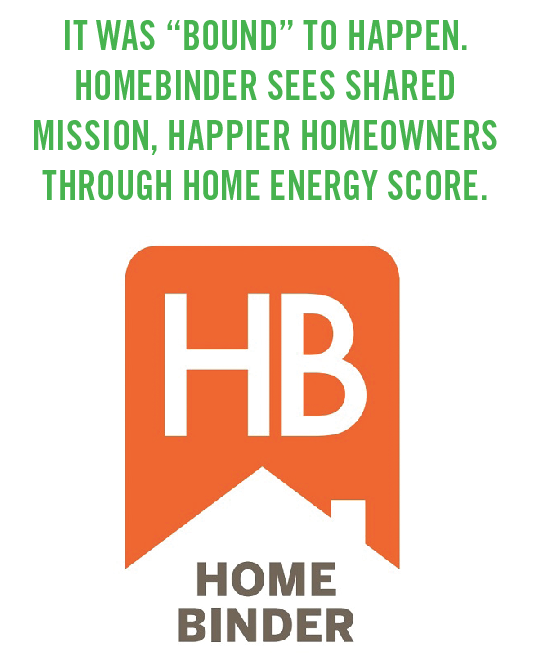 A big part of HomeBinder's mission is to broaden the inspection experience, to transform it from a one-and-done transaction into the first step of a long-term relationship between homeowner and home expert. Founder and CEO Jack Huntress sees in today's market a sizable pool of homebuyers who are busier than ever and whose largest contingent is less willing (and maybe less able) to take on the inevitable home improvement projects that tend to follow quickly on the heels of the home purchase.
These typically younger buyers are accustomed to finding solutions to every problem in a matter of a few mouse clicks and the more "curated" those clicks, the better. An expertly designed, comprehensive electronic "binder" of home and contractor information checks all these boxes for the homeowner clients of HomeBinder's rapidly growing inspector network, but like his counterparts at the Home Energy Score, Huntress isn't interested in delivering merely an attractive leave-behind.
Unlike a hardcopy binder, HomeBinder offers an always-available central storehouse of actionable information for when homeowners want to make the intimidating shift to becoming home improvers; it is a confidence-building repository that turns out to be as well suited to the energy improvement information included with each Home Energy Score as it is to roof repair details or appliance replacement timelines.
An expert observer of the inspection industry with a background in environmental services, Huntress easily recognized the potential of a tie-in between the two services. "The Home Energy Score is an easy fit with HomeBinder," he told us recently. "Since it's not just a snapshot but also a list of recommendations ranked by cost-effectiveness, it's exactly the kind of actionable information that we're able to centralize for homeowners whenever they want it." And like all items in HomeBinder, when Home Energy Score−generated improvements are made, they are entered back into the binder to educate future buyers and to add value to the home.
Huntress sees another connection with the Score in the way that it allows inspectors to provide value to their clients as part of a long-term relationship. "Inspectors are seeing value in delivering what we call an Annual Property Review (APR) to today's homeowner," he said. "The APR describes a structured means of attaining repeat business by helping the homeowner identify and prioritize a home's ongoing maintenance needs before they become neglected (and expensive). "The Home Energy Score is a perfect follow-up service," he told us. "Since homeowners have some experience of the home, its comfort levels and operating expenses, they better understand things and become more receptive to credible guidance backed up by the DOE and delivered by someone they already trust."
Summing up the most recent of many strategic alliances that Huntress has established within the industry, Huntress says that "with HomeBinder's efforts to be the 'hub of the home' for the homeowner, we have to have energy as a component given the consciousness of today's buyer. Furthermore, we have to make it simple, and we have to make it action-oriented so there is a clear path forward. And that is what the Home Energy Score provides." Visit HomeBinder at www.homebinder.com.
Home Energy Awareness is growing in the Garden State: New Jersey considers point-of-sale legislation.
It seems that nearly every month, we have a new policy development to report relating to cities or states requiring that energy information be delivered to homebuyers as part of the homebuying transaction. The State of New Jersey fits that bill this month, as legislators there are set to vote on an ordinance that would require energy analysis on every pre-2014 home across the state. In an effort to support the financial well-being of its residents, lawmakers are recognizing what home inspectors already know—that many energy-gulping homes are monthly budget−busting disasters waiting to happen and that alerting buyers to that fact ahead of time is to everyone's benefit.
ASHI members whose business region includes New Jersey will obviously be paying close attention to the status of this bill in Trenton and the Home Energy Score team tells us that they will be keeping close tabs as well if inspectors are looking for updates.
Regardless of the outcome during this voting cycle, however, the overall implication is clear: The disclosure of energy performance information at the point of sale is becoming mainstream and it represents a significant business opportunity for home inspectors. ASHI will continue to work with its partners around the country to build that opportunity, but members can start now with the Home Energy Score to make sure that they're ready to strike as this iron continues to heat up.
Get started now!
To include the Score in your business plan, contact Jen Gallegos at ASHI HQ, jeng@ashi.org. Or head right to ID Energy to get signed up. They're waiting for your application at energyscoreusa.com/sign_up.php.