There were a lot of new faces at the 2007 Leadership Training Conference in Chicago this October. It was apparent ASHI chapters wanted their new and future leaders to have the benefits of the training designed specifically for them. The 150 attendees from 58 chapters focused on finding new leaders, applying ethics to their business practices, recognizing legislation myths and realities and several additional topics.

In 2008, the conference will allow attendees to build on this year's lessons in more advanced workshops by the same presenters.

High praise from Deborah Long

Deborah Long, the professional educator who led the ethics session with ASHI members Pete Engle and Keith Oberg, provided the following critique:
"The Chapter Ethics Program delivered by Peter Engle and Keith Oberg at the ASHI Leadership Conference was the best example of ethics education I have ever participated in.
"The design of the program, based on hypothetical and real case studies, permitted the attendees to exercise their ethical muscles and critical-thinking skills. Peter and Keith co-facilitated the discussion and gave clear instructions and guidance to chapter leaders about the use of the case studies and how to analyze them.
"While they had possible solutions to the case studies, they never pushed their own point of view on the attendees; rather, encouraged them to think on their own and appreciate and explore multiple right answers. What I really respected about the program was that the participants had an opportunity to apply the ASHI Code of Ethics and even to go beyond it, demonstrating that codes of conduct are living documents, worthy of discussion and intellectual debate."
Keith Oberg is the current chair for the Ethics Committee and Peter Engle is the chair for the CEPP Committee.

Three chapters benefited from boot camp
For the second year, the Chapter Relations Committee held a four-hour boot camp training session for new and struggling chapters. The workshop was geared to help those chapters get up and running quickly. Three chapter leaders were the guests of the committee — all expenses paid.

Budget permitting, the committee will repeat the boot camp for other chapters in 2008. If you are a leader from a chapter in dire straits, please consider applying for scholarship status next year.

Photos by Don Nelson, ASHI Certified Inspector


Pete Engle, left, and Keith Oberg, right.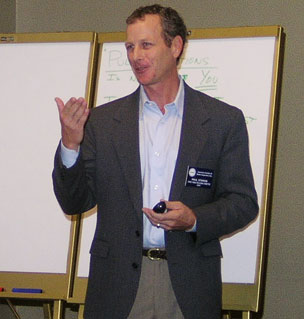 Paul Staron

Jill McCrory of Leadership Outfitters leads a session.
Debbie Long leads a session on ethics.