Here's a way to take your service to Spanish-speaking clients up a notch — even if you aren't bilingual.
Well-known author Tom Feiza is offering a new publication, My House, Mi Casa, Tips to operate your home in Spanish/English.
He suggests the side-by-side explanations in both English and Spanish will allow a home inspector to explain the systems covered in the inspector's report for
Spanish-speaking customers even if the inspector does not speak Spanish.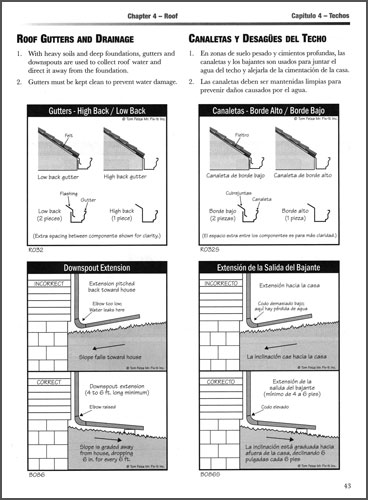 If you're familiar with Feiza's other publications, such as How to Operate Your Home, Home Journal and Home Systems Guide, you'll recognize the look and style of the new book.
The 160-page paperback has more than 300 illustrations. The price is $19.95, but discounts are available for quantity orders.
Tom Feiza, Milwaukee's "Mr. Fix-It," is a mechanical engineer with years of hands-on experience. He is an ASHI member who has performed more than 5,000 inspections, and hosts a radio show and writes technical articles and a syndicated newspaper column.
To learn more about the book, contact Tom Feiza, Mr. Fix-It Inc. at 4620 S. Raven Lane, New Berlin, WI 53151. Phone 262-786-7878. E-mail tom@misterfix-it.com or julie@misterfix-it.com.


Massage that all-important Web site
Familiar words help visitors find — and navigate — your site.
Use the words in your reader's head, not the words in your head.
"Speak the user's language," writes usability guru Jakob Nielsen. "Or, more precisely, when you write, use keywords that match users' search queries."

Why?
Web visitors are relying more and more on search engines — not just to find new Web sites, but also to find new pages within your Web site.
"So, the first duty of writing for the Web is to write to be found," Nielsen writes.
Here's how:1. Translate the puffery and hype.
"Call a spade a spade, not a digging implement," Nielsen writes. "Certainly not an excavation solution."
Yes, yes, we know you're offering "value-priced travel experiences." But your customers are looking for "cheap airline tickets."
"The very fact that a word is unexciting indicates that it's frequently used," Nielsen writes. "Often, a boring keyword is a known keyword."
2. Use generics.
If prospects know their problem, but not the name of your solution, what words will they likely search for? Use those terms as well as your product and service names.
3. Avoid political correctness.
Make it "blind" and "low-vision," not "visually challenged."
Make it easy to find.
But getting listed in search engine results is just step No. 1. Now you need browsers to click your listing — and explore your site.
"We know from eyetracking studies that users often scan right past high-ranking listings when the headlines don't make sense," Nielsen writes. "And we know from hundreds of usability studies that users abandon Web sites with product pages that are confusing or fail to answer their questions."
So: Use the words in your readers' heads.
Reprinted with permission from Ann Wylie's Writing Tips E-zine. To subscribe: http://www.mailermailer.com/x?oid=21528q. To learn more about Ann Wylie's seminars, publication consulting or writing and editing services, please contact Ann at: Ann@WylieComm.com or visit http://WylieComm.com.