Photo: Education Committee Chair Robert Mulloy with Brad Keys, Rick Robinson and Donald Bissex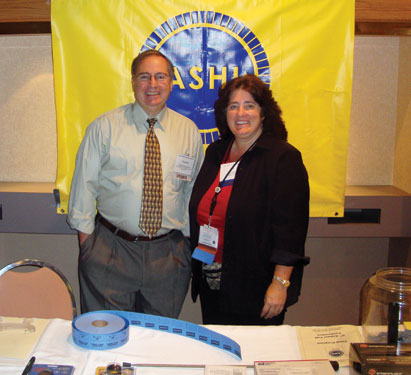 Photo: Chapter President Lisa Alajajian-Giroux with ASHI Past President and conference speaker Stephen Gladstone
Photo: Brad Keys leads a hands-on HVAC seminar
Lisa Alajajian-Giroux, New England Chapter president, reported that 115 people attended this year's conference, making it the most successful chapter conference in 10 years.
She said the chapter's board of directors and those serving on the Education Committee dedicated themselves to making it a success. Giving special recognition to Education Committee chair Bob Mulloy, she said, "He really outdid himself this year."
The conference was held October 14-15 in Randolph, Mass.
Speakers included Ted Benson, the famous timber frame builder seen on This Old House; Steve Gladstone, 2004 ASHI president; Jonathan Braverman, attorney at law; Don Lovering, an ASHI member who performed a mock trial; Brad Keys, a local HVAC expert, who delivered a trailer with a boiler display, and Kenny Hart, ASHI national conference speaker on plumbing. New England Chapter member Bill Sutton gave a presentation on ethics.
Submitted by Lisa Alajajian-Giroux.
Northern Colorado Members Participate in Field Training


Photo: Northern Colorado Chapter members take a break from their onsite field training exercise.
On Sept. 10, the members of the Northern Colorado Chapter met at a vacant foreclosed property for field training. They broke into small groups and visited stations corresponding to the following ASHI Standards of Practice categories: roofing, plumbing, electrical, heating and structural components.
After completing all of the stations, they met for a roundtable discussion, comparing their findings and identifying proper reporting methods per the ASHI Standards.
Submitted by Duane Younger.