Members of the Northern Illinois Chapter were recognized by the city of Elgin, Ill., for their community service following the heavy flooding that hit the area in September.
According to a press release from the police department, Elgin was one of many areas hit hard by heavy flooding. The floodwaters damaged many homes. Insurance protected most homes and contractor crews were quickly on site making repairs. There were still many homes left uninsured and not repaired. On September 29th, 2008, the city's Code Department brought together members of the Northern Illinois Chapter of the American Society of Home Inspectors and the Salvation Army to inspect the flooded homes of those in need of financial assistance. These two organizations supplied volunteers who went door to door of homeowners requesting assistance. Thanks to the efforts of these two organizations and the foresight of the city of Elgin, homeowners were able to find the financial and technical help needed to get their lives back on track.
The City of Elgin extended a special thank you to the NIC-ASHI inspectors who volunteered their time: Eric Barker, Chuck Bellfontaine, Jory Lannes, Jack McGraw, Gary Monfellia and Mike Merino.
Western Washington Annual Seminar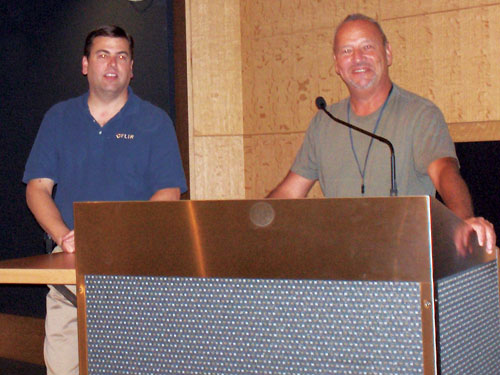 On September 12-13, 85 ASHI members attended the Western Washington Annual Education Seminar held at the Cedarbrook Conference Center in Tukwila, Washington.
Douglas Hanson and Peter Drenan led sessions on Old House Inspections, Electrical and Plumbing, and Green Building Inspections.
Darrell Marsolais, Education Committee chair, hosted the seminar and introduced featured vendors, including Brinks Security, FLIR Infrared Systems and Allen Insurance.
Great Lakes Fall Conference
Don Nelson of the ASHI Great Lakes Chapter provided photos from the chapter's fall educational conference, which included a Peer Review, an energy audit and classroom sessions.