Mystery III: Little leak = big mystery


A client called me in early October with a challenging moisture problem. He said there was a wet spot on the main floor ceiling of his two-story house. He and his wife were the original owners of this eight-year-old house, and they had seen this wet spot develop on two other occasions.

The master bathroom was above the area where the ceiling was damp, but a test of all the plumbing fixtures did not worsen the damp spot. I opened the access panel at the faucet end of the bathtub and saw no evidence of leaks at the water supply or drains. The shower stall was ceramic tile, but I found no evidence or missing grout, loose tiles or poorly caulked joints at the shower door.

Rather than give up, I inquired further about when the damp spot appeared. The client wasn't certain, but the current condition had developed within the previous two days, both of which were rainy, including the day before, which included a cold, windy, day-long drizzle.
I decided to examine the attic since it had begun to rain again a little while I was there. The main plumbing vent stack was visible from the attic hatch. When I shined my light on the pipe, a few drops of water were visible on the exterior of the white PVC vent pipe. I cleared away some of the loose fiberglass insulation around the pipe at the second-floor ceiling. Sure enough, the wood at the top of the frame wall partition that contained the vent pipe was damp.

Looking up the pipe, I saw a tiny spot of daylight at the neoprene collar, which served as the flashing for the pipe's roof penetration. The pipe had streaks of water along its full length.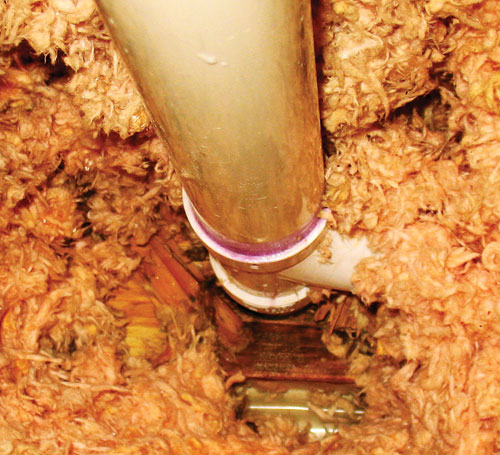 Photo: vent dripping onto ceiling in attic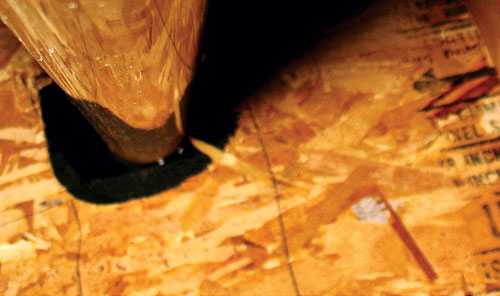 Photo: Leak at roof

Looking again at the point where the pipe penetrated the ceiling, I saw that the pipe penetration was not sealed with foam and that the pipe descended into the wall cavity. I returned to the master bathroom and determined that the pipe was located in the wall behind the toilet. I took a few measurements and made a similar measurement on the main floor. The wet spot on the ceiling aligned directly with the pipe, which made a turn from vertical to horizontal in the joist space between the ceiling and the floor above. Therefore, the water from the flashing leak at the plumbing vent traveled down the vent pipe, through the attic, down the bathroom wall cavity and into the floor joist space before it dripped off the pipe elbow and onto the ceiling. This only happened when the wind blew in a certain direction, and the pipe received rain continuously for an extended period of time.

Another moisture mystery solved.

Reprinted with permission from www.hankeyandbrown.com.