ASHI members and business owners Guillermo Hunt and Marlon Page faced the challenges of being minorities in the home inspection field. However, their perseverance, desire to learn more and entrepreneurial spirits have proven very rewarding. Their positive experiences offer insights into home inspection's potential for others.
> Guillermo Hunt – Hunt's Home Inspections
"I was working for a large heating and air conditioning company in the mid-'90s but was ready for a change. I wanted to be out in the field, away from an office. As I was driving down the street, I saw all of these homes and wondered if there was a way to help them," says Guillermo Hunt, President of Hunt's Home Inspections, Inc., Hampton, VA, and President of the ASHI Hampton Roads Chapter.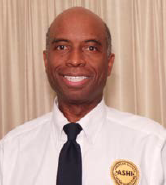 I shared my thoughts with my wife who helped me explore home inspection, and what I needed to learn about the profession and its career potential. In retrospect, I truly believe that my drive down the street was a spiritual connection."
Guillermo took a correspondence course through the American Home Inspection Training Institute. "It was all starting to come together. The general public was now more aware of the importance of home inspections, my experience in the construction industry as well as related fields gave me good credentials, and Realtors encouraged me to join ASHI, which I did in May 2001."
Being a minority, black and Hispanic (born in Panama), was a challenge at first. "It took six or seven years before I met another black inspector," Guillermo notes. "When I went on interviews, the hesitancy to hire me was apparent, but I believe my education and experience showed through. Home inspection has been a 'majority' business. However, when a broker asked for my business card, I knew times were changing."
Guillermo established his own home inspection business in 1998. "I was learning more about ASHI and started attending Hampton Roads Chapter programs. I was the only minority person for about four years. Being a minority in a field does, of course, present challenges but it encouraged me to persevere. My experience and involvement have proven rewarding."
Noting that Hunt's Home Inspection is doing well, even during the recession, Guillermo says, "I'm so happy I made the career change."
Guillermo served on the national ASHI Membership Committee for two terms. He has also been a member of the Hampton Roads Chapter Board of Directors, serving as Vice President of the chapter for two, two-year terms and is currently in the second half of his second term. "Our goal is to keep the chapter strong. We now have another minority member so there are two of us."
Besides growing his home inspection business, what are Guillermo's goals? "I want to mentor other home inspectors. Mentoring is a rewarding experience, one we can all benefit from, and it can lead to new insights, connections and opportunities."
> Marlon Page – Home Inspection Pros
My strong passion for buying and rehabbing residential and commercial real estate dates back over 20 years ago.
God scripted my pursuit into the home inspection business. My strong beliefs migrated me into this industry. I clearly recall discovering my detailed mechanical skills while taking builders trade classes during high school in Mississippi.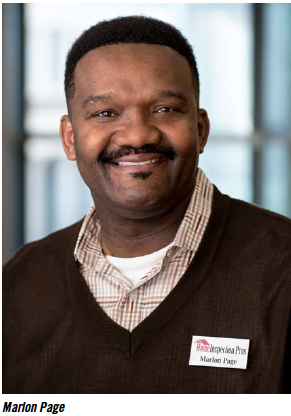 Overcoming minority challenges was nothing new to me. Having the experiences of being raised during my era in Mississippi was a hurdle I overcame. I fast forward to Georgia and now being a successful minority business owner.
My education and experience from Mississippi, Arkansas, Louisiana and Europe all groomed me to better understand and handle those challenges of being a minority business owner.
My strong work ethic and the mindset of "nobody can outwork me" were instilled in me dating back to my farming days with my grandfather in Mississippi. I consistently worked from sun up to sun down on my grandfather's farm at a young age. My core work foundation was developed and shaped by those farming experiences.
When I graduated from Grambling State University in Louisiana, a top tier HBCU (Historically Black Colleges and Universities) college, earning my computer information systems degree, I knew a few things for sure. I knew I needed to be professional and never confirm to any stereotypes representing minorities. At Grambling I played
basketball which allowed me an outlet to unleash my competitive nature.
After graduation, I relocated to Atlanta, GA, and continued to play organized basketball competitively throughout Georgia. Beyond my imagination, I was drafted and began my professional basketball career in Austria, Switzerland and France. The opportunity to play professional international basketball afforded me experiences to develop even more character and attributes of diversities of cultures.
After Europe I returned to Atlanta, the mecca for African-American businesses and entrepreneurs, to make Georgia home. I returned with success in mind. I landed a job in corporate America with a Fortune 500 company, and over the years I was groomed and developed to work in corporate marketing.
Using the money I earned in my basketball career, my wife Samone and I started investing in real estate.
With her encouragement, I pursued the home inspection business. Samone said occasionally, "You should be paid for your wealth of knowledge." She continued to pour into me and remind me of ALL of God's gifts such as: personality and presence. The biggest gift of all is having a well-rounded background in construction, sales, real estate and marketing, coupled with business entrepreneur attributes. My personal experience with totally rebuilding homes as well as new construction reinforced my comfort level with the industry.
I quickly learned that other professionals in the business came to rely on my professional opinion. It was around this time that Samone demanded I officially enter the home inspection business. As she so elegantly put it, "No more FREE inspections. You should be paid for your level of
expertise." I gained my certification from the American Home Inspector Training Institute in 2005. One of the best decisions I ever made was developing a great relationship with my instructor, Bill Ross.
Bill has been instrumental in molding my industry progress, filling the gaps as a true mentor in sharing his wisdom and knowledge over the years. Bill has also played an instrumental role with ASHI by serving in a number of leadership positions in California. It was Bill who encouraged me to join ASHI.
I created Home Inspection Providers, LLC, dba Home Inspection Pros. The company currently covers all of north Georgia, and there are future plans is to grow Home Inspection Pros in multiple states as well as the international market. One of our short-term goals is to add a minimum of five additional professional inspectors to the team within the next two years.
I'm honored that I will be serving as the first African-American President of the ASHI Georgia Chapter. It is my intention to lead by example while in office. I pride myself in bringing balance to the overall home inspection industry while partnering with ASHI.
My direct example in diversity began with Russell Daniels, ASHI's Assistant Executive Director, and Director of Membership Services and Chapter Relations. I thank Russell for being an amazing leader and offering his knowledge to me in reference to pursuing those Neiman Marcus real estate broker relationships, which we have since secured.
Thank you again, Russell.
I look forward to much success in the years to come by becoming more involved with ASHI