This year, ASHI's annual Town Hall Meeting is being held in Pittsburgh, Pa., July 13 at the Sheraton Station Square. On July 14, the ASHI Board of Directors will meet at the same location. The membership is invited to attend both events. Questions? Contact
angelao@ashi.org
.

InspectionWorld news


Ready to make hotel reservations for InspectionWorld-New Orleans, January 16-19, 2008? Call the hotel directly at 504-561-0500 and mention InspectionWorld to receive the special rate of $183 per night, single/double occupancy.
For those making InspectionWorld plans, there will not be an ASHI-coordinated restore New Orleans activity in conjunction with the conference. How-ever, prior to the conference, ASHI will provide a list of opportunities for those who wish to participate in a rebuilding activity. Questions? Contact Angela Orlando at
angelao@ashi.org
.
Be on the lookout


ASHI has just negotiated an exclusive deal with
www.Eppraisal.com
, a consumer focused real estate analysis Web site. This arrangement will list all ASHI Certified Inspectors and Associates on the site and will allow consumers to contact you to book inspection work. Watch for a formal announcement shortly.
Also on the horizon is a new Health Insurance Benefit Program offering a wide range of options, all available through membership in ASHI. A formal announcement is expected in late June.
Policy & Procedure manual updated
The updated
ASHI Policy and Procedure Manual
is available to ASHI members online. To review the latest version, visit the
Publications
section of the Membership Extranet.
EBPHI open board seat
The EBPHI Board of Directors seeks qualified home inspectors to serve on its Board of Directors for a two-year term beginning January 2008.
For requirements and an application, go to
www.homeinspectionexam.org
.
Dues notices and CE claim forms coming in August
Dues notices will be distributed in August along with the new claim forms. All who attended InspectionWorld will have satisfied the education requirement. Those who need additional credits can find approved seminars
here
.
ASHI keeps growing
ASHI Certified Inspectors: 3,791
ASHI Associates with Logo Use: 188
ASHI Associates: 1,868
ASHI Retired Members: 127
Affiliates: 100
TOTAL MEMBERSHIP: 6,074
Help reinstate suspended members
Chapter Presidents:
If you need a list of chapter members who have paid their dues but are on administrative suspension for failure to submit CEs, please contact Kate Zarko at
katez@ashi.org
.

ASHI calendar of events


• July 13-14, 2007, Town Hall Gathering and Board Meeting, Pittsburgh, Pa.
• Oct. 19-20, 2007, Chapter Leadership and Board Meeting, Rosemont, Ill.
• Jan. 16, 2008, Board Meeting, New Orleans, La.
• Jan. 16-19 2008, InspectionWorld, New Orleans, La.
• April 11-12, 2008, Board Orientation and Board Meeting, Chicago, Ill.
• July 11-12, 2008, ASHI Town Hall Meeting and Board Meeting, TBD
• October 17-18, 2008, Chapter Leadership Day and Board Meeting, Chicago, Ill.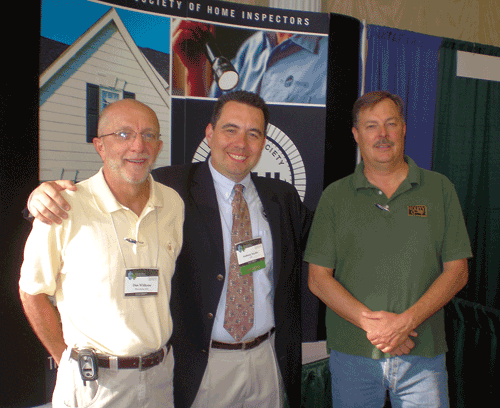 Photo: ASHI was there at the annual East Coast Seminar, sponsored by Kaplan Professional Schools/ITA, May 21-22, in Virginia Beach. Anthony Snyder, ASHI membership & marketing director, answered questions and welcomed new ASHI Associates. Pictured (from left) are new ASHI Associates Dan Withrow, Ronceverte, W.Va., Snyder; and Bob Elkins of Fairfax, Va.