A dues notice with the MRC Claim Form on its reverse side was sent to 5,109 ASHI Members, Candidates with Logo Use and Candidates whose credits were due this year (September 30, 2005). A follow-up notice was sent in December 2005.
As of this date, 262 individuals are on Administrative Suspension. These are individuals who have paid their dues, but not submitted the required number of MRCs. This number is down from last year when 323 failed to submit MRCs— a decrease of 18.9 percent.
Individuals who have not submitted their MRCs have been sent a hard-copy letter via U.S. Mail to notify them of their situation. A total of 96 individuals were expelled on September 30, 2005, for failure to submit MRCs due in September 2004 or failure of the MRC Audit in Winter/Spring 2005.

ASHI Begins Annual Audit of MRCs
The annual Membership Renewal Credits audit is underway per ASHI Policy and Procedure 18.10.
Individuals to be audited were notified in January and received instructions on how to provide the documentation of the MRCs submitted last fall during the dues renewal.
According to ASHI's Policy and Procedures, 10 percent of the membership (those required to submit MRCs) was selected at random to provide us with proof/documentation of their submitted MRCs.
Those who do not submit documentation by the February deadline will be placed on Administrative Suspension and cannot be returned to active status until proper documentation of MRCs is provided.
If you are one of the more than 300 Candidates, Candidates with Logo Use or Members randomly selected for the audit, please respond promptly. Questions? Contact Yvonne Romanowski at yvonner@ashi.org or 847-954-3180.
Screening for felony convictions
Since January, ASHI had screened new Candidates for past felony convictions. (The current membership will be screened during the 2006-2007 renewal period.) By the end of 2006, ASHI will become the first (and only) professional society of home inspectors to deny membership to convicted felons – protecting both the consumer and ASHI's reputation as the best in the business.
Complaints and Compliance Report Card
(Since October 1, 2004)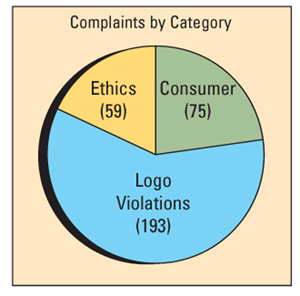 Consumer Complaints (75)
68 Member-Standards Complaints
9 Candidate-Standards Complaints
ASHI does not investigate Standards Complaints submitted by consumers. The information is sent to the inspector in question with the hope the issue will be resolved.
Logo Use Violations (193)
21 Member Violations
11 Cases Closed
56 Candidate Violations
32 Cases Closed
116 Non-Member Violations
66 Cases Closed
Open Member/Candidate cases to be transferred to new CLU Committee in January 2006.
Ethics and Professional Practices (59)
55 Member-Ethics
32 Cases Closed
4 Member-Professional Practices
3 Cases Closed
Open cases to be transferred to new CEPP Committee in January 2006.
ASHI Calendar of Events
April 7-8, 2006, Board Orientation and Board Meeting, Rosemont, Ill.
July 14-15, 2006, Town Hall Gathering and Board Meeting, Portland, Ore.
October 19-20, 2006, Chapter Leadership Days, Rosemont, Ill.
October 21, 2006, Board Meeting, Rosemont, Ill.
January 10, 2007, Board Meeting, Disneyland Resort, Anaheim, Calif.
April 13-14, 2007, Board Orientation and Meeting, Rosemont, Ill.
July 13-14, 2007, Town Hall Gathering and Board Meeting, TBD
October 19-20, 2007, Chapter Leadership Days and Board Meeting, Rosemont, Ill.