Photo above: All of the North Carolina Chapter Peer Review Committee members pictured have earned the designation IBR®. Left to right: John Woodmansee, Gary Gentry, David Jones, Bill Delamar, George VanHorn, Marion Peeples, Bill Dillon and Andy Hilton
North Carolina ASHI held its spring Peer Review on March 5 in Raleigh. Nine candidates had the opportunity to test their inspection skills against the chaapter's Peer Review Committee. The committee, totaling over 100 years of home inspection experience, is comprised of eight certified inspectors. The committee had inspected the house and listed the deficiencies in accordance with ASHI's and North Carolina Licensing Board's Standards of Practice, including a top-10 list of "must finds."
Participants had two hours to inspect the review house and generate their own list of deficiencies. Then they prepared an oral presentation and delivered it to a review panel of three committee members, with the high hopes of discovering and revealing the "must finds" along the way. They also took a 30-question exam, testing their technical knowledge, and had two inspection reports reviewed for substantial compliance with ASHI and North Carolina Standards of Practice. Those who reported the 10 "must finds", scored a 70 percent or better on the exam and had reports in compliance with the Standards of Practice were awarded the designation of Inspector By Review (IBR®).
NC-ASHI conducts Peer Reviews twice a year at a minimum. Members routinely go through the process multiple times, as it's one of the best learning tools a home inspector has at his/her disposal.
Peer Review procedures and the IBR® designation is used by NC-ASHI with permission from the Great Lakes Chapter. Anyone interested in more information about the NC-ASHI or GLC-ASHI Peer Review may contact Andy Hilton at
HiltonHome@yadtel.net
.
Submitted by Andy Hilton.
Together at Ohio Expo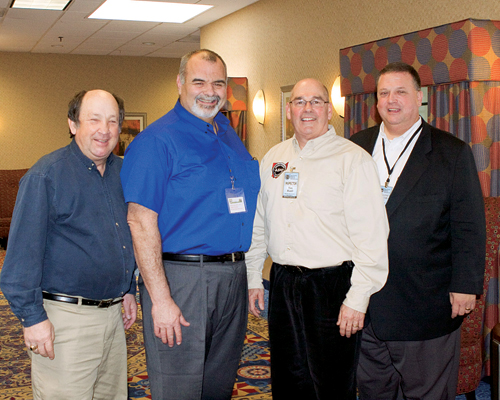 Kurt Salomon, Jr., ASHI president, is pictured with Forrest Lines, NAHI vice-president, Tim Buell; ASHI Ohio Chapter president and Jeff Arnold, ASHI executive director/CEO, when all attended the Ohio Home Inspectors Expo, March 11-13, in Columbus, Ohio.


Arizona Chapter Makes a Splash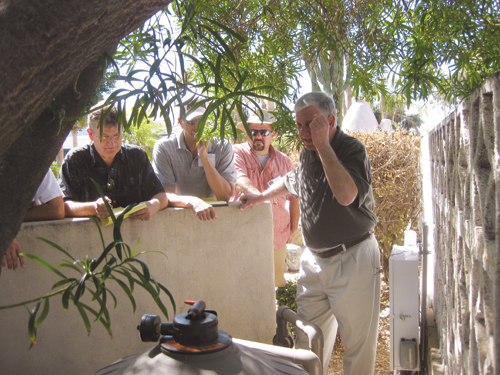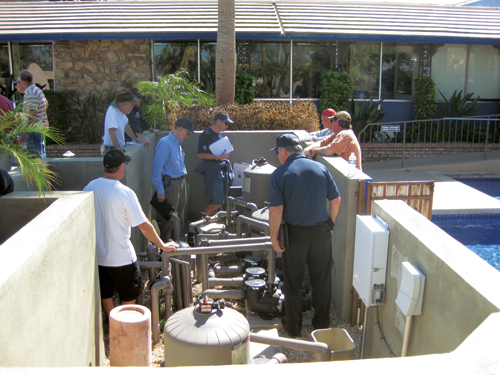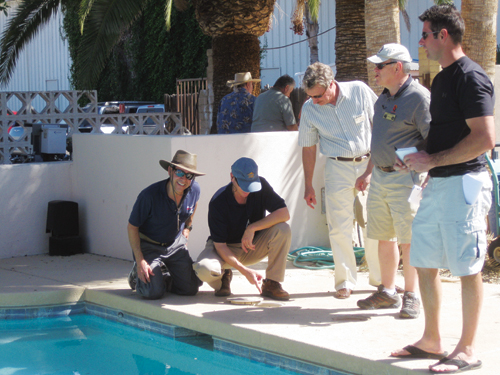 The Arizona Chapter held a class covering the new ASHI pool standards for 50 home inspectors at a pool store in Scottsdale on March 12. With 10 pools on display, the class offered attendees both a classroom and hands-on experience.

Submitted by Bruce LaBell.