Bob Emery, ASHI Member from Columbia, Mo., and his wife, Shari, have a passion for outdoor holiday lighting. For years, they had Christmas decorations that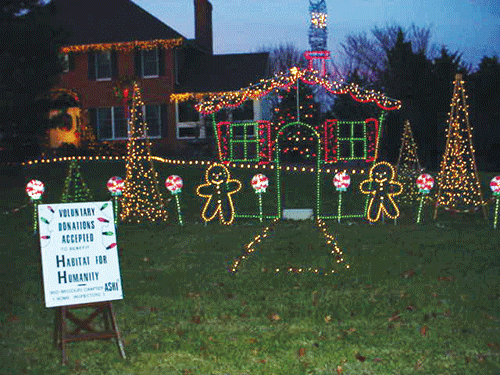 went way beyond the norm, but after seeing some huge displays in Indiana a few years ago, Emery got excited about taking their decorating to the next level. Rather than buying expensive light displays, he decided to design and build everything himself. He cut, bent and welded rebar to craft most of the displays. The rebar frames are painted and covered with hand-tied, evenly spaced lights. The one exception is a 32-foot tall church, with a moving bell in its steeple, which was made of 2"x4"s and bolts. Emery raises it into position each year using his lawn tractor. Visitors come back every year to see what's been added to the display.
Passion takes a charitable turn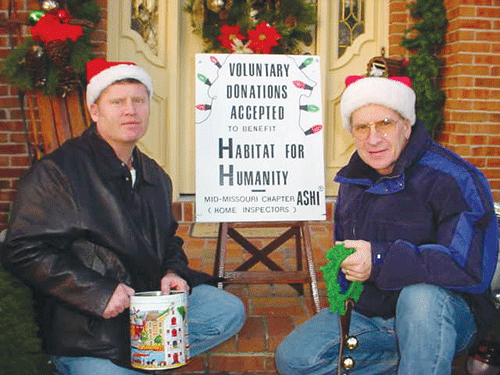 In 2002, the Emerys decided to turn their passion for Christmas lighting into a charity event. With all the cars driving by their house to see the lights (sometimes as many as 500 cars per hour), there was a potential for collecting donations. In 2002, Bob partnered with the Columbia Board of Realtors®, which donated manpower to collect donations to benefit Habitat for Humanity.
Mid-Missouri Chapter helps collect $3000+ for charity
The next year, Emery asked his Mid-Missouri ASHI Chapter to help with the charity. The ASHI Chapter helped again in 2004, collecting more than $2,900. To this the Emery's added their $300 first prize for the Columbia lighting contest, making a total of more than $3,200 for charity.
The Emerys say they are glad to have found a way to give back to the community, while doing one of the things they enjoy most. And, they thank the Mid-Missouri ASHI Chapter for helping make it possible, specifically Members Fred Fischer, Norm Richert, Joe Pangborn, Kent Krause, Jay Creasy and Peter Roe; Candidates Mike Rawlings, Bill McAllister and John Corn.

—Submitted by Robert Emery, ASHI Member, Emery Home Inspections, LLC, Columbia, Mo.

Garden State Chapter executes at TriplePlay

Garden State Chapter members were there pitching The ASHI Experience when the New Jersey, New York and Pennsylvania Associations of Realtors® held their TriplePlay Realtor® Convention & Trade Expo.
Photo: Left to right, Chapter members Ken Salvo, Frank Vodraska, Mark Vitaliano and Tom Chilton promote The ASHI Experience at the Atlantic City Convention Center December 7-9, 2004.
—Submitted by Ken Salvo, immediate past president, Garden State Chapter of ASHI, Ridge Home Inspections, Basking Ridge, N.J.


Wondering how to use press releases to promote your chapter and its membership?

SNEC shares examples
FOR IMMEDIATE RELEASE
For more information, contact:
Warren Tomek, Chair, Marketing and Communications Committee,
203-245-0144, www.snec-ashi.org, www.ashi.org
Home inspectors buy 10,000 meals for those in need
David Sherwood, SNEC-ASHI president, and Joe Raffone, SNEC-ASHI treasurer, presented a check in the amount of $3329 to Julie Rio, regional director of the CT Food Bank, at the December monthly meeting. The funds represented donations made by SNEC-ASHI members throughout the year.
Julie stated, "This amount will buy almost 13,000 pounds of food and provide nearly 10,000 meals. It is my pleasure to receive this check on behalf of the food bank. Your generosity will go a long way to helping feed those in need."
Treasure Raffone said, "This is the second year for the food drive, for which our membership has been so supportive, and exceeds last year's contributions by 170 percent."
SNEC-ASHI is a local chapter of the national organization American Society of Home Inspectors®. Its mission is to help meet the needs of the membership, and promote excellence and exemplary practice within the home inspection profession. SNEC-ASHI meets at the Marriott Courtyard in Cromwell, Connecticut at 6:30 PM on the first Thursday of each month.
FOR IMMEDIATE RELEASE
For more information, contact:
Warren Tomek chair, Public Relations Committee, 203-245-0144, www.snec-ashi.org
www.coastalctashi.org, www.ashi.org
Home inspector speaks at Realtor® Conference
Southern New England Chapter (SNEC) of the American Society of Home Inspectors® (ASHI) President David Sherwood was a guest speaker at the Connecticut Association of Realtors® ' Leadership Conference held at the Mystic Marriott December 1-2, 2004. SNEC and Coastal Connecticut Chapters of ASHI co-sponsored the conference lunch. Sherwood spoke to approximately 200 agents and brokers at the evening banquet about the ASHI Standards of Practice and Code of Ethics. ASHI always has been known for having the highest technical standards.
He stated, "These Standards of Practice and Code of Ethics also set a high standard for customer service and communications. This is called The ASHI Experience, where every inspection service provided and class instructed by an ASHI Inspector is based on this high standard." Sherwood also suggested the agents and
brokers look for continuing education classes next year through their local Realtor® Board.
SNEC-ASHI meets at the Marriott Courtyard in Cromwell, Connecticut at 6:30 PM on the first Thursday of each month. Coastal CT ASHI meets at the Peppermill restaurant in Westport, Connecticut at 6:30 PM on the third Thursday of each month.