Many thanks to ASHI for the fine exhibit booth that informs consumers about The ASHI Experience. I set up the booth at my Washington State Wood Destroying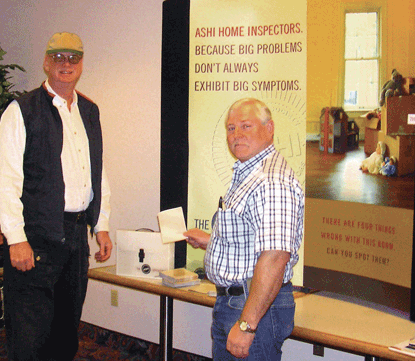 Organism (WDO) seminar in Tacoma, Wash., with no problems whatsoever. The compact, light-weight booth almost set up itself. No tools were needed. It goes up using magnets and gravity. All I did was connect the magnets and put some panels over some upper hooks. What a fine design. In my past life, I was an exhibit manager for the U.S. Dept of Energy out of Richland, Wash., so I am experienced in this field.
This seminar, with 295 attendees, provides education credits for maintaining our WDO Washington State license and keeps home inspectors and pest control operators (PCO) well informed on hot topics such as mold toxins and hantavirus. The PCOs are very interested in extending their inspection talents to home inspections. The exhibit booth and pamphlets are a wonderful way to bring them into the ASHI organization.
Matthew Hummel, ASHI Member
Total Building Analysis, LLC
Kirkland, Wash.
Arizona Chapter's Blueprint for ashi experience success
A letter to Steve Gladstone, ASHI president, from Nan Mitchell, ASHI AZ executive director

As you may be aware, Arizona ASHI received an award in 2003 for having achieved the "Most Growth of Membership by Numbers." Buoyed by this recognition and the concepts and materials of the branding campaign, Arizona ASHI has done it again!
We are striving not only to be the biggest, but also the best! Not only has our overall membership increased by more than 20 percent over 2003, we've begun to test the waters and see results of the branding materials. Our achievements include:
Submitting our Chapter Grant Approval Forms in the amount of $11,600 to be returned to the chapter.


Creating a chapter Web site.


Using radio advertisements on talk radio.


Broadcasting on the radio live and remote from AZ ASHI education seminars where members are interviewed and respond to callers' questions.


Publishing advertisements in professional printings, such as the Board of Technical Registration newsletter, which reaches more than 25,000 professionals, and the Arizona Association of Realtors® magazine, which reaches more than 40,000 licensed real estate agents and brokers.


Publishing chapter brochures.


Obtaining a trade show booth.


Sending 3 people to Chapter Leadership Day.
Having members participate in allied associations throughout the community, including the Board of Technical Registrations Rules and Standards Committee, the Registrar of Contractors, and the Structural Pest Control Commission.
In addition, our board has approved a waiver of dues, for both current and incoming members, for the calendar year 2005 in an effort to increase our membership base.
I wanted to make you aware of these achievements, which could not have been possible without the foresight and energy of the leaders we've been fortunate to recruit, both at the national and local levels.