Marketing most businesses is reasonably straight forward. You introduce your product or service to prospective clients and you explain the value of your offering, including the benefits and features.
Marketing can take several different forms such as a retail storefront, a website, social media, email, paid advertising, brochures, published articles, press releases, trade shows and conferences, presentations and referrals. The goal is to connect with your target audience so that they can make an informed decision about your services.
A Few Words on Sales and Pricing To my way of thinking, marketing and sales are educational processes that help clients understand how your service will help them. It is not about convincing someone to buy something they don't need or want. It's about providing the best value rather than the lowest price. As my father used to say, "You get what you pay for." We could provide $99 home inspections and increase our market share. We could not, however, provide good value for our clients and sustain our business.
The goal is to get the message about the benefits of your service to those who need it. Let's look at how you might do that.
A Unique Challenge for Home Inspectors Marketing a home inspection business is challenging for a number of reasons. The majority of home inspectors are sole proprietors. I think of them as operating a consulting practice.
Having a website and a presence on Facebook are typical marketing strategies, along with having brochures and business cards, but there is often not much money available for a marketing budget. In fact, most home inspectors have no marketing plan at all.
This may seem strange at first, but it's quite understandable. Many consulting and professional practices don't do a lot of advertising. This includes many dentists, accountants, lawyers and others. With home inspection and other consulting businesses, it's difficult to zero in on your target market. It's not easy to identify people who are about to buy a home. An advertising or marketing campaign would have to reach out to the entire population, which can be a daunting and expensive proposition for most home inspectors.
The marketing issue is further complicated by the fact that the total revenue from a home inspection is typically only a few hundred dollars. There is usually no recurring revenue, since most people don't buy homes on a regular basis. Home inspection is an event business rather than a revenue stream business. This contrasts with dentists, accountants and others with private or consulting practices, who tend to work with clients over a long term.
Client Referrals
Many consulting and professional practices grow on the strength of referrals from satisfied clients. This is true of home inspectors as well. A referral from a satisfied client is a powerful and effective marketing tool. The challenge is that most new home inspectors don't have a large enough pool of satisfied clients providing occasional referrals to drive their business. And again, each referral provides only a single sale with no recurring revenue.
A secondary issue is that most people will forget who did their home inspection within months of the inspection itself. Client referrals are not always a long-term revenue driver. That's why some home inspectors send monthly newsletters to past clients, for example, to keep their name fresh in clients' minds.
The Intermediary
Many inspectors have recognized that the real estate salesperson is a conduit to people who are about to buy a home. Real estate agents are easy to identify and are typically working with people looking to buy or sell a home. The real estate community is a much easier audience to target because they are a much smaller group than the entire population and they are highly visible.
On the surface, it sounds like a good fit. Clients need a home inspection when they are buying (or selling) a home. Real estate agents help people buy and sell homes. Real estate agents and inspectors should work together. However, it's a little more complex than that.
The goals of the various parties don't always align. Homebuyers want to know as much as they can about the property, including its physical condition. Home inspectors help clients understand the condition of the home. So far, so good. However, the business goal of a real estate salesperson is a home sale. Without a transaction, they have no revenue. Home inspectors get paid for every inspection they do. Real estate agents only get paid when there is a home sale.
The Home Inspector's Dilemma
There is an inherent potential conflict in the relationship here. The home inspector wants to tell the buyer about the condition of the home. The agent wants their client to buy the home. The challenge is obvious—clients may be discouraged from buying the home if it is not in the condition they expected.
Resolving the Dilemma
Different inspectors approach the issue in different ways. Some choose not to work through real estate sales people and instead rely on other marketing approaches, including their website and personal referrals, for example. This strategy is easier for well- established inspectors than for new inspectors who do not have a significant client base.
Some inspectors attempt to provide reports that help ensure the home will sell. This shortsighted strategy leads to home inspectors with unhappy clients, resulting in a very short and unpleasant home inspection career.
Many inspectors work with real estate professionals who understand the dilemma and take a long-term view of their business. Most successful real estate salespeople understand the importance of satisfied clients over the long term. Referrals are a very important part of how they grow their business. These professionals want a good quality home inspection so that their clients make informed decisions that result in a positive homeownership experience. That reflects well on the real estate agent and helps them grow their business.
What do these real estate agents look for? They look for home inspectors who are competent and credible; those who are presentable, good communicators (both verbally and in writing); those who are fair and evenhanded; and those with the ability to provide information in layman's terms and with an appropriate perspective. As in every relationship, when goals are aligned and every party gets what they need, the relationship flourishes.
Alignment
The real estate sales community is like any other. There are many different business philosophies and personalities. The same is true of the home inspection community, for example. The most successful business relationships are among those with similar philosophies.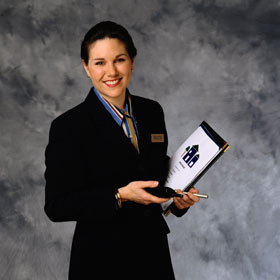 Working With Real Estate Agents
Some home inspectors choose to focus exclusively on the client; others work with the real estate community. Our approach is to work with members of the real estate community whose goals align with ours—to provide homebuyers and sellers with important information about the physical condition of the property, provided in a clear, balanced format that is neither alarmist nor sugarcoated. The benefits of this approach include long-term relationships, revenue growth, enhanced credibility, professional respect, reduced liability, and the simple but rich satisfaction that comes from focusing on doing the best job possible for clients.
In any business, the relationships that succeed are the ones in which everyone wins. When the home inspector and real estate agent work together to provide clients with the information needed to make great decisions about their home, it's good for all the parties. Home inspectors do more work; real estate agents reduce their liability, have more satisfied clients and thus more referrals; and clients get the information they need to make informed decisions.
Summary
Among the many marketing approaches that can be applied in the home inspection business, finding clients and working with them through an intermediary—a real estate salesperson—is both a challenge and an opportunity. After 37 years, we are very comfortable with our approach and enjoy many successful long-term relationships with members of the real estate community. We hope this discussion is useful to you and helps you confirm your current approach or consider an alternative.
Thanks to Kevin O'Hornett and Roger Hankey for some very helpful input on this article.