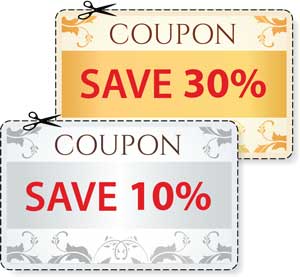 Discounting must be a good idea — so many businesses do it! Does it work for home inspectors? Let's take a look.
The Theory
The goal of all marketing is to get people to change their behavior, to use your service. People resist change. Coupons and discounts help overcome that resistance. They help create a pattern of repetitive buying. Although by using coupons or discounts you will lose money on the first sale, there is the hope that you will recover it in subsequent sales. Consider the life value of the customer — how often does a typical client or real estate agent refer you and how often do they recommend your services?
Coupons and discounts also can affect decisions on one-time purchases such as cars, appliances and electronics. People choose based on price in situations for which they perceive services to be equivalent, especially for commodities like gas, milk and mortgages. In general, people make choices on differentiated products based on their perceived value. For example, many people perceive that Apple's electronic products are better than others in this category and in turn, the prices of Apple products generally are more expensive than the prices of their competitors. Generally, we don't recommend competing on price, but rather on value.
Marketing Goals
The goal of any marketing activity is to solve a problem or satisfy a need. Home buyers' and sellers' goals are pretty clear. Real estate agents' goals are to sell homes and build their business through a good referral network. Because home inspection is now a part of real estate transactions, good agents identify inspectors who help them build their business by providing their clients with great value.
As home inspectors, we ask real estate agents to take a risk when we request that they include us in their referrals. Established agents typically know and recommend certain inspectors. Why would they change? They may be unhappy with an inspector. Or they may be happy with an inspector, but he or she may not always be available. In our experience, offering a home inspection at a lower price does not change the behavior of a real estate agent if he or she is happy with your service. Instead, you might focus on agents who do not seem to be completely satisfied with their home inspector options.
Do Coupons and Discounts Work for Home Inspectors?
It depend ... There are pros and cons.
Pros
You may build new relationships and get new business.
Providing coupons or discounts may differentiate you and provide branding for your business.
Offering coupons or discounts may help strengthen relationships with real estate agents and promote retention.
This strategy can be seen as giving a "thank you" to clients and real estate agents, which can promote retention.
Cons
There is a cost to you because of the reduced income you will receive for discounting your services.
Design, production and distribution of coupons and promotional materials can be costly.
You are competing on price. Coupons and discounts are not unique selling propositions (USPs), so your competitors can copy your idea quickly.
Providing coupons or discounts can diminish your reputation. Some say that professional consulting services should not be discounted. For example, lawyers and accountants do not typically discount their fees or offer coupons. Consider these questions: Does it diminish the perceived value of the service? Does it make home inspection look more like a commodity? We can see both sides.
Offering coupons or discounts to only some real estate agents may cause you problems with others.
Providing coupons or discounts may be perceived as an inducement and could be considered a questionable way to do business with regard to ethical practices.
Possibilities
As an example, we reward the agents who regularly refer us to their clients with $25 coupons that they can pass along to their clients. In this way, our promotion makes the agent look good and is one more reason for the agent to recommend you. Some offer the coupons to clients in the hopes they will pass them along to their friends. This helps build referrals. Social media makes this relatively easy.
Coupons for services offered by others
Many businesses would like to connect with new homeowners and are willing to offer a coupon or discount to your clients. For example, we work with a junk removal company that gives us $50 discount cards that we can pass along to every client. The card is co-branded with our company name and theirs. If you think about it, you could probably identify 50 other services that might be willing to partner with you in this way. This can be a win-win-win!
The ultimate discount
The ultimate discount is a free inspection. Would you ever offer a free inspection? We believe it can make sense. A real estate agent is taking a risk anytime they refer a new home inspection company. A free inspection for their client can reduce the risk enough to convince the agent to give you an opportunity to create a strong impression. We suggest doing this with top-producing agents who need to arrange lots of home inspections. Your investment should have a chance of a good return.
In exchange for the free inspection, you should ask the agent for their feedback and, ideally, their commitment to include your name and information when they give their clients a list of home inspectors. Either way, you will learn something. Remember, trust and respect are earned, not given or bought.
When a real estate agent asks you for a discount, you may want to offer a free inspection for their client. This may be an especially good idea if they have used you as an inspector a number of times. One approach is to offer a 10% discount, but we recommend offering it in this way — every 10th inspection is free. This ensures that they will keep using you to get the reward.
You might use a free ancillary inspection if you are trying to introduce a new service or type of inspection. This includes pre-listing (sellers) inspections or termite, radon, mold, swimming pool and spa inspections. Offering these added services free as a way to introduce them may get you more home inspections and can help create awareness of your new and, ideally, unique offerings.
Measurement
Coupons or discounts are just a price reduction if they don't grow your business. You need to track your results so that you can know if any marketing, including coupons and discounts, is working. You should number your coupons and keep track of redemptions. You also need to track the behavior of clients and agents. Are you getting more referrals since you introduced the coupons? If not, change the strategy.
Coupon Tips
Use a high-quality coupon that looks and feels as substantial as a credit card. These are not expensive when purchased in volume and their appearance will avoid the risk of having others try to duplicate your paper coupons.
Be sure to number the coupons so you can track their use and effectiveness. Consider including an expiration date.
Introduce coupons as a short-term campaign rather than a long-term commitment. Announcing an end date at the beginning of the campaign allows you to wind it down if it does not generate results. On the other hand, it's easy to extend a successful program.
Summary
Coupons and discounts are not for everyone, but they have worked for us in some situations. We hope these ideas are useful for marketing your home inspection business.
Thanks to Roger Hankey and Kevin O'Hornett for their insightful contributions to this article.