Cities across the United States are uncovering potential crisis-level danger from poisoning due to lead present in a home or a school's water supply, and from older residual lead paint. Home inspectors are playing a critical role in helping to protect buyers as more attention is being given to this issue.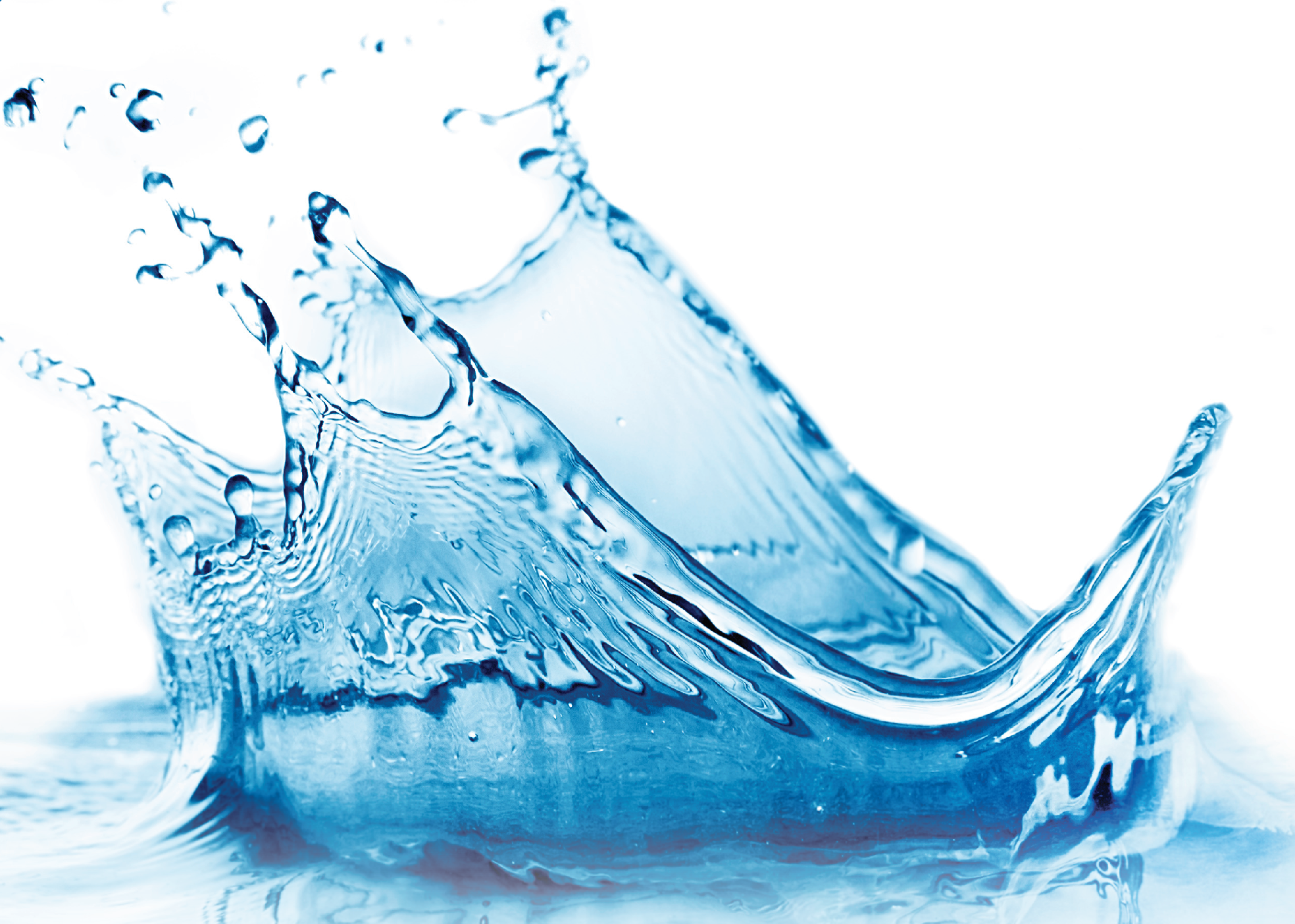 What is the health danger?
Lead contamination poses a serious threat to the safety of drinking water. Often colorless, odorless and tasteless, the metal can go undetected.
Exposure to excessive amounts of lead places adults at risk for cancer, stroke, kidney disease, memory problems and high blood pressure. At even greater risk are children, whose rapidly growing bodies absorb lead more quickly and efficiently than adults. Lead can cause premature birth, reduced birth weight, seizures, hearing loss, behavioral problems, brain damage, learning disabilities and a lower IQ level.
The U.S. Environmental Protection Agency (EPA) states that lead is the most serious environmental health hazard for children younger than six years old. Blood tests to determine if lead exposure is occurring are often recommended for very young children.
How does lead get into homes and schools?
Lead paint and dust, often found in older homes (built before 1986), are the primary sources of lead poisoning. Drinking water is another, smaller source of exposure to lead, but the amount of lead varies greatly among homes, schools and other buildings. Infants drinking formula can get half of their lead exposure from drinking water.
Lead is much more likely to enter water from household plumbing. For this reason, lead is a potential concern for all homes, whether on a public (municipal) or private (individual well or spring) water supply.
Lead also can corrode from metal faucets and fixtures made from brass, including chrome-plated brass fixtures. Brass fixtures can leach lead, even in homes with plastic water lines. Lead also may originate from the corrosion of brass fittings on certain types of submersible pumps used in groundwater wells through the mid 1990s.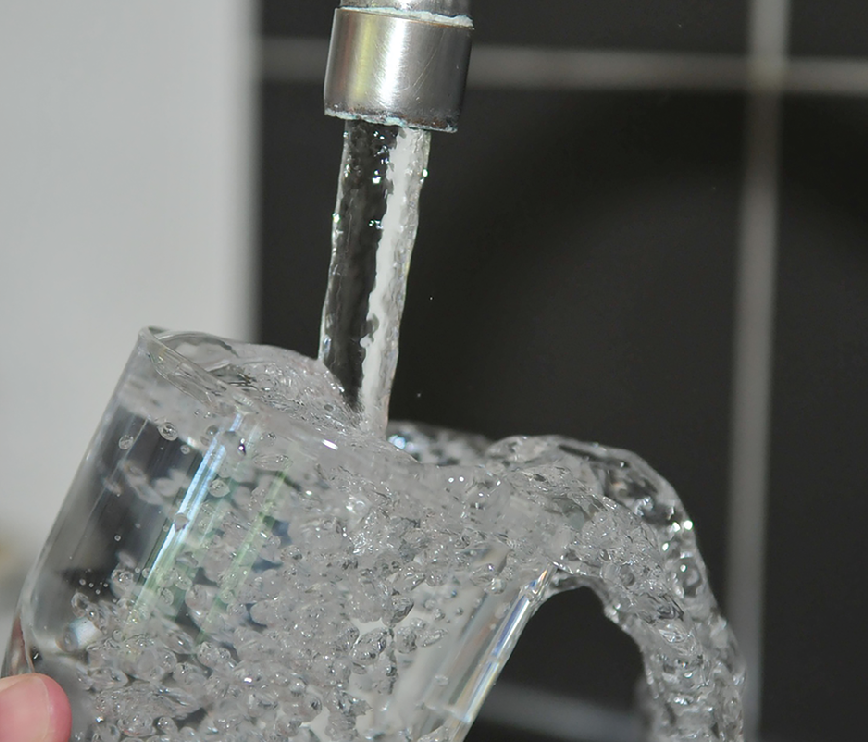 How prevalent is the lead issue?
In 2015, the water crisis in Flint, MI, put a spotlight on the seriousness of lead in water. More recently, on October 30, 2018, the New York Times posted a story on the danger of lead in New Jersey's water supply. As of the writing of this article, state officials in New Jersey have begun an urgent giveaway of 40,000 water filters in the city of Newark (285,000 people) to address lead that has been leaching into drinking water at one of two Newark treatments plants. State officials warned that children younger than six years old and living in homes with lead pipes served by those water plants should not drink unfiltered tap water.
In Indiana and many other states, schools are tearing out water fountains and old faucets after finding elevated levels of lead in their drinking water. Detroit schools turned off all drinking fountains. Every state is experiencing some level of concern about lead levels in home and school water supplies.
What about your state? Google it!
I did a quick investigation of my own state, Pennsylvania, and the findings were alarming. To find out about your state, use your favorite search engine and enter "lead in water" and the name of your state. You may be shocked at the findings.
Pennsylvania facts
The Federal Safe Drinking Water Act has established that drinking water in homes should not exceed 15 parts of lead per billion (ppb). In a report going back to 2014, Pennsylvania uncovered that there are 17 cities in Pennsylvania in which 10 percent of children tested positive for lead exposure.
When investigators recently tested 40 Philadelphia schools for lead in drinking water, they found that 14 percent exceeded 15 ppb, which is especially troubling when you consider that no level of lead is safe, according to Elowyn Crosby, field director for Penn Environment, a statewide environmental advocacy group.
Moreover, the results of a 2014 Pennsylvania Department of Health Study revealed that children in 19 communities tested positive for lead at levels higher than those seen in children in Flint, MI. This report is part of what brought the issue of lead in drinking water to the forefront, said Sen. Vincent Hughes (D-Philadelphia).
The Pittsburgh Water and Sewer Authority, long plagued by lead contamination in its water supply, is still struggling to meet the state's Department of Environmental Protection's (DEP) 15 ppb standard, said State Representative Karen Boback.
In October 2018, Pennsylvania Governor Tom Wolf proposed that every Pennsylvania child under age 2 be tested for lead poisoning. As reported by Lancaster Online, the governor called on the state's Department of Health to work with the General Assembly and community partners to draft legislation to require universal testing statewide. Pennsylvania has one of the highest rates of lead poisoning in children in the country.
The Scranton Times Tribune published the following chart, which indicates the issues faced in many Pennsylvania communities: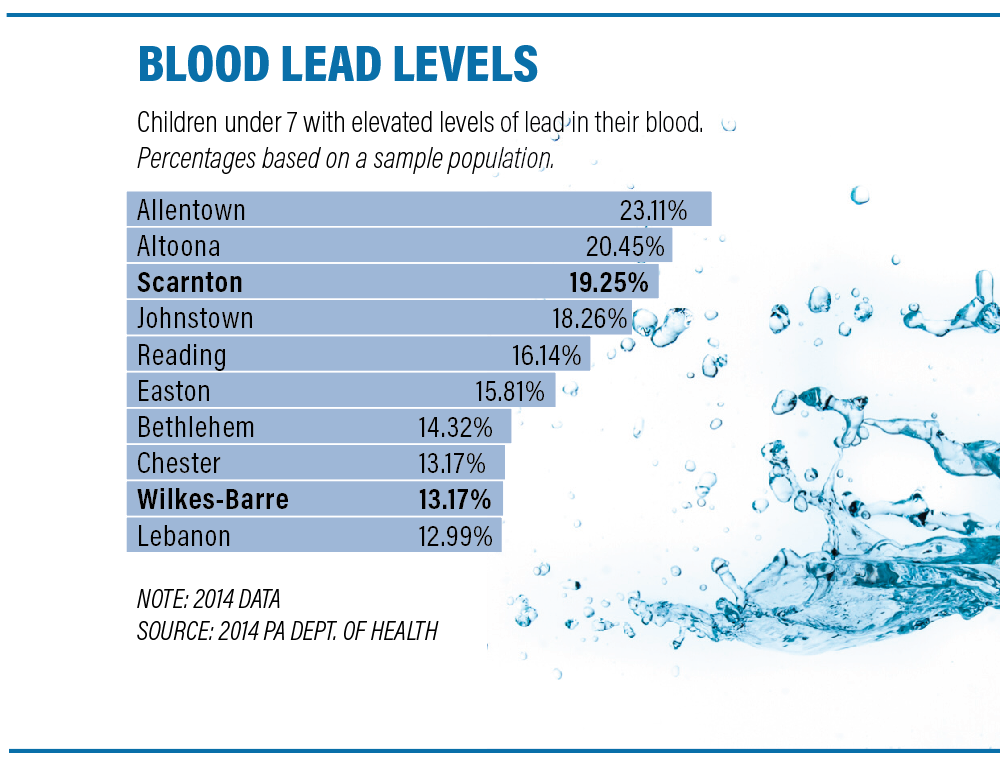 Senator Bob Casey on Lead Poisoning
In response to Flint's problem "and growing concerns about lead poisoning in Pennsylvania," U.S. Sen. Bob Casey (D) promoted the Clean and Safe Drinking Water Act when he spoke at a press conference in
(January 2018) in Washington, D.C.
No safe level of lead
Tom Vernon, a Philadelphia physician and former director of Colorado's Department of Health, agreed that lead is less of a problem these days due to measures like removing lead from gasoline and paint. "But that good news is offset by what we're learning about the effects on school achievement and executive function at lower and lower levels of lead exposure," Vernon said.
There is no safe level of lead exposure for children, according to the Centers for Disease Control and Prevention.

Lead in water guidelines
The U.S. Department of Health and Environmental Protection Agency offered some guidelines to homeowners, particularly those with young children, to minimize the dangers of lead in water.
Run your water to flush out lead. If water has not been used for several hours, run the water on cold for 15 to 30 seconds before using it for cooking or drinking.
Use cold water for cooking and preparing baby formula. Do not cook with or drink water from the hot water tap.
Do not boil water to remove lead. Boiling water will not reduce lead; in fact, the level of lead will be higher in water that has been boiled.
Test your water for lead. Use a DEP-accredited laboratory to analyze your water.
Identify if your plumbing fixtures contain lead. Replace these fixtures as soon as possible with approved, non-lead-based plastic or other approved equipment.
ANDalyze Water Testing System
One fast and effective way to ensure the safety of your home or school water supply is by using the portable ANDalyze testing device, called a fluorometer. This proven hand-held device has passed a rigorous EPA validation testing protocol and can ascertain if a home's water outlets exceed the federal guideline of 15 ppb of lead.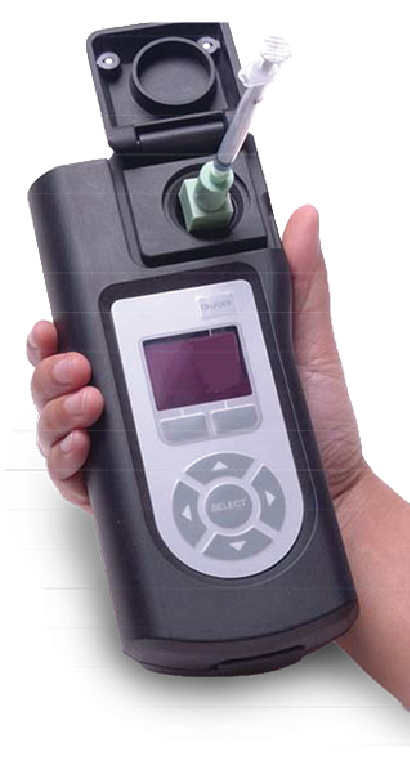 Many home inspectors around the United States and Canada already use the ANDalyze system. Performing the simple test usually costs approximately $150, depending on the number of faucets in the home. Results from the test are available within minutes after sampling.
For more, contact your local home inspector or go to www.ANDalyze.com to learn important facts and information. View the online video (https://andalyze.wistia.com/medias/n4xgwvsj32) to learn more.
Sources Consulted
Wall Street Journal, New York Times, KDKA in Pittsburgh, Scranton Times Tribune, Pennsylvania Department of Health and Environmental Protection, Pennsylvania Department of Health Report 2014, Penn State University, the Federal Lead and Copper Rule 2007, PennLive.com, Penn Environment Research and Policy Center, Vox.com, PublicSource.com, LancasterOnline.com, PelicanWater.com, Pittsburgh Water and Sewer Authority (PWSA), and Philly.com.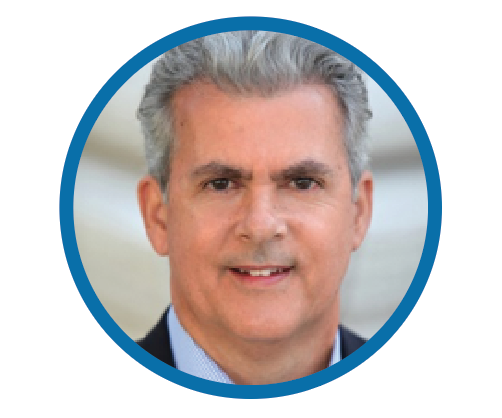 Neil Perry is a consultant serving the home inspection industry. Neil serves as a marketing adviser to ANDalyze, a water testing company based in Illinois. ANDalyze Inc. provides handheld, portable testing units capable of on-site, instant analysis of lead in a home's water supply to the home inspector marketplace. Contact him at neil@neilperryassociates.com or 610-420-0852.