Just eat out
This is one way to vent your dryer. This vent ran from the utility room off the kitchen, across the stove top, to an open window stuffed with
towels to keep drafts out.
Mike Powers
Fairfield, Conn.
Can of worms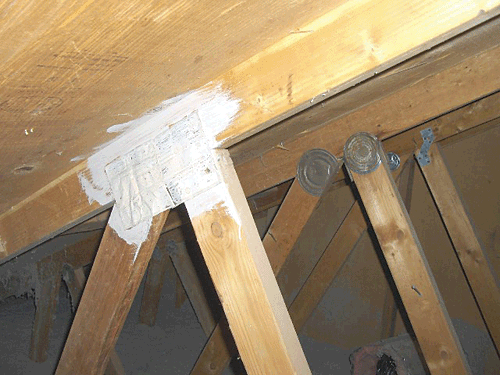 If you can't make out the material of the white painted truss clip, look at the truss right behind it and you will see the top and bottom of a tin can. Most of the metal gussets for the trusses of this concrete tile roof with a heat pump installed in the attic were various parts of tin cans. Also, notice the direction of the plywood roof deck.

Neil Brogren
A'N'B Home Inspections
Gold Canyon, Ariz.
Gross-out of the month
This tenant was complaining about a strange smell coming from her crawl space. Midway into the crawl, I noticed a depression in the dirt. As I got closer, I realized that the main plumbing waste line had failed and a cesspool had formed in the crawl. The cesspool measured 5 feet by 3 feet by 2 feet deep. She said she had noticed the smell about 8 months ago and the landlord said he couldn't find the problem…….What?!

Michael Dostillio
JFM Inspections, Inc.
Sewell, N.J.
What a trip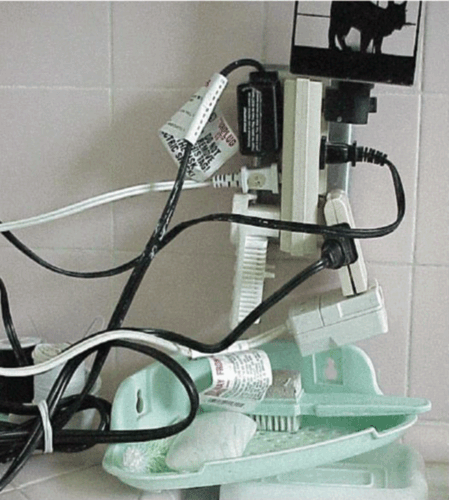 This bathroom outlet is not a GFCI. Thank providence, this homeowner had the presence of mind to leave all of the tags on, advising of potential shock hazard, should one carelessly remove the tags.
Charles A. Gabriels
InspectionsRus
San Gabriel Valley, Calif.
Loopy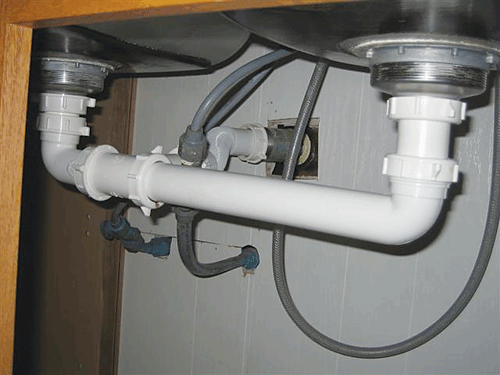 While a P-trap and proper grade in waste piping are required, if there isn't enough room, can't you just omit them, and link the drain assembly with a flexible section of pipe...as long as it doesn't leak, it's okay, isn't it? The lack of a trap was filling the kitchen with methane gas.
Jamison Brown
AmeriSpec Home Inspection Services
Poquoson, Va.
They're creepy and they're kooky...
This is a photo of a propane tank covered with vines. Does anyone remember Cousin Itt from the Addams Family?
Nancy Janosz
Pro-Team Property Inspections
Wesley Chapel, Fla.
Bad news
This is an improperly piped Temperature and Pressure Release Valve on an improperly wired water heater. How long before you discover a drip in this TPR Valve—before or after the electrocution?
Chris D. Hilton
Home/Building Inspections
Winston-Salem, N.C.
Howdy
"Is one of you the real estate agent?"No, not all of Idaho is like this.
Dan Chapleski
True North Inspection Services
Coeur d'Alene, ID