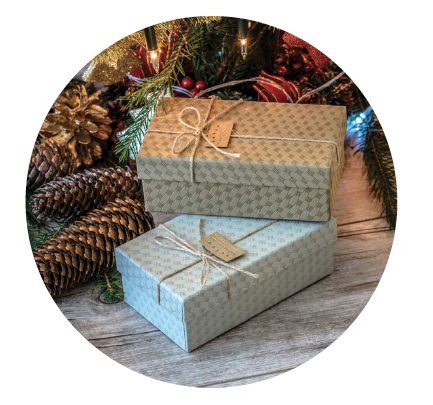 Last month, I wrote about reasons to be thankful for what we have. This month, I'd like to talk about the season of giving and receiving. The thing is, when you really need and receive all of the really important gifts, you're too young to realize it. By that, I mean the overwhelming nurturing we all need before we even take our first breath. On the other hand, probably the first gift we give is the unequivocal love we show to our families. After my first grandchild was born, my wife said she knew that she would love him. What she didn't expect was how much he'd love her. I clearly have some work to do.
My mom and dad worked different shifts, so "Mumma" would get us ready for school in the morning while my dad was asleep. Then my dad would still be home to make us lunch. Imagine that? Going home for lunch!
Growing up in a working-class family of seven, I never felt deprived. Well, that's not completely true. My friend Wayne was an only child and he got everything. But in reality, I received a lot of cool stuff: an Erector set, a three-in-one Knight Kit, a Melvin Ott baseball mitt… you know, really neat stuff. As I got a little older, I found that it was fun to give gifts, too, although my sisters weren't as fond of the cat's- eye marbles, Pick-Up Stix or jacks as I was. But it's the thought that counts, right?
So, when you're thinking about those around you, remember that ASHI members are like your professional family. When a new inspector first joins ASHI or their local chapter, that inspector needs a lot of help to get nourishment in their new life. Some don't seem to realize how important that help is to them, but as each inspector progresses and develops success, most do develop an appreciation for those folks who paved the way. One of my favorite sayings is, "Prepare the child for the path, not the path for the child." That's what ASHI does for us. It shows us the way and points us in the right direction.
When I was ASHI's President in 2007, my monthly article in the Reporter focused on some of the people who freely gave me the gift of their wisdom and knowledge. I could not have been the inspector I was without that support. Think about how you not only survived, but thrived, because of others in your chapter or in ASHI National. The tireless efforts of guys like Ron Passaro, John Heyn, Phillip Monahon, John Cox and countless others propelled ASHI forward to become the premier home inspection organization it is today. Go to http://www.homeinspector.org/Charter-members to see a list of these pioneers.
My suggestion is to reach out to a struggling inspector in your area or maybe a member of a competing home inspection organization.
In the spirit of Christmas and Chanukah (or even Festivus, if you prefer), think about giving a gift to someone who might really make a difference in your life. My suggestion is to reach out to a struggling inspector in your area or maybe a member of a competing home inspection organization. Ask the inspector to go on a ride-along with you. Show the "tips" you use. Some of you may think that this would be professional suicide, but I believe it could be cathartic. And you may be pleasantly surprised to see that what goes around, comes around.