In Japan, 1.2 million units of new houses are being built annually, while only 200,000 houses are being traded in the second-hand market. A delegation from Japan recently visited ASHI HQ to discuss ways to create a demand for home inspections in this unique real estate transaction mix.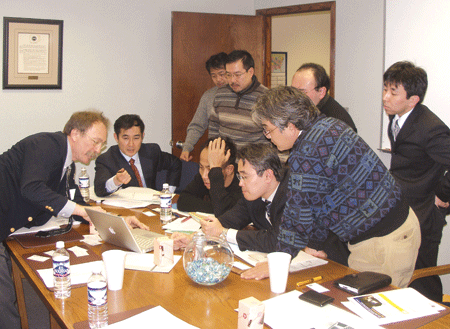 Frank Lesh, ASHI vice president, Rob Paterkiewicz, ASHI executive director, and Anthony Snyder, ASHI director of membership and marketing, met with seven
delegates of the Japanese government on an official visit from the Ministry of Trade, who were in the United States working on the "Housing Industry-related New Business Support Project." They were interested in learning about every aspect of the housing industry, specifically asking ASHI's representatives about business models, whether or not the U.S. government had fostered the housing industry or put in place restrictive measures, and whether or not the home inspection profession is imposing voluntary restrictions on its own activities. Unlike the United States, which has a high instance of existing home sales, along with a robust building of new homes, the trend in Japan is to buy property, tear down the existing home and build a new one, with many incentives from the government for doing so. In the future, Japanese leaders are trying to find a way to make it more desirable for buyers to move into existing homes. One of the first steps is to establish a home inspection industry based on ASHI successes in this area.
(Photo: Frank Lesh demonstrates home inspection software for the Japanese delegation.)
Unlike the U.S., where most consumers will move frequently and purchase larger homes to meet the needs of a growing family, the Japanese guests indicated that most Japanese families move into their first home after renting or living in a small condominium. The first home they buy is usually the one they remain in, and it is quite small when compared to U.S. residences.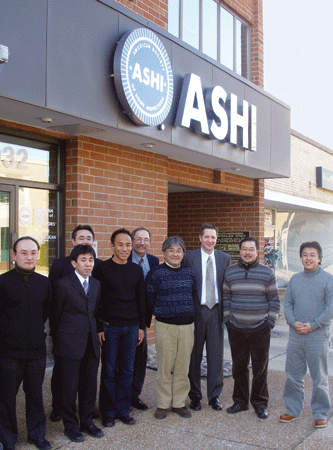 ASHI's leaders and staff consider it a privilege to serve as a resource for those from around the globe who are interested in developing the home inspection profession in their own countries. This is the second time ASHI has welcomed a delegation from Japan to HQ. The first group visited in November 2000.
(Photo: The delegation in front of ASHI HQ with ASHI Vice-President Frank Lesh and ASHI Executive Director Rob Paterkiewicz.)

After the three-plus-hour intensive discussion with the ASHI staff and Secretary
Lesh, Motoyasu Yoshiike with the Industrial Policy Department of the Mitsubishi Research Institute in Tokyo said, through his interpreter, "I can feel the pride you have for this profession. We hope we can bring this to Japan."