It worked for a while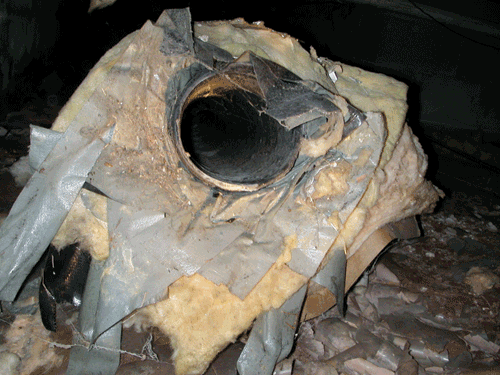 Mr. Homeowner had some leftover landscape drains and he made HVAC ductwork. Lots of duct tape, and it still fell off.

Mike Everett
Southern Home Reports
Anniston, Ala.
Easy fix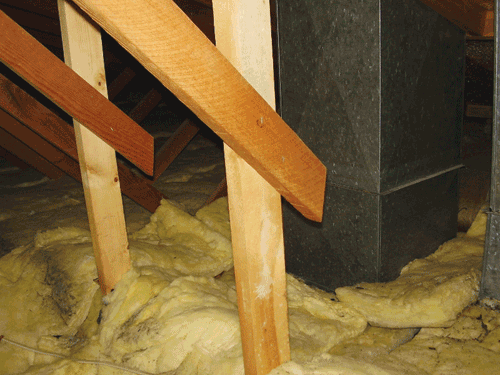 This photo is from a home I inspected in Globe, Az. The owner had no clue what had been done to install his gas pack. Even the ceiling joists had been cut for this installation. Really makes you wonder what people are thinking.
Richard Franco
Casa Inspection Services
Globe, Ariz.
Venting by luck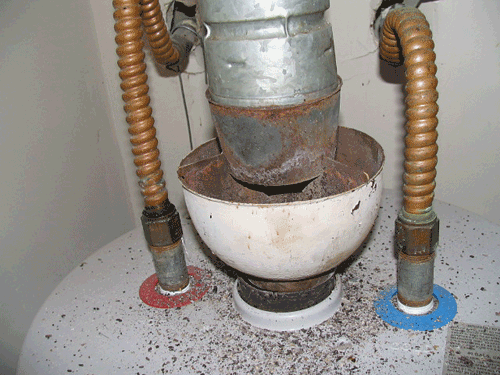 I found this gas water heater with an upside down draft collar that did not even match the installed tank. The owner had to really work hard to put all of this together.
Scott Patterson
Trace Inspections
Ridgeland, Miss.
3 strikes and you're out
Here's a furnace with 1) a copper gas line using natural gas; 2) a gas leak and; 3) to top it off, can you see where the fire was? The valve and wires, as well as the inside of the furnace, were blackened with soot from an earlier fire.
John Kerwin
Protect Inspect
Colorado Springs, Colo.
Skimpy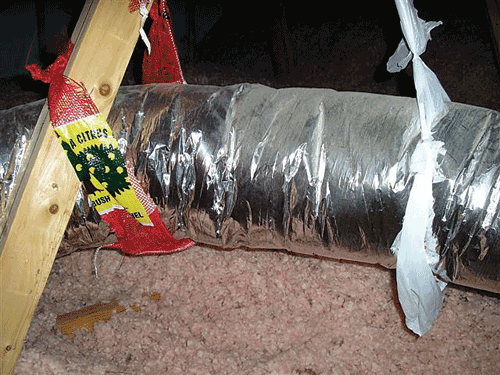 Who needs duct strapping when there are orange and plastic bags handy!
C. John Limongello
Land America Property Inspection Services
Marietta, Ga.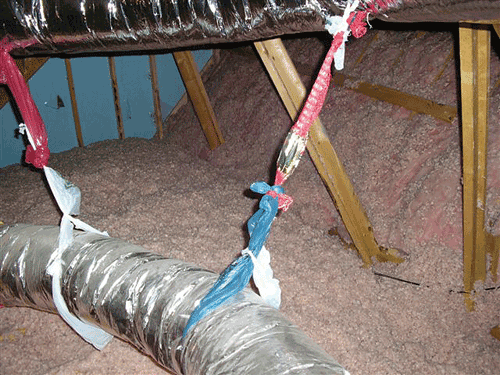 The phone wire is an unusual touch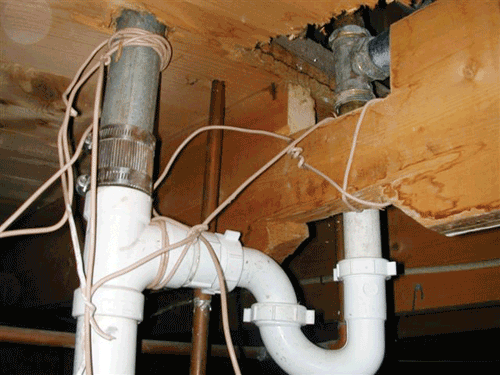 This is a photo of some extreme whittling of a floor joist to accommodate a bathtub drain along with phone wire supporting drain pipes.
Tom Oliver
Oliver Home Inspection Services
Montrose, Colo.

Shower siding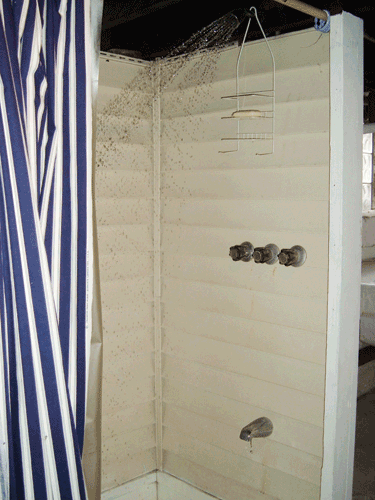 This is a new use for vinyl siding as a "high tech" shower surround material. Prior to the start of the inspection, the homeowner bragged about the fully finished basement
bathroom.
Bob Bowling
Land America Property Inspection Services
Livonia, Mich.
Nice wiring
The homeowner assured me all electrical work was completed by a licensed electrician. RE-HE-HE-HE-EALLY!
Dan Chapleski
True North Inspection Services
Coeur d'Alene, Idaho