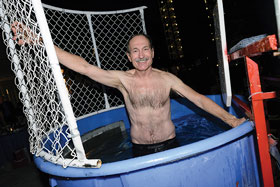 Frank Lesh
You've seen a lot written about InspectionWorld® 2016 in past issues of the ASHI Reporter. There's good reason for that, at least from my perspective. IW 2016 was the 27th consecutive ASHI annual conference I've attended. At each one, I learned valuable information that helped my business immensely. Although this IW was no exception in that regard, I don't think that any of them were as much fun as the one in San Diego.
Maybe part of the enjoyment was the mild climate. Having temperatures in the 60s is a real treat for someone like me, traveling from Chicago in January. Perhaps another reason was the open-air venue, which allowed walking through the pool area and fountains between meetings and catching a light breeze and warm sunshine on my face.
But I think the most fun I had was at the InspectPac fundraiser/ reception.
Eating, drinking and having a genuinely good time reviving friendships while collecting money for our lobbying efforts in Washington, D.C., was an "immersion" in fundraising I'll never forget. Nor will President Randy Sipe or Directors Scott Patterson, Bob Peterson and Shannon Cory.
Why? Well, let me say that if you ever have the opportunity to volunteer to be a target for a dunk tank, there's no doubt you'll experience a physical cleansing that's unforgettable. It's great to know that—whether fully clothed or wearing nothing but a Speedo—some of ASHI's elected officials weren't afraid to drown their pride in ice-cold water. Not to be outdone, ASHI staff members Jen "Cheese Cake" Gallegos and Bonnie "I can do anything the boys can do…only prettier" Bruno were, for most attendees, the main event. Longtime inspector Brian Murphy gave an encore presentation in the tank and helped raise even more money.
Realizing that no one would even consider dunking me, I happily agreed to sit on the collapsing chair. To my surprise, a few future former ASHI staff members were reluctantly talked into lobbing a few balls at the target while I was on the "hot seat." Thanks to James Allen for donating his throws to any staff members who were willing to risk new employment.
Not that I was taking names, but Russell "Southpaw" Daniels purposely missed the target with a fastball clocked at 96 mph. Janet "Bulldog" George tossed a couple of underhand balls with such finesse that they bounced right off the target. Bonnie and Jen just wanted me to enjoy the cool, refreshing pool, while Michele "InspectionWorld" George, who must not have known that I was the one on the seat, threw a couple of mean pitches that narrowly missed the target.
But, as we all know, accidents happen. Kim "Michelin Man" McGraw was on the mound when apparently an equipment malfunction occurred, causing the chair to collapse and my toes to get a little wet. No hard feelings. Kim was a great employee who, I'm sure, will find happiness in whatever line of work she finds.
All in all, between the raffles, dunk tank and contributions from Mike Crow (the Millionaire Inspection Community), InspectPac raised $16,000. That will go a long way to ensure that ASHI is well represented on the Hill.
A great time with great fun at a great conference…InspectionWorld 2016!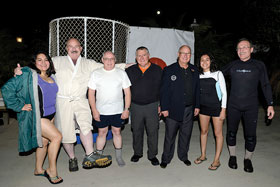 Left to Right: Jen Gallegos, Scott Patterson, Shannon Cory, Robert Peterson, Randy Sipe, Bonnie Bruno, and Frank Lesh
Bonnie Bruno