Take advantage of all that Google Places can contribute to your marketing efforts at no cost to you.

Would you like to improve your business presence on the Internet? Would you like to do it for free? If you are willing to spend a few minutes working on your Google Places listing, you can improve your placement in this directory, thereby helping to promote your business for free.

Google actively searches for business listings. If you have a business phone number that appears in the Yellow Pages™ or on a website, you probably are listed in Google Places, the name Google has given to its directory of businesses throughout the United States and Canada.

For example, if a user enters the term – "home inspection 55344" (author's zip code), Google returns a listing of the home inspection companies in that zip code (see Screen Shot 1 below).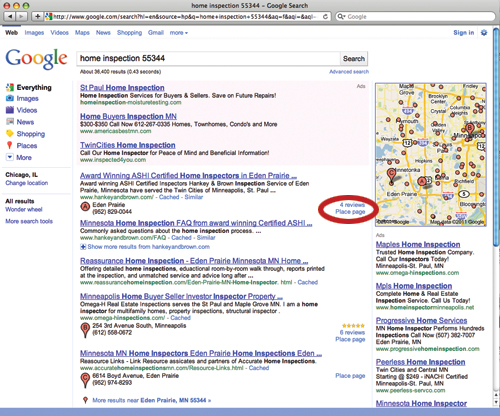 Screen shot 1: Results from entering the search term "home inspection 55344" (the author's zip code) in the Google search engine. Note the "Place page" circled in red.

The screen image includes a small map with lettered pinpoints or dots marking the home inspection companies found by the search. First on the list are the "Pay per Click" sponsors, followed by a list of inspection firms listed by a letter on the map. Your firm may appear even if your business does not have a website, but the results are likely to be better for firms with websites.

How to improve your listing
The first step to improving your listing is to find it.
Go to the main Google search box and key in home inspector or home inspection, followed by your business zip code (postal code in Canada) or city and state (province in Canada). When you see your listing, click on Place Page (lower right corner of the listing). This will take you to the detail screen for your listing in Google Maps. Look near the top of the page, just below the Search Maps box (see Screen Shot 2 below).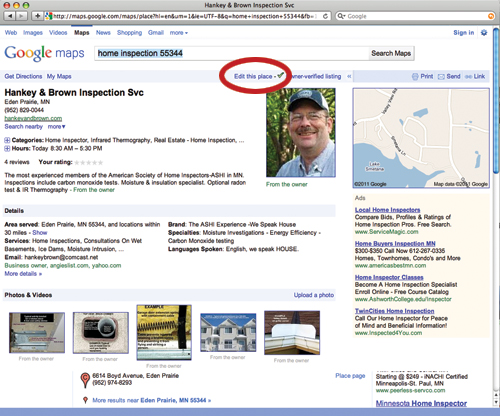 Screen Shot 2: The author has found his listing in Google Maps, clicked on the Place Page and now is looking for the link (located below the Search Maps button) that will allow him to edit his information. Note where to edit the Place page, circled in red.


It will say "Edit this place – Business owner" or "Edit this place – Owner-verified listing." Click on the underlined — Edit this place — text to begin editing your listing. You will be asked for your Google account and password. If you don't have one, you can register for free. Once you are logged in, proceed to edit your information.

The Google Places detail for your listing will include a map of your location and possibly a street image of your business address. One of the interesting things I learned in researching this article is that many inspectors list their place of business as a mailbox in a UPS store. If your business address is a UPS store, the UPS storefront may show up as the image of your business.

If your business address and your home address are the same, the front of your house may be pictured. Google does not have a photo of all business locations listed in the directory. Some of Google's street-level photos are ridiculously bad. For example, the street-level photo of a Nashville, Tenn., inspection firm is of tall, dense evergreen trees along the street.

What's more, U.S. Mail P.O. box addresses are not considered a physical location and do not qualify for a listing. In addition, Google Places does not permit multiple locations for a business listing.

You do not have control of the image Google uses for your place of business, except that you can choose what location to list in the Google content for your business, including a choice not to display a street address, electing to use only the city, state and zip code (city, province, and postal code in Canada). If you elect to omit your business address on Google Places, no photo will appear, and Google will place your business approximately in the center of your zip code or postal code area. My office is in my home, so I prefer this choice.

It helps to have a complete listing. Google will even tell you whether the listing is complete or not.

The information categories include:
• Hours of operation
• Area of service
• Up to 10 photos
• Brand
• Specialties
• Optional services
• E-mail
• Videos
• Coupons
• Short summary – mission
• Categories
If your listing was not listed as Owner-Verified, once you have completed editing it and submitting the new information, the site will change to an Owner-Verified listing, which only persons with access to your account and password can change.

Another key to a higher position in the list is to have reviews. While the ranking is based on proximity to the searched city or zip code, listings located in the same general area with reviews are ranked higher than those with fewer reviews or no reviews.

I actively solicit reviews; however, the danger with reviews is that a single negative review can be more powerful than many positive reviews. Google Places does provide you the opportunity to place a response to any review, and you (or other users) also can request that inappropriate reviews be removed. Google also may place reviews on your listing from sources other than Google users, such as from Angie's List®, the Better Business Bureau or other local rating services.

One of my local competitors has a website address (URL), but does not list it on his Google Places page. It appears anyway in the "More about this place" section at the bottom of the page. As a result, his listing was third in his suburb even though he had a good review. His competitors had their web address (URL) in their listings.

Extraneous HTML code in your website can appear in the Google result. Have your website code checked by someone familiar with HTML programming. You can view your website HTML code by clicking the View menu and Source on your website. If you are not trained in HTML code, do not edit it, as any edits can change how your website appears, both in a web browser and on Google.

Be sure to spellcheck all text in your listing. For example, "home inspcetion" doesn't look professional.

Google Places has tips and help content to assist you in editing and completing the listing. They also have a complete Google Places Users Guide. Google Places also provides tracking data that show how often your listing was viewed and how often it resulted in a click to your website. Google will e-mail this data to you monthly, or you can see it at any time by clicking on the edit link.