For several years, ASHI has been developing the Homeowners Insurance Survey Form, a form that once accepted by insurance companies can be used exclusively by ASHI members to conduct a natural
hazard risk survey for homeowners prior to obtaining insurance coverage for their homes. Citizen Insurance Company in Florida is using the survey form. ASHI members Bill Mason and Michael Conley submitted the following reports on progress in gaining wider acceptance for the form, thereby increasing the earning potential for ASHI members.


Mason and Knos fuel interest at FLASH

As members of the Homeowners Insurance Survey Form task force, Tore Knos and I attended the Federal Alliance for Safe Homes (FLASH) conference in Atlanta, October 30–31, 2007.

I gave a PowerPoint presentation titled "Harden your Home – Think Green," after which several members of the FLASH Technical Committee wanted to know more about the Homeowners Insurance Survey Form.
There were 78 people in attendance, including the heads of the engineering departments from the University of Florida and Florida International University (where they are constructing a wind tunnel large enough to house a two-story home on a turntable), and Texas Tech University (major research university for tornados). Also present was the manager of business development for Walt Disney World's Epcot Center and Tulsa Partners, and John Oxendine, insurance and safety commissioner for Florida. Additional attendees represented the National Fire Protection Association, Federal Emergency Management Agency (FEMA) and National Oceanic and Atmospheric Administration (NOAA).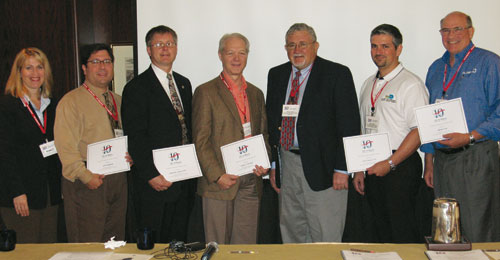 Photo: Bill Mason (third from left), ASHI's representative to the Federal Alliance for Safe Homes (FLASH), poses with a few of the people who attended his "Harden Your Home – Think Green" presentation, during which he promoted ASHI's Homeowners Insurance Survey Form.

We were introduced to Pat Durland, Stone Creek Fire, LLC, a wildfire consultant to FLASH whose educational programs and resource information could benefit ASHI members.

We discussed with John Oxendine the possibility of insurance companies that request rate changes get the information from the Homeowners Insurance Survey as a base to help them define their premiums. He was receptive to the idea, and Tore Knos is following up with him. Since the conference, I have had phone calls from ASHI members in Atlanta who are now interested in using the Survey form to help them earn money in the present depressed housing market.

At the request of interested universities, we have provided access to the Homeowners Insurance Survey.
In August 2008, Epcot-Disney World will be opening a new pavilion dealing with natural disasters and what can be done to help protect the public in these situations. It will be referred to as the "Epcot Experience" and due to our alliance with FLASH, there will be access to ASHI.org so the public can get information and obtain the names of ASHI qualified inspectors in their areas.
— Bill Mason, ASHI Certified Inspector
Conley promotes ASHI Insurance Inspections at Conference

As one of the committee members of the Homeowners Insurance Survey Group, I made two one-hour workshop presentations at the Institute of Business and Home Safety conference in Orlando, Fla., November 8-9, 2007. The conference dealt with the catastrophic losses to homes that occur due to natural disasters.

Let me say that insurance agents and underwriters tend to be a stoic group when it comes to new ideas or change. Consequently, I was pleased and surprised when, during both presentations, I found the conference room filled with attendees who wished to learn more about how they can reduce their insurance exposure. Interest in ASHI's survey program has been steadily growing, but this year there was a quantum leap
forward as far as interest and implementation of the form.

Points highlighted during the presentation were:

The fact that natural disasters occur in all fifty states.
The coastal and river line populations are the most vulnerable to natural disasters.
Insurance exposure nationally is at an all-time high.
The Insurance Survey Form can help homeowners and underwriters minimize their exposure.
The Insurance Survey Form is tailored to evaluate any natural disaster; therefore, it is suitable to be used nationally.
Homeowners embrace the opportunity to "harden" their homes, minimizing:

— damage to their homes,
— having to evacuate during a storm,
— personal property loss,
— downtime after the disaster,
— reduced insurance premium.
ASHI members Marvin Goldstein and Bill Mason were also present. There was steady traffic at the ASHI booth. My observation during both presentations and over the two-day event was that the conference attendees liked what ASHI had to offer and were enthusiastic about the potential of what the Insurance Survey Form could do for them.
— Michael Conley, ASHI Certified Inspector