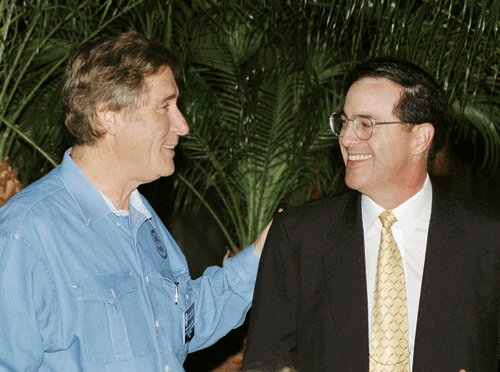 The warm Fort Lauderdale breezes helped to create a beautiful setting for the first-ever InspectPAC fundraising reception attended by PAC contributers during InspectionWorld 2006.
Nearly $10,000 was raised, allowing ASHI to set aside more than $6,000 to support the election of congressional candidates who believe in home inspection and share the views of the ASHI membership on home inspection issues.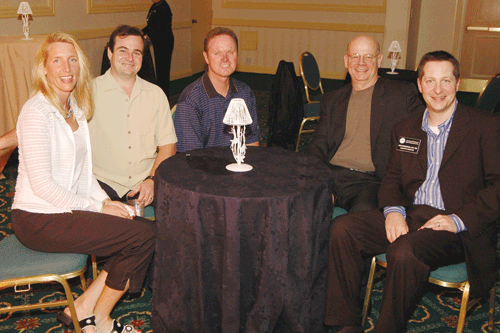 ASHI's InspectPAC is a federal Political Action Committee established to allow the ASHI Membership the ability to exercise their constitutional right and need to participate in the political process, but in a way that is controlled and allows for full disclosure and openness in the campaign finance process. When ASHI members contribute to InspectPAC, they focus and coordinate their efforts to generate important political support for Members of Congress who share ASHI's views on positive home inspection messages from HUD…increased homeownership…consumer protection…protection for small businesses…continuing the prohibition on banks in realty…RESPA reform…and more.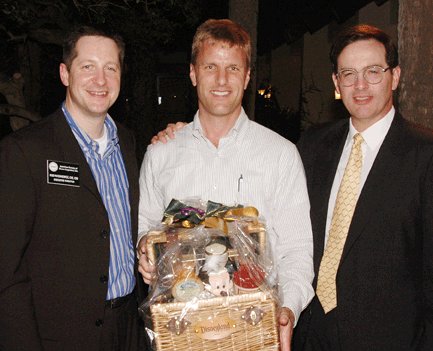 Attendees purchased one $150 ticket for the fundraiser. The ticket included one entry into a prize drawing for the "Family Vacation/Continuing Education Package for InspectionWorld 2007." Winner, ASHI Member Jim Fahs
(middle, in the photo)
of Young Home Inspections in Dunedin, Fla., received:
Round-Trip coach airfare for four to Orange County, California, for travel to and from InspectionWorld 2007
Round-Trip ground transportation: Orange County Airport to Disneyland Hotel
Six (6) nights deluxe accommodations at the Disneyland Hotel
Family four-pack 5-Day Park Hopper Bonus
$250 in Disney Dollars to be used anytime/anywhere in the parks
One Full Conference Inspector Registration for InspectionWorld 2007
One Full Conference Spouse Registration
Two Additional Guest Passes for Conference Social Events (All-Show Brunch and President's Gala)
One Character Dining Experience for Four at Goofy's Kitchen
Disney Memorabilia Family Four-Pack
When asked why he supported ASHI's InspectPAC, Fahs said, "With so many forces out there attempting to diminish requirements to serve as a home inspector, now is the time, like no other, to support professionalism in the field of home inspections.
Rob Paterkiewicz, treasurer of InspectPAC and ASHI executive director said, "I'm confident we'll offer this event again next January during InspectionWorld 2007 in Anaheim, CA., and I would expect we'll see a lot more in attendance!"
To learn more about InspectPAC, contact ASHI HQ.