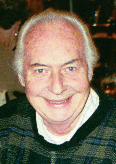 James E. Lee: A Leader for ASHI and the Great Lakes Chapter


ASHI Certified Inspector James E. Lee of Milwaukee, Wis., died suddenly April 17, 2012.

An ASHI Member since 1985 (Member #479), he was elected to the Board of Directors in 2003, where he served as the board liaison to the Bylaws Committee. Previously, Jim had contributed to the national organization as a member of the Public Relations and Chapter Relations Committees.

He was active in the Great Lakes Chapter, providing leadership as president, treasurer and director. He also chaired Chapter Awards and Long-Range Planning Committees, participated in Chapter Peer Review Committees and was a group leader on the Council of Representatives.
Leadership positions held in other organizations included the following: president, Rotary International; vice president, Wisconsin Association of Home Inspectors; and advisory Board Member for Waukesha County Technical College.

Jim is survived by his wife, Carol; children Lisa and Christopher; grandchildren Kelly, Jamie, Tanner, Alden, Adam and Galen; great-grandsons Brandon and Nathan; sisters Lona, Jackie, Loretta and Marion.

Howard Pegelow, ASHI director, notified members of the loss with "great sadness" and asked all to "please remember Jim and his family in your prayers."