This year, I traveled from the Pacific Northwest to the Deep South, from Sunny California to the Chesapeake Bay, and many, many points in between. Ironically, at each stop, I've talked to ASHI chapter members about how to use modern technology to communicate over long distances without even leaving the comfort of your favorite desk or chair.
Our IT Director, Mike Rostescu, has been working hard to create "how-to" videos with ASHI staff members from our graphics, marketing, membership and education departments. All ASHI members can view these videos—simply go to www.ashi.org, click on the "Members Only" tab and in the drop-down menu, you'll see "How-to Videos." Are you curious about what we show you how to do?
Arlene Zapata shows you how to order your own logo at no cost.

Dave Kogan discusses ASHI's Facebook page.

Russell Daniels demonstrates how members can update their profile and change their contact information.
Michele George shows you how to use the Online Learning Center for continuing education credits.
As we add more of these kinds of informative videos, you'll see the value of your ASHI membership increase more than ever before.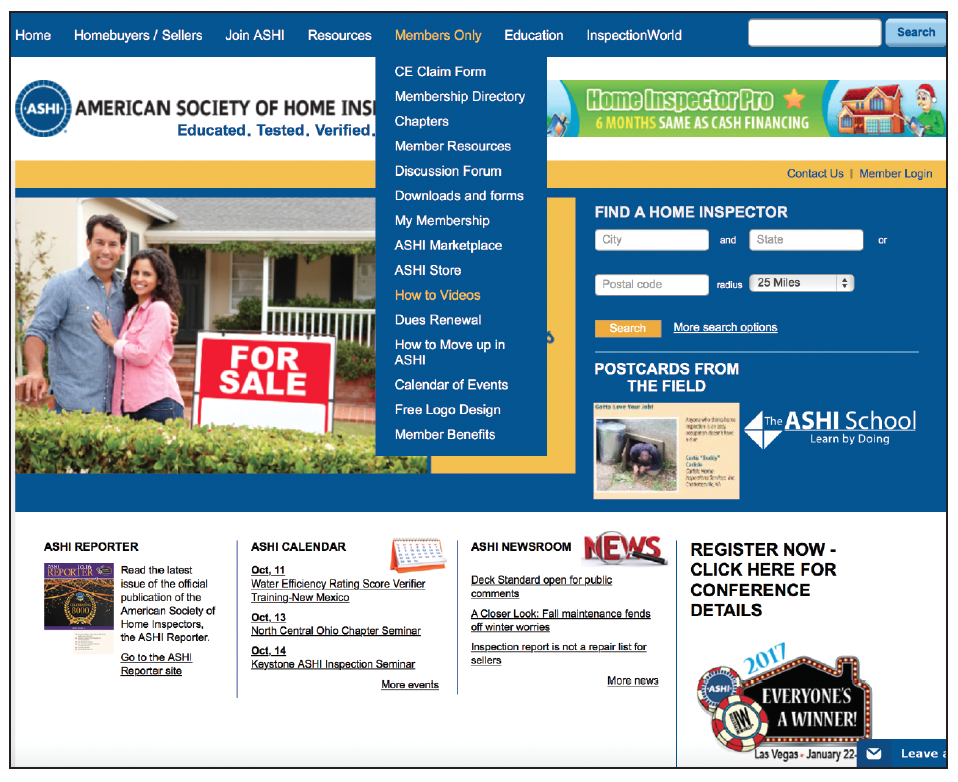 One thing I noticed during my visits to ASHI chapters was that, even after I demonstrated the ease at which members can access information online, they still like the face-to-face, in-person meetings they get when they attend chapter events. I agree with them wholeheartedly about seminars. ere is nothing better than a live presentation with a give-and-take format. One obvious advantage is the ability to ask a question about something you don't understand or request that a presenter repeat something and then get that answer or response in real time.
But we all know that it's not always practical to attend seminars in person. We're all busy with our families and other important things in our lives. ASHI is aware of the time constraints that modern life imposes on us, and that's why we've developed a lot of online information and education that's available 24/7.
You wouldn't know this unless you've been to the ASHI headquarters, but I've had a copy of the front cover of the ASHI Reporter hanging on my office wall for the past three years. e headline reads "ASHI Membership Reaches 6,000." I'm proud to announce, with our most recent new member—Matt Williams, Equity Preservation Services, of North Huntingdon, PA—ASHI membeship now exceeds 8,000!
The explosive growth we've had in the past couple years is exciting. One of my goals this time last year was to reach 7,000 members. We achieved that in July. And then blew past that milestone a few months later. So, I'd like all of us to welcome our newest member, Matt, into the ASHI family. The question is, who will be the 10,000th new ASHI member?
Frank Lesh, Executive Director
American Society of Home Inspectors
Direct: 847-954-3182
Frankl@ashi.org • www.ashi.org