When thinking about attending the largest home inspection conference and expo in North America, one's imagination easily turns to ASHI's InspectionWorld®. Out of all the established and newly created home inspection conferences, there just isn't any comparison to our conference.
Why is there no comparison? Because ASHI offers so much beyond what any other conference offers. There are so many classes, activities and events at InspectionWorld® that it is sometimes hard to fathom. So, we created a list of reasons why you should consider this must-attend event and see for yourself why InspectionWorld® is the best conference and expo for home inspectors:
1.
It's in San Diego!
We switch locations every year so we can provide our excellent education all across the United States and Canada. In 2017, we'll be in Las Vegas and in 2018, we'll go to Orlando.
2. There are 45 classes from which to choose! What other home inspection conference has this many options for courses? None! Not only that, but you receive 20 CEs for attending the classes, conference and expo. That's all of your ASHI CEs in one fell swoop!
3. Pre-and-Post Conference courses! Your choice from reporting software training to sewer inspections to a commercial inspection class and a few in between.
4. Dunk tank fundraiser for InspectPAC! Know a board member you've been wanting to dunk? Now's your chance! We're not kidding. Dunk. A. Board. Member. You know you'd plunk down at least twenty bucks to dunk a couple of these guys. And it's all in the name of fundraising!
5. President's Gala! Party like it's 1976! An awesome celebration of ASHI's and CREIA's 40th anniversaries! While we're saying "party like it's 1976," we're hoping that people do not take us literally and show up in flair-collar shirts, bell bottoms and funky-colored clothing.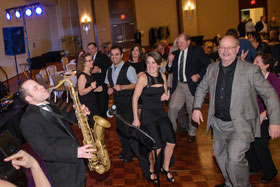 6. One heck of a packed expo hall! Exhibitors, old ones and new ones, they're all here under one roof in 40,000 square feet just to meet you! You'll never want to leave the expo hall (much to the delight of the exhibitors!). Stop by and say "hello."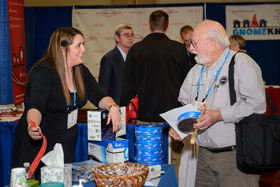 7. Didn't we just say "Dunk a Board Member?" Seriously. You can take advantage of our dunk tank and dunk a board member. To be on the safe side, maybe wear a mask so there are no repercussions.
8. The Annual Meeting and Luncheon prior to opening night! Presentations, board installations, awards, video and a special guest (but you need to join us to find out who it is because we're not telling!).
9. Hey, spouses! Take a ride down through San Diego's 'hoods such as the Old Mission District to soak up the rich history of old San Diego; Little Italy for a delicious meal no matter where you go; the Gaslamp District to sip cool cocktails with the local hipsters; or become a true tourist and check out the local scene at Coronado Island, USS Midway and Seaport Village. There are memories to be made here people. All you gotta do is get out there!
10. Daily prizes! You have to come to InspectionWorld® to find out about the prizes. They're well worth it.
Whatever your modus operandi is for attending InspectionWorld® 2016 San Diego, we know you'll AShave a blast, come away with excellent education, collect your needed CEs for ASHI and your state license, meet some excellent exhibitors and be filled with dreams of many more InspectionWorld® conferences to come. Register now at inspectionworld.org.