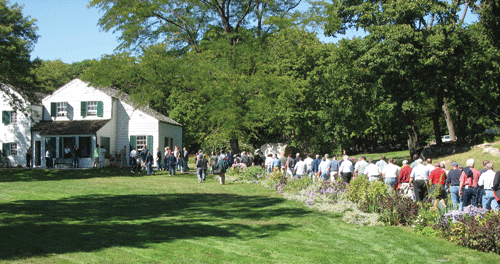 (Photo: nspectors march to the Warren House.)
On Sept 18, 2007, the Hudson Valley Chapter hosted its 5th Annual Historical Home Conference in Newburgh, N.Y.
"This is history in the making for the chapter," said Chapter President, Michael Christophides. "We have the largest and most successful Historical Home Conference in the Northeast. Inspectors from across the United States came to participate in this historic event making it a special milestone."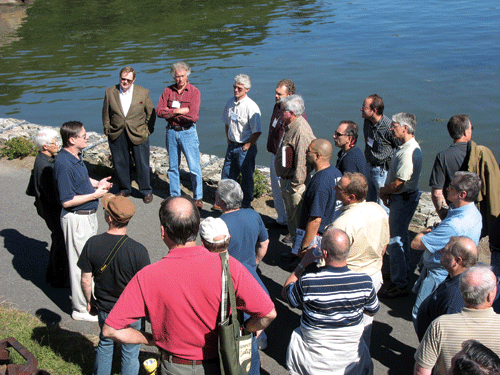 (Photo: A docent presents background information about the island and the home.)
While the conference included new construction and building science, the main event was a ferry ride to Constitution Island in the Hudson River to visit and inspect the historic Warner House. Constitution Island is part of the campus of the U.S. Military Academy at West Point. The house was the home of the Warner family from 1836 to 1915. Susan and Anna Warner were well-known writers in the 19th century. Susan wrote "The Wide Wide World" in 1850, which became the best seller of its day. Anna is best known for writing the words to the hymn, "Jesus Loves Me." The sisters taught Bible classes to West Point cadets for 40 years.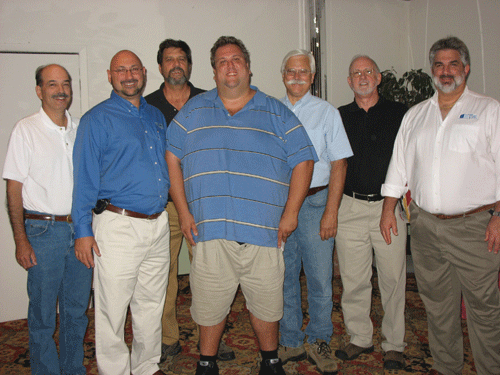 (Photo: Speaker and committee members
(l to r): Al Prado, Michael Christophides, Nick Kuvach, Erik Vandenberg, Douglas Reed, Jack Reilly and Dave Goldstein. Missing from photos are Arlene Puentes, John Lens, Dave Shapiro and Bryck Guibor.)

Richard Wolcott, ASHI Member # 92, said, "I have inspected thousands of homes and been at all five conferences. I never stop learning and enjoying the camaraderie with my fellow ASHI inspectors and look forward to attending this event every year."
NE-ASHI Conference Packed with Learning Experiences
The New England Chapter held its 2007 Fall Conference, September 24-25, in Sturbridge, Mass. The conference offered two days of programming including
presentations on green buildings and consumer demand; inspecting modular structures; the craft of homebuilding in the 21st century and plumbing and electrical (and photo-voltaic) codes.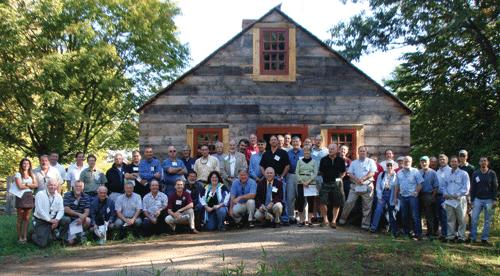 In the photo above, participating home inspectors took a quick break and were all smiles for a great photo opportunity while on tour of Old Sturbridge Village. The group was given a special in-depth tour of the restored village as part of the New England Chapter 2007 Fall conference. Submitted by Matt Gatzke.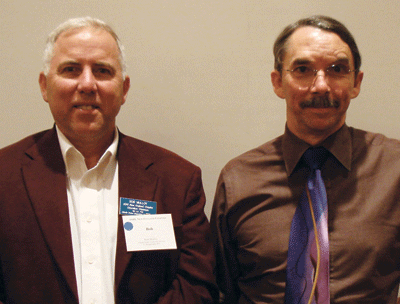 (Photo: Bob Mulloy (left), who organized the conference, thanks Doug Hansen (right) for serving as keynote speaker and delivering two sessions.)


Iowa Chapter Signs up 20 at First Meeting

On Tuesday, August 28, 2007, the new ASHI Iowa Chapter held its inaugural meeting at Cooper's Mill in Cedar Rapids. Of the 21 home inspectors attending the meeting, 20 joined the new chapter, 14 were already ASHI members. Larry Sloan, pictured here conducting business, was elected the new chapter's first president.

Submitted by Tony Smith.

Arizona Reaches out to First-Time Homebuyers
ASHI members took advantage of the Pima County Home Ownership Fair for first-time homebuyers to explain the value of home inspections. HUD, family housing, Chicanos Por La Causa, Casa De Los Niños, Tucson Association of Realtors® and ASHI were all there on Saturday, September 22 in Tucson, Ariz. Submitted by Rick Marshall, ASHI Arizona Southern District Director.

Pictured left to right: Harris Briet, Arizona Southern District co-director and PR chair; Tommy Moorehead, Arizona Chapter Secretary; and Rick Marshall, Arizona Southern District director.

Attention Chapters

The ASHI Chapter Enterprise Award for Participation at InspectionWorld was established by an ASHI Certified Inspector who attributes his personal success as a home inspector and the prosperity of his multi-inspector firm to the ideas and information acquired by regularly attending InspectionWorld for many years. See Announcements & Notices for details.