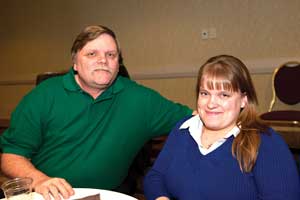 Last month we featured an article titled "Your Top 10 HVAC Questions Answered," written by Kenny Hart, also known as The Plumbing and HVAC Guy. You might recall that Kenny lives in Virginia and has been an ASHI member since 1999. He's worked in the plumbing and HVAC field for more than 41 years.
And if you don't live in or even near Virginia, you still might recognize Kenny. He regularly presents training sessions about plumbing and HVAC issues to home inspectors around the United States and Canada. Since his first presentation at the ASHI Great Plains Chapter in 2002, he's presented information at more than 75 national, regional and state home inspection events. Among these, more than a dozen have been at InspectionWorld® conferences, and at least 50 have had an ASHI connection.
Kenny's connections with ASHI began to extend beyond the basics of membership when he served on the technical committee and when he started contributing to the ASHI Reporter in 1999. He credits the Reporter's now-retired editor Sandy Bourseau with motivating him to write technical articles about plumbing and HVAC topics. Kenny said, "Sandy encouraged me to write, and she showed me how a guy who graduated from the local Vo-Tech (as opposed to the renowned Virginia Tech) could get published."
Authoring articles for the Reporter became a stepping stone for Kenny to be invited to serve as a contributing author on technical articles and columns that have appeared in Popular Mechanics. Kenny also has written for Journal of Light Construction, Backflow Prevention and Plumbing Standards, Hampton Roads Realtor, Residential Resource (published by the National Association of Residential Property Managers) and NAHI Forum (published by the National Association of Home Inspectors). Some of the articles he wrote for the Reporter have been reprinted in Canadian Home Inspector.
Having the opportunity to provide his expert opinions in these publications helped Kenny build his credibility and boosted his confidence to explore new avenues for his business. Ultimately, trying new things led Kenny to become a trainer for home inspectors who are seeking guidance about plumbing and HVAC issues. Kenny credits his association with ASHI and his collegial friendships with Alan Carson and Michael Casey, both Past-Presidents of ASHI, as inspiring him to contribute to the home inspection community. Kenny added, "Jack Moriarty, an ASHI Certified Inspector (ACI) and owner of Homebuyers Inspections, which is a multi-inspector firm in Virginia Beach, gave me my first opportunity to get in the field and work as a home inspector. Jack taught me a lot about the business of home inspection and about home inspectors."
When I first talked with Kenny, he had just returned from presenting a full-day session at ASHI's St. Louis chapter conference. Two weeks earlier he was in Chattanooga, TN, and before that, he was at InspectionWorld® in Philadelphia. Around 2007, he began traveling with his daughter Kristen Hart, whom he describes as his "copilot." Besides sometimes working the booth when she and Kenny arrive on site, Kristen uses their travels to make videos and blog about accessibility issues in public accommodations. Kristen was born with spina bifida and uses a wheelchair, but Kenny says those challenges never slow her down. As do many people with paraplegia at the L1 level, Kristen is able to drive with hand controls. However, Kenny points out that "perhaps not so common among people with the same disability, Kristen sometimes travels some pretty long distances, alone and whenever she wants to go. Her Facebook page is Living Able, and you can link to her YouTube channel through it."
Turns out Kenny and Kristen have traveled across the country by truck twice since 2010. They've trekked to events in Seattle, Las Vegas, Fort Lauderdale, Nashville, Pittsburgh and Chicago, to name a few.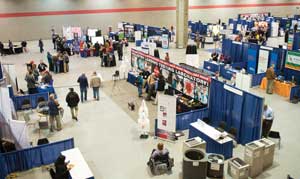 Sometimes, they strategically plan their route and schedule so that Kenny can present multiple sessions of plumbing and HVAC training during the same trip. Kenny said, "On a recent return trip from a training session in Frankfort, KY, I was able to swing through Columbus, OH, and speak at the Ohio Chapter of ASHI. Not too long before that, I worked at a local event with Gary Smith, ACI, of the Professional Home Inspectors Group in Mississippi on my return trip from an event held in Little Rock, AR. You can probably tell that I don't mind being on the road and when I schedule trips in this way, I can pass on some of the savings on travel expenses to the event planners."
Just like others who work in the presentation business, many of Kenny's speaking engagements start with booking a flight and a hotel. But breaking out of that pattern now and then is something Kenny enjoys. He said, "My very first presentation started with a road trip from Virginia Beach to Kansas City. I made the trip with my father who, like myself, loved to travel. Along the way, we decided to visit the Harry S. Truman Library and Museum and we even caught a Kansas City Royals baseball game. My dad passed away a few years after that trip, so I look back at the time I spent traveling with him to and from Kansas City very fondly."
Just like the diversions he enjoyed with his dad, Kenny and Kristen make the same kind of impromptu stops while they're on the road. They've visited Mount St. Helens, driven along the Oregon coast and toured the Florida shoreline. They've seen the Meteor Crater in Arizona, spent time on the Las Vegas strip and stopped by Antique Archeology Nashville (one of the stores where the American Pickers from the History Channel sell their collectibles). Kenny also has stopped by Antique Archeology in LeClaire, IA. They also have visited Mount Rushmore in South Dakota, the house where Jesse James was killed in Missouri and the place in Montana where Custer made his last stand.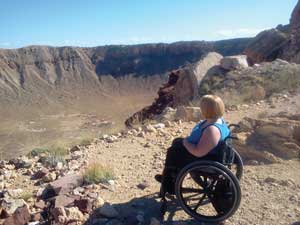 Kenny said, "Recently while crossing a bridge and heading out of Memphis, TN, I realized that I had crossed over the Mississippi River from seven different states in less than one year's time. Together, Kristen and I have driven over most of the country's great mountain ranges, the Great Plains and the Mojave Desert. We've visited the Great Lakes and got a look at the Great Salt Lake, too. I've traveled to 47 states and, with very few exceptions, I was heading to or from an ASHI event when I visited them."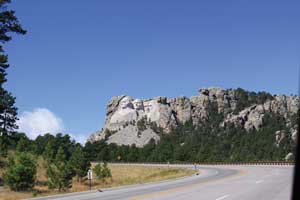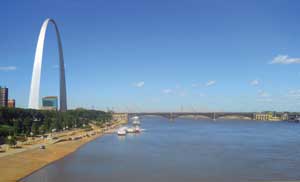 It occurred to Kenny that these American experiences have been made possible because of that special connection to ASHI. Kenny continued, "We've seen a lot of this country, and some of the places are breathtaking. I love hearing the accents and enjoy learning about local customs and traditions. But my favorite things on the road have been the unexpected moments you have with people. Once in a hotel lobby, I watched a mother talk to her children in French, while Dad spoke to the kids in English. The kids replied to their parents in the language directed at them. I was fascinated by that family."
"Also, Kristen and I still laugh about a waiter in Pigeon Forge, TN, who was flirting with her when suddenly he realized that it was her dad sitting at the table. The look on his face and the mangled words that came out of his mouth still destroy us whenever we remember it."
At many of his training seminars, Kenny's animated slideshows and anecdotal stories about life as a plumber and HVAC technician help home inspectors learn what they need to know about HVAC during an inspection. One of his recent strategies has been to bring along visual aids. The project he calls "The HVAC Roadshow" got started in late 2012 when he purchased some new HVAC equipment. By 2013, he was loading up a trailer with air conditioning and heat pump units, furnaces, water heaters and other mechanical equipment and bringing it along as he traveled to events all over the United States. The names of the companies that sponsored this endeavor — by supplying HVAC equipment and subsidizing the trailer to transport the equipment — are included on each piece, and these logos give the trailer its signature look.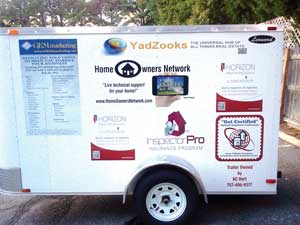 Kenny said, "Like most speakers in this business, I had been making presentations by lecturing on various plumbing and HVAC topics as I clicked through a slideshow. Over the years, I've done a lot to jazz up my slides, including adding animations, sound effects and video clips. But after I had been doing it for about 10 years, I felt that if I wanted to keep inspectors coming to the events (not to mention if I wanted to keep getting invited to speak at events), I needed to try something different. My thought was, if home inspectors could see new HVAC equipment up close — not only during sessions, but also during the breaks — they could learn a lot more about these things than they could by just looking at slides. With the help of Mike Casey and a lot of sponsors, I was able to make it happen."
At a recent ASHI event in St. Louis, for example, attendees could view Kenny's program notes on one screen and see the HVAC Roadshow equipment displayed on the floor on another screen.
"Hauling the trailer to events is a lot more work than just showing up and connecting my laptop to a projector. Parking can be an issue. Not just finding a space, but in some places you might have to watch out for graffiti artists and so you park the trailer where it can be seen at all times. I chain the wheels each night, and I keep a check on the load several times a day. But I've always found that once I get to the event, plenty of inspectors are willing to help load and unload the equipment. That's a big help."
"Although I acquired the equipment specifically for The HVAC Roadshow, I've enjoyed the added benefit that, when I'm not hauling the equipment from state to state, I'm able to use it when I teach classes in my Virginia Beach classroom. I recently used the equipment during a shoot for some training videos, and I'm using some pieces in my online training sessions."
Kenny hears many of the same questions at his training sessions. Because his presentations draw up to 100 people and because he has returned to many of the same chapters and locations over the past several years, he sometimes asks himself, "Why do inspectors keep asking me the same questions about the same HVAC issues? Am I not teaching this very well?" But the answer occurred to him once he began asking the people in the room about their experience in the profession. He explained, "I realized that there is constant growth and change in the home inspection business. New home inspectors attend each training session. And everyone who is new to home inspection seems to have a common set of questions." He listed and answered those questions in Part 1 of this article, published in the July 2015 issue of the Reporter.
It's easy to see that Kenny truly enjoys his work. He said, "Over the years, I've worked in new construction and service plumbing. I've installed and repaired furnaces, boilers, heat pumps and their distribution systems. In the early 1990s, I sold real estate, which led me to a career in home inspection. But I've enjoyed nothing more than talking to home inspectors about the plumbing and mechanical systems in homes. It's allowed me to travel throughout the United States and Canada, and I'm grateful for this opportunity. Joining ASHI took me in a direction that I never anticipated. My 'ASHI Experience' has become my 'American Experience.' I'd like to thank all the people who have supported me over the years, but especially the friends, attendees and sponsors of 'The HVAC Roadshow.'"
You can reach Kenny Hart at theplumbing andhvacguy@gmail.com or on Facebook www.facebook.com/plumbingandhvacguy.