Product Review – Werner Level Master Automatic Ladder Leveler PK80-2


The U.S. Consumer Product Safety Commission (CPSC) reports that more than 90,000 people receive emergency room treatment for ladder accidents each year. Further, there are more than 511,000 ladder-related safety accidents per year. This was enough to convince me that I needed to be a bit safer when performing my inspections. While it seems rather mundane, a ladder leveler has become an important part of my safety equipment.
For much of my career as a home inspector, I had other inspectors available in my company who could perform my inspections in the event that I got injured. As a new "lone wolf" inspector, I quickly realized if I cannot perform my inspections, I do not get paid. As a result, I have taken a closer look at safety. Since I believe a good inspection usually involves the use of a ladder, I use 24' and 32' extension ladders to inspect roofs, gutters, chimneys and other items up close. Because I often have to place my ladder on uneven ground, I checked on ladder levelers and found several different types were available. They range from wedge-shaped plastic "steps" to bolt on legs that are manually adjusted each time the ladder is moved, to automatic single- and double-legged levelers. And, of course, we've all used pieces of wood as shims to level our ladder, right?
I recently purchased two sets of ladder levelers from a ladder supply company here in Chicago. Since my extension ladders are Werner brand, I looked at what Werner offered and purchased Level Master Automatic Ladder Leveler PK80-2 units for both of my extension ladders. While I had the option of having them installed by the ladder supplier, I decided to do it myself and save $80 per ladder. Because I had to cut off the feet from the bottom of the ladders, it was a bit more difficult than I expected, but doable. It took me about 2.5 hours to install the levelers on both ladders. My advice is to read the directions all of the way through and follow them to the letter.
The Good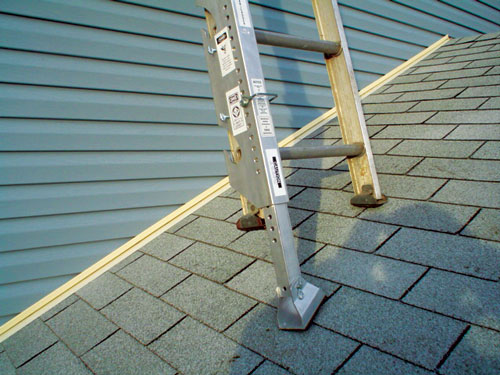 Ease of use is one of the clear advantages of this system. These levelers automatically compensate for uneven ground or any other out-of-level base I choose to put the ladders on, which for me is the single best feature of the Werner system. It's hard to explain, but as one ladder leg needs to adjust up, the other leg automatically adjusts down. A small rod interconnects the levelers to perform this task, which saves me a lot of time as I move the ladder from location to location around a building. Also, I like that the levelers automatically lock in place once I get the ladder set straight up and down — a feature that many of the levelers I researched did not offer. Another feature is that the levelers are always attached to the ladder. I do not have to attach them when I need to level my ladder. As a result, I use the levelers on every trip up and down the ladder. With some other systems, this would entail a separate trip to my truck to retrieve the leveler and would likely have become something that I would not use. That sort of defeats the idea of greater ladder safety, doesn't it?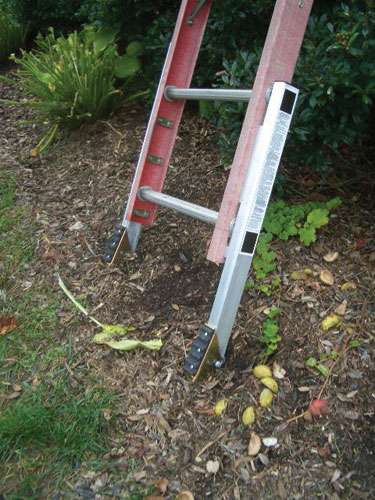 I also like that the levelers have swivel shoes with both a rubber pad and a serrated edge that allow me to sink the ladder bottom into the soil. This feature is important because I frequently place the ladder on soft ground. Basically, the leveler's shoes work like the original equipment shoes. Many of the other levelers had only rubber shoes, which can slip on wet surfaces, whereas the serrated shoes "bite" the ground and prevent the ladder from slipping out.
The Bad
On the negative side, the levelers are a bit expensive. I paid $100 for each set (about half the original cost of the 24-foot ladder!), but they can be purchased cheaper online.
As noted, I purchased the units that are specifically manufactured for Werner ladders. There are others that are similar, if not identical, that are less expensive. I can't say whether they're similar quality. I chose not to take the chance of purchasing a lesser quality "knock-off" unit.
One last ladder safety tip: I carry a nylon strap on both ladders. The strap is used to secure the ladder to the gutters when it is placed against a gutter. I feel more secure getting on and off the ladder. It also prevents the ladder from blowing over on windy days. I secure the strap to the ladder when it's not being used. That way, the strap is always there, ready to use when I raise the ladder up. I purchased the straps at a local hardware store for about $4 each. I prefer this method over bungee cords, because the strap doesn't stretch if the ladder moves from side to side.
If you have any comments about your experiences with ladder levelers, I'd like to hear them.

Photos courtesy of Stabiladder, Inc., Ladder-Max, Werner.

Jamie Dunsing can be contacted at jamie@dunsing.com
.