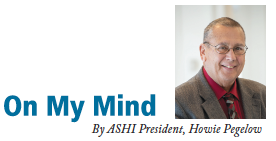 Well, time is closing in and I am approaching the end of my term. It's hard for me to believe that I have just three months to go in my presidency. It has been a great nine months and arewarding experience. But I am not finished.
I know I mentioned in previous columns that I had some medical problems during my first three months as President. Fortunately, I had a great backup team, including Frank Lesh, Tim Buell, Randy Sipe and the entire staff of ASHI.
I quickly was reassured that, no matter what a situation brings, ASHI operates to the fullest extent and in the best interest of our members.
During the next three months of my term, I was able to broaden ASHI's relationships with other home inspection organizations. ASHI leaders were called to Washington, DC, to provide ASHI-based information about the profession of home inspections. This led us to a productive meeting with Dr. Ben Carson, Secretary of the Department of Housing and Urban Development (HUD).
It may be hard to believe, but even with all the time in my term being divided up by traveling, I was still able to meet with county officials and corporate and private property owners to provide member services suited to their respective needs.
During these most recent three months, Frank and the ASHI staff have been developing contractual corporate relationships that will result in ASHI inspectors being called on to complete inspection services throughout multiple states. In Colorado, for example, ASHI inspectors have conducted more than 1,000 inspections. This has been a team effort, with the logistics being conducted at ASHI headquarters by Frank Lesh and Bonnie Bruno. They have been managing initial assignments, procedural monitoring and final follow-ups. It is ASHI working at its best.
Even better, these contacts have opened the doors for us to meet with other corporate entities whose leaders have recognized that ASHI is the premier home inspection association.
As I mentioned before, ASHI was contacted by a county official who was interested in forming a relationship whereupon ASHI inspectors would perform verification as to new construction permitting within the county. This would afford complete or draw-type inspections for our members. We are hopeful that we can establish a relationship that will lead to other governmental entities seeking our assistance.
Unfortunately, the terrible natural disasters in Texas, Florida and Puerto Rico (to name just a few of the areas affected) have required a call for help for inspectors to participate in FEMA's program for emergency management. ASHI requested that all of its members consider answering the call. Accordingly, the FEMA training classes were overwhelmed with ASHI inspectors ready and willing to join.
It goes to show that ASHI members will get the job done when called upon.
In closing, should you have any questions or comments at any time, please feel free to call me or any ASHI director. Our contact information is always on Page 4 of the Reporter and I've got three more months to proudly serve you as ASHI President. I welcome your calls and emails.