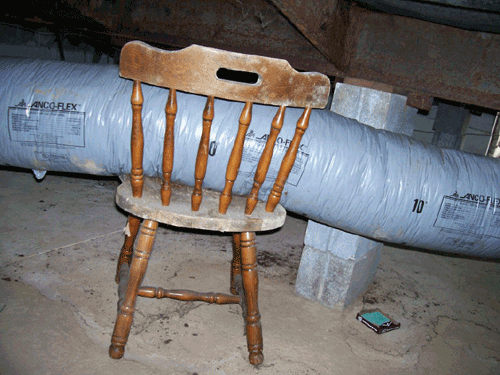 Have a seat and tell me about proper flex duct support. I found this in the crawlspace of a
manufactured home.




Todd Moelker
Alert Inspection Services LLC
Hudsonville, Mich.
Multi-purpose chimney
This resourceful homeowner found an easy way to vent the exhaust fan from the basement bathroom–
into the chimney. When the fan and boiler or water heater operated at the same time, combustion gases were blown back into the house through the draft hoods.

Tom Comella
Carnell Associates
Westchester, N.Y.
Dryer wire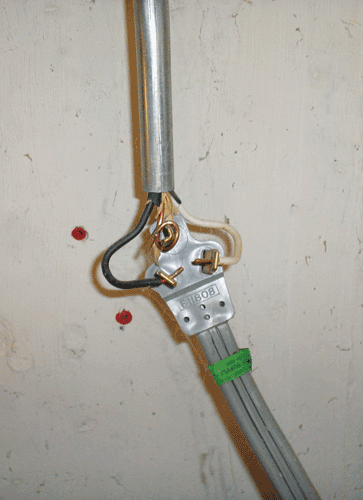 Here is the latest in electrical wiring techniques for dryer hookups. I guess he ran out of electrical tape in the middle of this project. It is interesting to note that this had been this way for some time, and that the recent inspection by the municipal inspector failed to mention it as a problem. My guess is that the homeowner turned off the breaker before connecting this.



Charles H. Nance, P.E.
CHN Inspections, LLC
Wildwood, Mo.
Cheapness knows no bounds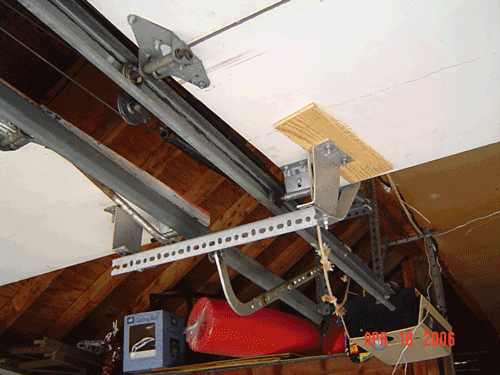 The homeowner of this house apparently did not want to buy two garage door openers and installed one in the center of the two doors and connected them.



Ron Cook
Close-Up Home Inspection
Hopedale, Mass.
Marketing opportunity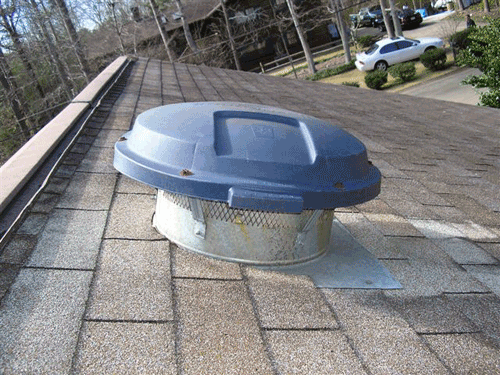 The people at Rubbermaid may be proud of a new-found use for a garbage can lid!

C. John Limongello
Land America Property Inspection Services
Marietta, Ga.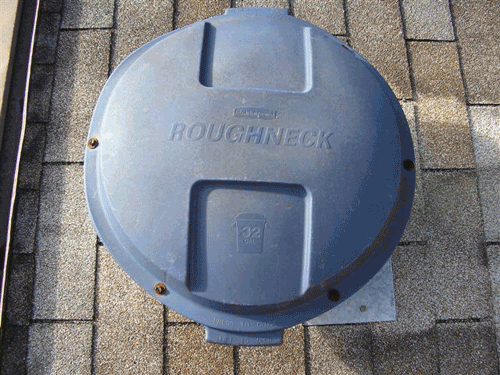 Wilma!
Amazingly, the middle A/C unit was still working a week after hurricane Wilma (October 2005.) Notice roof on left side is missing roof covering membrane.



Joey Caballero
5th Avenue Building Inspection, Inc.
Boynton Beach, Fla.
Quite a photo
This is a photograph of a rat that entered an electrical panel through an open knockout. When it came in contact with the grounded box, it got fried! I show this picture, which I carry to all inspections, to homeowners who pooh-pooh my complaint of open knock-outs at electrical panels.




Luciano Marquez
Mr. Home Inspector
Union City, N.J.
Maybe...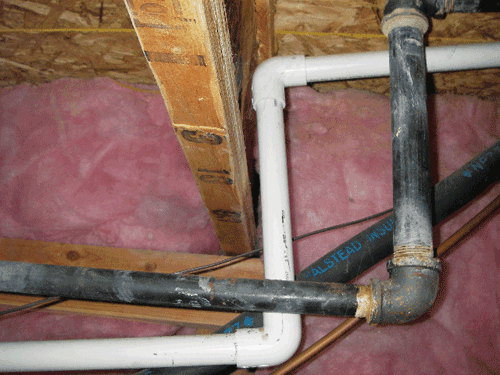 Here's a new condensate application I haven't seen yet. Do you suppose there's a little elevator in there?






David Reish
Anthem Inspections
Boise, Idaho