Gutter goof
I found this rain gutter capped on both ends. I wasn't surprised to find decayed material inside.
Doug Zimmerman
Independent Inspection Service, LLC
Missoula, Mont.
For the birds, not the kids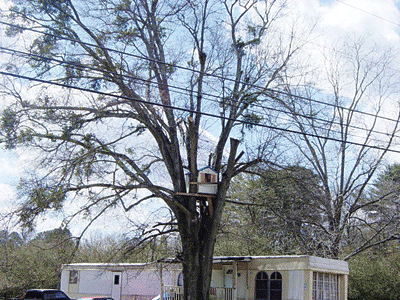 Here's a breath-taking picture found in beautiful and prosperous Alpharetta, Ga. We haven't had any tornados which would have blown this plastic play house at least 18 feet up into this large tree, so I concluded that an irresponsible parent willfully put this house in the trees thinking it would be a great place for the kids to play. Duh! Although, the Standards state that play equipment is not required to be inspected, this screams safety violation big time!
Andy Linn
Inside-Out Homecare, LLC
Alpharetta, Ga.
Venting
This is a photo of a garage furnace b-vent in front of a bedroom window. Someone opening the window trying to get some fresh air with the furnace operating can draw CO into the building. Don't take too much of a deep breath.
Tony Infelise
ASI Home Inspection, Inc.
Bartlett, Ill.
Reporting nightmare
Thought you might enjoy this one. I didn't know where to start writing: the Federal Pacific Stab-lok panel issues, the rust, the panel cover falling off, the wiring, or the open shower next to all of it?
Randy Sipe
Family Home Inspection Services, Inc.
Spring Hill, Kan.