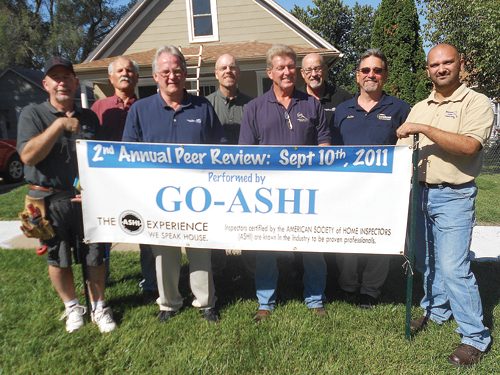 Rick Crnkovich, second from left, shared a photo of the ASHI members from the Greater Omaha Chapter who participated in the chapter's Peer Review. From left to right: Steve Marten, Crnkovich, Pat Casey, Mike Frerichs, Dick Thiele, Jay Hipwell, John Eggenburg and Brent Simmerman.
Eighty+ Inspectors Attend Annual NY Metro Seminar
NY Metro ASHI neared a quarter century of high-value seminars with its annual event on Sept. 16-17 in a new location in Elmsford, New York. Organizers Victor J. Fagella, Victor G. Fagella, Doug Kaufman and Tom Rooney and speaker-coordinator Bart Rodi lined up topics including the following: current EIFS issues, infrared and vapor barriers, structural insulated panels, metal roofing, electrical issues, house wraps and old houses. The 80+ inspectors who attended all sessions received 15 ASHI credits and license credits for New York, New Jersey and Connecticut. AIA credits also were available for some sessions. The selection of speakers and topics for the 2012 seminar is nearly complete! Stay tuned.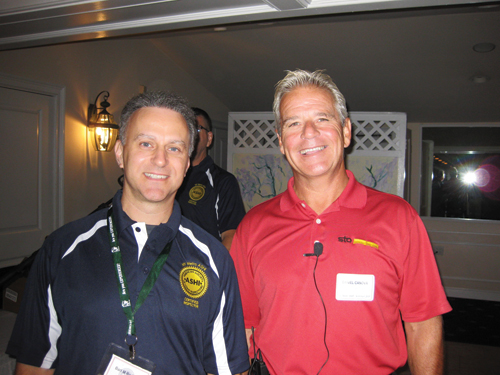 Speaker coodinator Bart Rodi and Dan Canova of Sto Corp. prepare to field questions.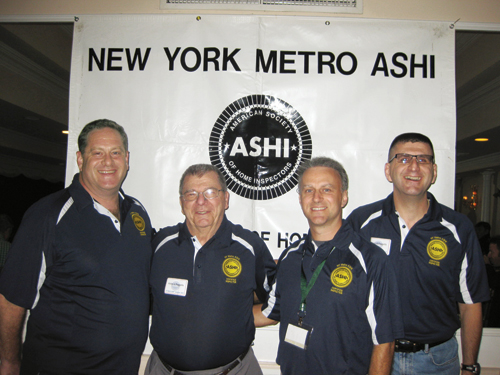 Seminar organizers (l to r) Doug Kaufman, Victor J. Fagella, Bart Rodi and Victor G. Fagella model their new shirts, available at the seminar and emblazoned with the ASHI Certified Inspector logo. Not pictured: Organizer Tom Rooney.
7th Annual NE Conference Overcomes Challenges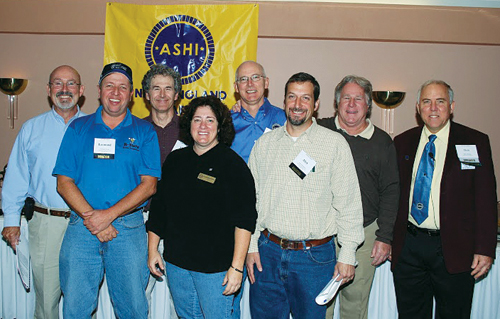 When Bob Mulloy, chapter education chair (at far right in the photo above), found a substitute for the keynote speaker, who was unable to appear because of illness, he thought all his problems were solved. But when the substitute was a no-show, he was shocked to learn the man had died suddenly. Clifford Kapson, speaking about "EIFS Design, Installation & Inspection," stepped up and got the conference off to a good start, and Mulloy and Bruce Barker adjusted their presentations to fill the void. Despite the sad beginning, with an approximate 100 registrants and additional sessions by Joseph Ferry Esq., Mark Jones and Stephen Noon, the conference was considered a success.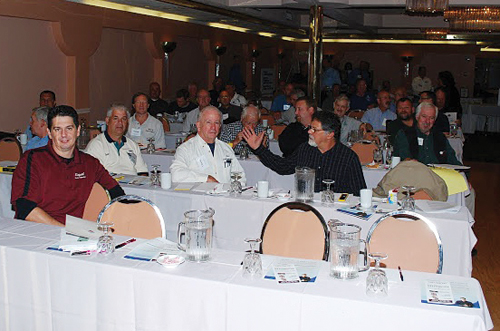 Submitted by Bob Mulloy, ASHI-NE Chapter Education Chairman
North Central Ohio Members Tour PNC SmartHome
Bill Stone, from the North Central Ohio Chapter, reports that the October monthly class was a tour by architect Chuck Miller of Doty & Miller Architects of the SmartHome his firm designed for the Cleveland Museum of Natural History.
Chapter members were able to view some of the most advanced technology and building materials from around the world. The conventional-appearing prototype house has no furnace and uses 90 percent less heating and cooling energy than a conventional house. Overall, it uses approximately 70 percent less primary energy. It is the only house constructed using the passive house methodology in the United States that is open for viewing to the public. PNC Bank is the presenting sponsor.