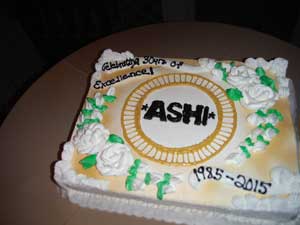 At its June 2015 meeting, the Garden State Chapter of ASHI celebrated its 30-year anniversary during its biennial awards and installation-of-officers ceremony. Officially incorporated in June 1985, the Garden State chapter provides continuous service to home inspectors throughout New Jersey. The chapter offers quality continuing education, networking and marketing opportunities for home inspectors.
In his address, incoming Garden State Chapter President Kevin Vargo said, "This chapter now has 30 years of history and experience in educating, supporting and helping home inspectors become leaders in their profession. The Garden State chapter has been cultivating inspectors and leaders for far longer than any other home inspector organization in the state." Kevin previously served as chapter President (2007-2009), is a recipient of the chapter's President's Award, is the current chair of the Complaints Committee–Ethics and is a recipient of the prestigious John Cox Award.
In addition to installing the chapter President, the Garden State Chapter also installed the rest of its incoming board members. The board thanked the outgoing officers and directors for their service and presented them with plaques in appreciation. In his remarks, Chapter President Jason Mitchell thanked the outgoing board members for their work in their terms of office and presented this year's President's Award to Dominick Laurita. This award is presented to a chapter member who has performed exceptional service to the chapter. Jason Mitchell stated, "While dealing with a number of personal issues, Dom has always gotten the job done. He has been a dependable, hard-working member of the board and is always willing to help." Dom served as Director of Education for the chapter and will now assume the position of Vice President.
Congratulations, Garden State Chapter, on 30 years of outstanding service to home inspectors throughout New Jersey!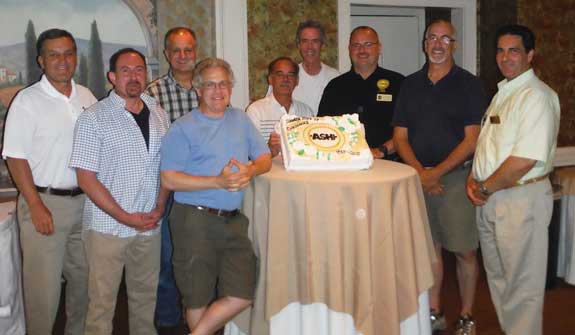 Left to Right: Active Past Chapter Presidents Bret Kaufmann, Jason Mitchell, Joe Corsetto, Pete Engle, Ernie Borsellino, Dave Whittle, Kevin Vargo, Robert Fico, Sergio Angione (Ken Salvo is not pictured).