North America's two garage door associations joined forces to produce a 14-minute training video for home inspectors. This professionally produced DVD, released to home inspectors in April, was developed by leading garage door engineers and technicians, with input from several professional home inspectors.

The video demonstrates how to conduct a thorough inspection of a typical sectional garage door and garage door opener. The 10-point inspection, which covers all critical safety issues, can be conducted in less than five minutes.

The DVD was funded and created through a joint effort of the International Door Association (IDA) and DASMA. IDA represents garage door dealers, and DASMA represents the garage door and garage door opener manufacturers.

In recent months, DASMA and IDA presented a preview of the video to home inspector audiences in Providence, R.I., and Memphis, Tenn. Joe Hetzel, DASMA's technical director, says, "Home inspectors were impressed with how this quick inspection can help them spot potential safety problems."

The DVD includes a 10-point checklist that can be printed from a computer. A copy of the DVD was distributed to ASHI chapter presidents. Additional copies can be purchased for $15 from IDA (800-355-4432, info@longmgt.com) or DASMA (216-241-7333, dasma@dasma.com). Bulk pricing is available.

Residential Construction Performance Guidelines serve home inspector two ways

A review by ASHI Certified Inspector Bob Sisson

There's a book I use to help set me apart from my new home inspection competition.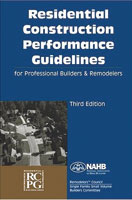 Published by the National Association of Home Builders (NAHB), Residential Construction Performance Guidelines is available in two editions. The spiral-bound Contractor's Reference is for builders and remodelers, and the saddle-stitched Consumer Reference is for consumers. Both are available through a number of sources. I bought mine through BuilderBooks.com.

Both editions contain much the same information, a set of agreed upon guidelines for the "fit and finish" of new homes. Pages of disclaimers state that the use of the guidelines is optional, voluntary, and that local codes and Authorities Having Jurisdiction (AHJs) supersede anything in the publication.

Yet the list of acknowledgements and reviewers suggests the information is useful. Here you'll find major builders, organizations, jurisdictions and suppliers have signed on and agreed to this set of guidelines. This provides an excellent reference tool when inspecting new homes or providing assistance at final walkthroughs. If a builder does not have a set of Construction Performance Guidelines the company adheres to, or has not provided it, the booklet is an excellent place to start. (Some builders do have a set of standards and have the purchaser sign and accept their standards before construction begins.)

Both editions are divided into major sections, such as Site Work, Foundation, Wood Floor Framing, Walls, etc. Some sections are broken down into more categories. Not everything is specifically mentioned by name, but most major items are covered. The only major omission is appliances, and the plumbing section is woefully short.
With that said, the guidelines describe how a house should be built in easy-to-understand terms. Here's an example:

"Observation: A framed wall is out of plumb."

We have all seen walls that were out of plumb, and had the builder say it was well within his standards — never to learn what standards he was referencing.

According to Residential Construction Performance Guidelines, "The interior face of wood-framed walls shall not be more than 3/8-inch out of plumb for any 32 inches in any vertical measurement."

Even better is the conclusion to that section.

"Corrective Measure: The contractor will repair the wall to meet the performance guideline."

Each observation is combined with a guideline for determining if the issue is actionable or, if not, what the remedy should be. There are weasel words and phrases such as "make reasonable effort, reasonable cost," etc. and some of the allowable variations are large, but they are written down.

I use these publications in two ways. I use the Contractor's Reference as a reference for acceptable work product when no other source is available. If the builder provides a standard, I will use it, but it is rare for a builder to share his own, even if he has one.

I use the Consumer Reference for a more important purpose: as a marketing tool and handout to my clients. I purchase them in the convenient 10-packs, and provide one with each of my new home inspection reports. Most clients are surprised to learn such a thing exists and are happy to have a copy. They consider it an extra that other home inspectors do not provide. This extra helps differentiate me from other inspectors in the area and gets me additional referrals.

Bob Sisson owns and operates Inspections by Bob in Gaithersburg, Md. He currently serves on the ASHI public relations committee. Contact him at Bob@Inspectionsbybob.com and visit his Web site atwww.inspectionsbybob.com.