I could sum up what I learned fromvthe 2018 Flashlight Shootout with this statement:
"Size no longer matters."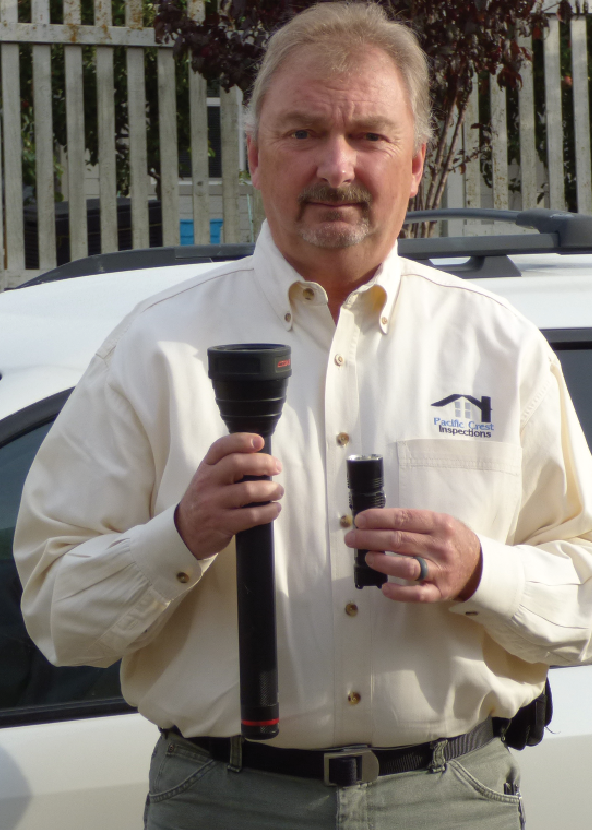 For some context, you might remember that, in my flashlight review back in 2012, the "big gun" was the Coast HP21. This all-metal flashlight was 15.5 inches long, had a 7 LED lens and put out an amazing 1,300 lumens. It was so heavy (2.8 lbs.) that it came with a shoulder strap. In 2018, the flashlights I tested were every bit as bright as the lights I tested in 2012 and 2016, yet each of the flashlights I tested this year will fit in the palm of your hand (with the exception of the Maglite ML150). In 2016, the brightest flashlights used multiple LED elements; in 2018, a single Cree LED delivers more than 3,600 lumens.
The secret to making smaller, brighter flashlights is Cree LEDs. Cree is a U.S.-based company and was one of the first manufacturers to make LEDs that delivered over 100 lumens from a single element. Today, the most powerful Cree element delivers more than 4,000 lumens. Cree also has addressed the blue-white coloring of early LEDs. They now have warm white elements. Cree LEDs were common to all but the inexpensive flashlights in this test.
You may notice that this review includes fewer products than previous shootouts. This was not for lack of trying! These days, many vendors such as Fenix do not send out products for review. So, for comparison purposes, I included the 2016 winners from Streamlight and LED Lenser, and I sourced two inexpensive generic flashlights.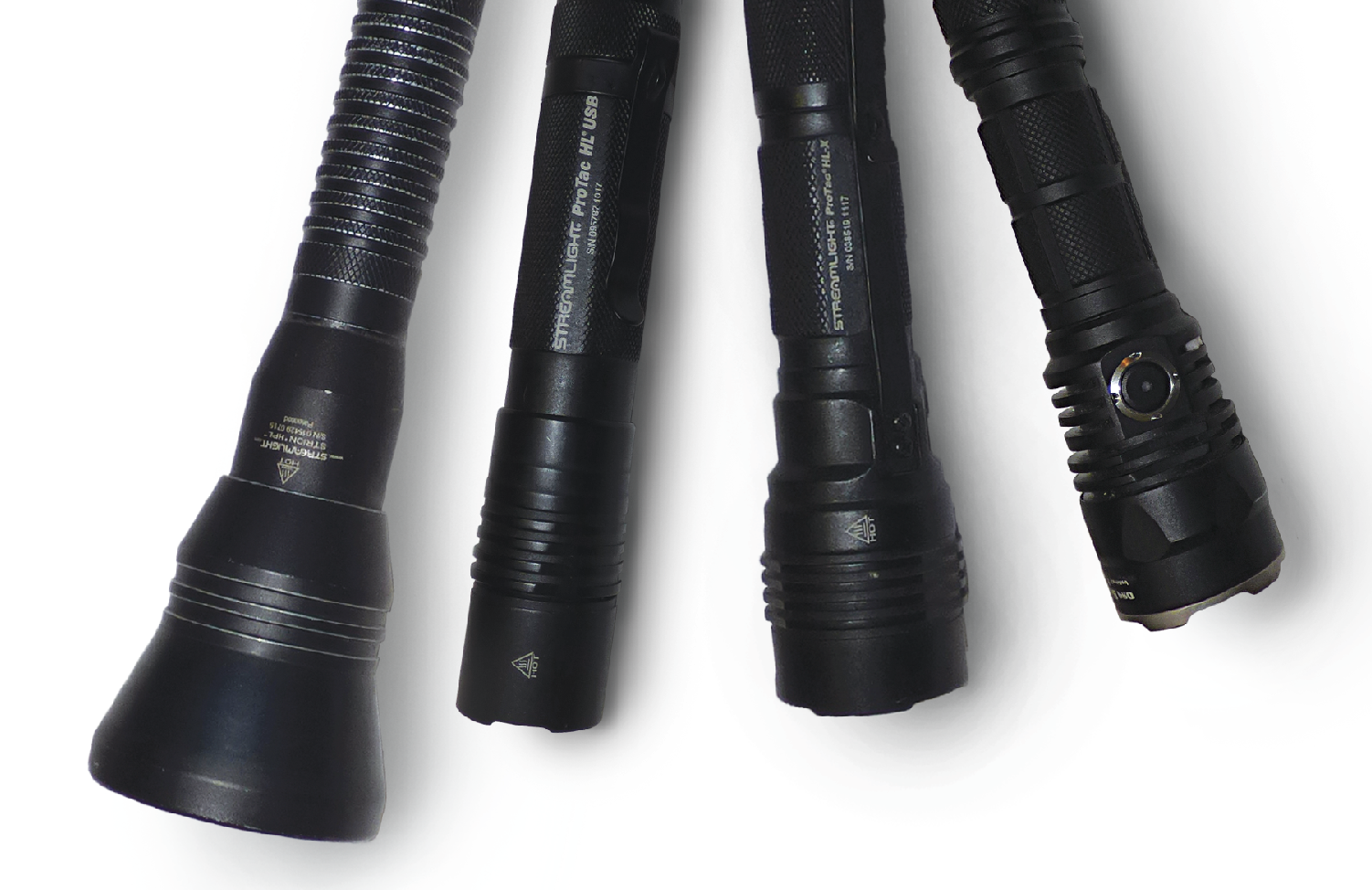 A quick online search will lead you to inexpensive flashlights from countries other than the United States. Many of these flashlights use cheap LEDs that are overdriven to deliver the brightest light possible, and many are advertised to be far brighter than they actually are. For example, I saw one small flashlight that was advertised to be 5,000 lumens and sold for $10.
One symptom of overdriven LEDs is that the lens gets very hot, so the LED may fail quickly at the least convenient time. Flashlights from Maglite or Streamlight use high-quality Cree LEDs that are not overdriven and can be expected to last for more than 10,000 hours of use. To see how the mainstream flashlights compared, I added two inexpensive "ringers" from other countries to this test. Also, I purchased a penlight and a tactical flashlight from Amazon.
The majority of the flashlights I tested this year fit into a class called tactical flashlights. These flashlights are rugged, with an all-metal body, and are designed to mount to a helmet or a weapon. The exceptions were the Maglite and Strion, which had the classic larger bezel size and design.
My wish list hasn't changed. I want a flashlight that can deliver more than 200 lumens, has a battery state indicator, has a focusing beam, is rechargeable and can be charged from a 12-volt source. I used each light during my inspections for about two weeks to provide real-life conditions.


Streamlight Protac HL Handheld Flashlight


Streamlight products have always rated well in my evaluations and the Protac HL is no exception. It is well-constructed and amazingly bright. It has a metal clip and the switch is on the butt.
Pros:
Has 850 lumens in a 6 ¼-inch long flashlight and three modes (high, low and strobe), which can be changed via "Tap Ten" programming.
Cons:
Not rechargeable, run time in high mode is 90 minutes and the Tap Ten programming is a pain (but, to be fair, once you have the desired mode, you don't have to reprogram it).


Streamlight Strion HPL Handheld Flashlight



I have to admit this became my everyday flashlight. When I am not using it, it lives in a charging cradle in the back of my car. One concern I had was the short run time. My inspections typically last two to three hours, but even on days when I have done multiple inspections, I have never depleted the battery.
Pros:
Streamlight's quality construction, AC/DC charging cradle, small, lightweight and very bright at 615 lumens.
Cons:
Beam has hot spot in the middle, short run time, no battery indicator, higher price.


LED Lenser P5R.2



This is my backup pocket flashlight. This flashlight takes a beating and despite my fear that I would lose it, I have not. It has gone through the washing machine numerous times and still works perfectly. I was not able to get the most recent version to test, but the new model is even brighter, raising the output from 270 lumens to 420 lumens. The run time in bright mode is three hours!
Pros:
Well-built, easy to charge using a USB cable, has a focusing beam, is waterproof.
Cons:
Expensive (and small enough to miss before your pants go in the wash…).


Streamlight Protac HL-X Tactical Flashlight





Streamlight's higher-end tactical flashlight. For its size, it is bright.
Pros:
Streamlight quality, has three lighting modes (high mode is 1,000 lumens), programmable switch.
Cons:
No cradle for charging, programmable mode is a pain to do, short run time and no low battery indicator.


Skilhunt S2 Pro Tactical Flashlight



Skilhunt is a Chinese flashlight manufacturer that positions itself as a premium provider and its products show it. This flashlight is a well-thought-out, quality product. The packaging includes extra O rings, USB cable, clips and lanyards. There are two switches on the body: the power switch and the indicator switch, which changes modes.
Pros:
Tactical-sized, rechargeable, bright, has a battery status indicator, USB charging, super bright in turbo mode (1,250 lumens), simple tail cap power switch, separate switch
for modes.
Cons:
No cradle option, newer manufacturer with unknown track record. Could buy a Streamlight for same price.


Maglite Mag-Tac LED Flashlight
This is Maglite's tactical light. It comes with lithium batteries in a stand-up charging stand. Frankly, I would prefer the charging stand to be something that could be mounted in a vehicle, but I do appreciate that it uses a USB connection to the charger. I was not impressed with the plastic clip because it slides around on the light barrel and I suspect it will break. For the cost, I was expecting a metal clip.
Pros:
Four modes, charging cradle, lots of light in a small package.
Cons:
Lower output than others, short run time of 150 minutes on high, charging cradle is not vehicle-friendly.


Maglite ML150RL



In the last update, I tested the ML125 and was disappointed with it. It wasn't exceptionally bright at 186 lumens and to charge it, you had to take the nickel-cadium (NiCad) battery out of the light and put it into a charger. Recently, Maglite released a new flashlight, the ML150LR. This flashlight comes with a charger cradle that runs on 12 volts or 120 volts. This flashlight has three modes with the high setting. Call me old school, but I am accustomed to the larger flashlight size.
Pros:
Bright high mode (1,000 lumens), 12-volt rechargeable cradle, Maglite quality.
Cons:
Quality comes with cost, street price $120, no indicator of battery status.


Fitorch P26R


Fitorch has been around mostly in the flashlight enthusiast market. The specs are pretty good, with good water resistance, drop resistance and battery meter. This flashlight uses one of the brightest elements Cree makes. The brightest mode quickly overheats the element, so the flashlight steps down to 1,200 lumens after 90 seconds of use. Comes with a holster and USB cord.
Pros:
Brightest light in the test, can be a power bank, good quality, battery meter, great run time even when using turbo mode.
Cons:
Does not come with a battery, more of a floodlight than a spotlight, single button to control modes, turbo mode only good for 90 seconds, limited availability and warranty is through a company in China.


Mini Perman 1000 Lumens Penlight



My first thought was that this couldn't be a 1,000-lumen flashlight, but for $5, I wasn't expecting it. The body and pocket clip were all metal. The flashlight took a single AAA battery, and the life was reasonable. After a week of use, I still had plenty of battery left.
Pros:
Inexpensive, metal body, mini-flood beam.
Cons:
Not even close to 1,000 lumens, probably 100 lumens. Not sure how long it will last, especially if it goes through the wash.


Hictech T6 1600 Tactical Flashlight



Right out of the box, it was clear that this wasn't a high-quality flashlight, but I did like that it had a focusing beam. However, once I installed the batteries, I was disappointed with the beam as I focused from flood to spot. The spot is a little square, which is unique (normally I would expect a tight, round beam). The flashlight is advertised to have 1,600 lumens, but in reality, it's more like 400 lumens.
Pros:
Inexpensive, rugged body, focusing beam, uses AAA batteries.
Cons:
Not as bright as advertised, cheap components and short run time on batteries.



The Winners
This wasn't easy. I really liked the small, high-performance flashlights, but the lack of charging cradles kept them from daily use. My pick for my daily work flashlight is the Streamlight Strion HPL Handheld Flashlight. The Strion lives in a charging cradle in the back of my vehicle. The larger reflector allows me to carry it on my tool belt with easy access. It has held up to daily use and I have yet to exhaust the battery during my inspections.
For the minimalist, I recommend the Skilhunt S2 Pro. This was a difficult choice because the Streamlight products were very good. What pushed the Skilhunt ahead was its USB charging port and the battery indicator.
Honorable mention goes to the Fitorch P26R. This flashlight blew me away. A light with so many lumens in a small package, with a battery indicator and a power pack makes it a real contender. When I go out at night, this is the flashlight I grab. I can easily light up the neighborhood.
Interested in the results of past Flashlight Shootouts?
Check out these links to ASHI Reporter articles:
Rick Bunzel is the principal inspector with Pacific Crest Inspections and an ASHI Certified Inspector. He holds a B.A. in Business Marketing, and in the past, he chaired the marketing and public relations committees for a national home inspection organization. Locally, he is an active member with the North Puget Sound Board of Realtors and has been a firefighter for 42 years. Visit his website at www.paccrestinspections.com.