A landing page is a unique page on your website designed to convert visitors into leads. Landing pages are strategically designed with unique forms and custom content relevant to the visitor's search query. The landing page is separate from the homepage and is not accessed through site navigation. Typically, landing pages are not searched by Google and can be accessed only through an external link. This helps you track performance data and recognize trends over time.
People searching the Internet can be both impatient and lazy, so you need to give them everything they need within eight seconds. You can do this by using strategic page design and simplifying the user experience.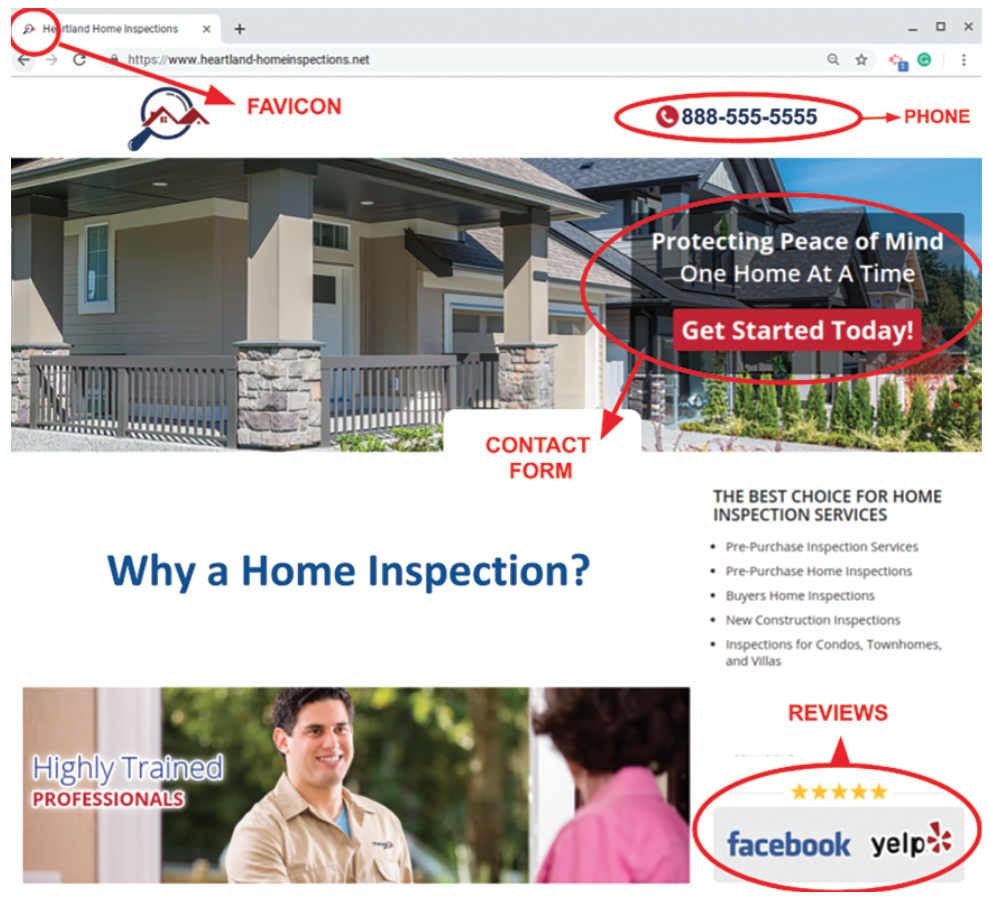 Tips for creating an effective landing page
1. Create a separate landing page for each of your business' services or locations. Each landing page confirms to the customer that you offer the services they need and makes it more likely they will contact you. Let's say that your home inspection company operates around Atlanta, GA, and your service territory covers four counties: Gwinnett, Fulton, Dekalb and Cobb. You should create a separate page for each county and customize each one with the specific location, phone number, service technician's name and other details in that location. This information will be especially helpful to your website visitors if you have different service providers in each territory.
2. Place the contact form at the top of the page, above the fold or page scroll. Think of your landing page as a piece of property and put the most important information in the most visible place. You have just a few seconds to capture the attention of the search user. Make it as easy as possible for them to contact you.
3. Include your logo and business information on every page. Your phone number should be clickable and displayed at the top right of the page, and it should be as prominent as possible without being distracting. Customize other contact information, such as business hours, email and address, for each page.
4. Prominently display your reviews, testimonials and industry awards. This is important! Approximately 86 percent of people say they trust online reviews almost as much as word of mouth. It's not necessary to include your reviews and testimonials above the fold, but it should be a focal point on the landing page.
5. Use a favicon (the icon or logo shown on the top left side of the website tab). Placing your logo as a favicon will reinforce your company's branding and show the legitimacy of your business to the user.
Making these few small design changes can significantly improve your conversion rate.
When optimized successfully, landing pages are an effective way to capture leads and generate new customers. However, optimizing for conversion is only one step of the sales process. Once you receive a lead from the landing page, you must then engage the client to book the inspection.
Give it a try: Improve your business' website landing page and notice the results!

---
Maggie Horn leads creative content and local search at K3 Marketing. Together with Andy Patel, CEO of K3M, they partner with business owners to help build brands and grow sales using PPC Ads and SEO strategies. Since 2005, K3 Marketing has helped home inspectors attract qualified visitors and convert them into leads.
For more information or to schedule a complimentary review of your marketing plan, call Maggie at 678-622-4947 or email maggie@k3.marketing.