Give online education a try. Education is at your fingertips. The ASHI Online Learning Center (AOLC) covers a growing list of content on a wide variety of topics that are designed to appeal to home inspectors with a variety of skill levels. Don't miss out on accessing this terrific member benefit—FREE to ASHI members. Visit the AOLC site, to get easy and convenient access to excellent home inspection education.
What's on the AOLC Site?
From digital recordings of sessions to ways of earning continuing education credits, the AOLC site gives ASHI members access to educational experiences 24 hours a day, seven days a week, 365 days a year. ASHI members have access to any educational session or webinar that is available, and these sessions can be viewed at any pace and on any device.
The AOLC site offers more than 150 courses, all of which are approved for earning ASHI continuing education (CE) credit. Many of these courses have been approved by states that require CE credits for license renewal. To find the list, search for approved course lists under the "State-approved" drop-down in the "Course List" section.
Explore the site and discover the educational opportunities awaiting you. Whether you are new to home inspection or have years of experience, you will find new information and ideas to help you in your business and stay on top of new technology. These eight icons represent the educational categories.
AOLC offers more than 150 courses, all of which are approved for earning ASHI continuing education (CE) credit.
Advanced Learning, Business Management, Inspecting Essentials and Specialty/Diversification: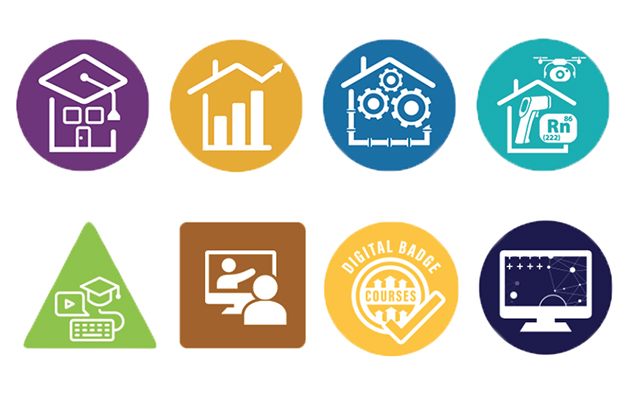 These four tracks mirror the InspectionWorld® educational program, and cover basic and advanced technical subjects, ancillary services, new technologies, and business guidance and concepts. Recorded presentations are from recent conferences, and you'll hear the presenter's narration and see the corresponding slides.
Illinois-Approved Courses:
This section contains courses designed specifically to comply with Illinois' unique online course and proctoring requirements. Each course offers 3 Illinois CE credits.
1-Hour Webinars:
Check out these webinars that focus on specific areas of home inspection management, and a series of webinars presented by home reporting software companies that provide descriptions of the software products and company services. These webinars are great for comparative shopping.
ASHI Advanced Education - These courses take a deep dive into the following subject areas: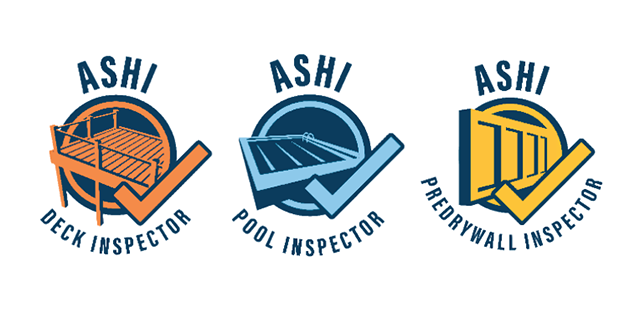 ASHI Standard Deck Inspections
ASHI Standard Swimming Pool and Spa Inspections
ASHI Standard Pre-Drywall Inspections
ASHI members can earn an ASHI Digital Badge by successfully completing the course and exam, and you can display your earned ASHI Digital Badges on your member profile and personal website. Note: To be awarded an ASHI Digital Badge, you must be an active ASHI Certified Inspector (ACI) and meet the requirements of the badge.
Education Expo Recordings:
In April and May 2020, ASHI broadcast a series of 34 live webinars to offer practical education to home inspectors who were sheltering in place due to the pandemic. Knowledgeable industry educators and experienced business experts graciously offered their time and efforts to create a full slate of one-hour and two-hour courses. You can still take advantage of these helpful courses—you'll earn ASHI CE credits, and learn new skills and tips to keep your business thriving.
Bonus! - Learn the Steps to Becoming a DOE Home Energy Score Assessor
The Home Energy Score provides homeowners, buyers and renters information about a home's energy use. Like a miles-per-gallon rating for a car, the Home Energy Score is based on a standard assessment of energy-related assets to easily compare energy use across the housing market. Training to become a DOE Home Energy Assessor is just one click away.
The ASHI Online Learning Center makes learning easy and earning your continuing education units simple.
Explore Ways to Improve Your Business
Learn new skills, expand your knowledge or brush up on familiar topics to discover the latest trends and tips.
Learn at Your Speed
Learn when you want to learn. Study at your own speed. Take a course any time during the day or week.
View On The Go
The AOLC site will function on any device of any size. The site is mobile-device optimized, so you can view your courses on a smartphone or a tablet. You can engage and participate from anywhere, any time. All you need is a computer or mobile device and access to the internet.
Easy to Use
Access your personal course records and certificates on the site under "Credits and Certificates." You can view, stop and continue later by re-accessing the course and picking up right where you left off.
Questions? Contact Michelle Santiago with any questions about the ASHI Online Learning Center and ASHI education at michelle@theashischool.com.
How to Access the AOLC
Click on the ASHI Online Learning Center (AOLC).
Step 1
Log in with ASHI member number and your last name (lowercase).
Step 2
Click on "Course List" in the menu bar. In the Search box, search by topic, approval state, speaker name or educational track. Click on the title of the course to access.
Step 3
Click on "Start Course" to begin. Complete by viewing the entire course to access the session evaluation and exam. Complete the session evaluation questions and all questions on the exam. You can retake the exam up to three times. Score a minimum of 75% on the exam to pass the course. Click "Submit."
Step 4
Click on "Certificate" to obtain a copy of your certificate.
Step 5
Choose a new class and repeat!
NOTE: For best results, we recommend using Firefox or Google Chrome browsers when viewing sessions and completing coursework on the AOLC. (Using Internet Explorer is not advised as it may cause compatibility issues.)