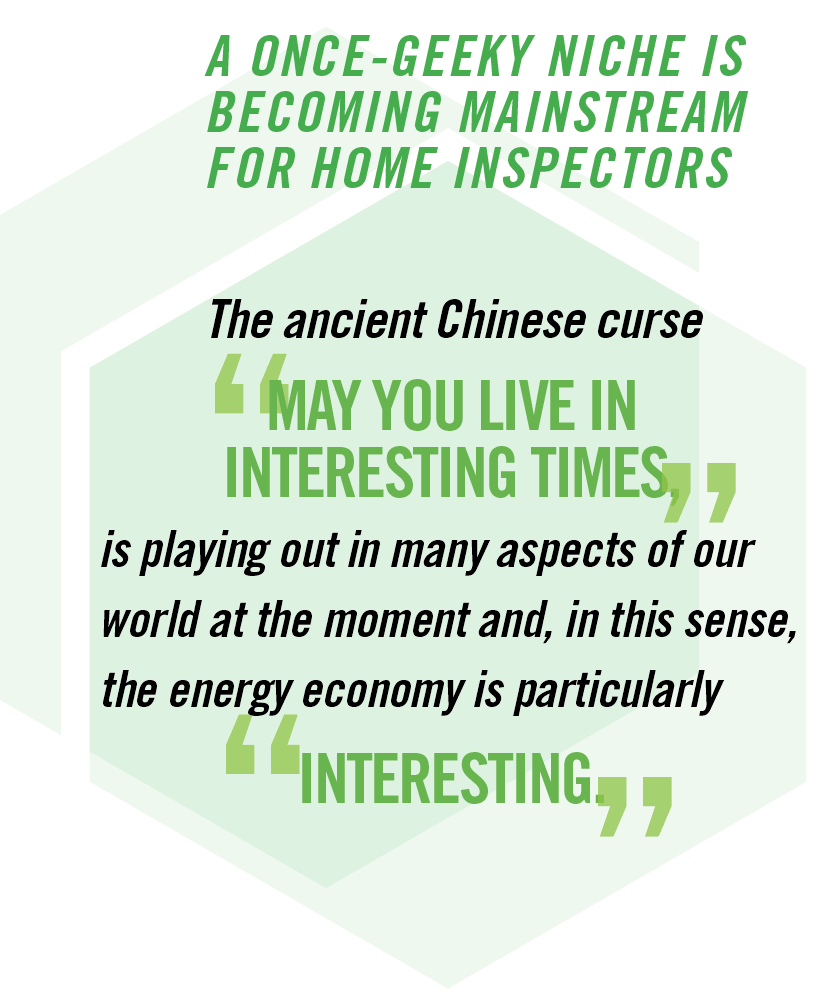 The taken-for-granted basis of every aspect of our lives—the system of electricity and gas delivered to buildings by the nation's utilities—has remained unchanged for nearly 100 years, and yet, most analysts today say that this model will be radically transformed within the next decade. Electric vehicles have become the best-selling and most desirable vehicles in the land almost overnight. Solar panels have dropped in price 80 percent during the last 10 years, and they are popping up on rooftops faster than you can say, "The future has arrived!"
All told, major changes in the world of energy are all around us, and the larger challenges we're facing on this planet tell us in no uncertain terms that those changes can't come soon enough.
And while most of us are still driving our gas-powered cars back to our energy-hogging, non-solar-panel-having homes every night, the changes we've just described are well known among members of the inspection industry, as homebuying clients look for the expertise and guidance of home inspectors to help navigate this new world as it relates to the most important purchase of their lives.
The Planets Have Aligned for Full–Service Inspectors
Conscientious inspectors have long understood the value of providing information related to the expected comfort level and energy efficiency of a home to prospective homebuyers, especially when it's clear that a buyer is looking at a house that's going to be less livable or more expensive to occupy than it looks. The problem has never been an inspector's willingness to deliver needed guidance in this way, but rather, it has been in the lack of a viable means of doing so; energy-related information has always been the province of either tooled-up, high-priced energy auditors or relegated to a well-intentioned (if liability-inviting) note on an inspection report, suggesting that the home "could probably use more insulation."
That frustrating reality has kept inspectors out of the energy-expertise game throughout the industry's history, but today we see unmistakable signs all around us that the game has changed. This is primarily due to the current version of the Home Energy Score (HES) tool from the US Department of Energy (DOE), a program that has benefited more than 100,000 homeowners in recent years, but has never really been a perfect fit for the home inspection industry…until now.
In the last year, affordable training and compliance methods created specifically for home inspectors have finally come online. The Score itself has been simplified to a point where any inspector in the country can easily offer actionable information to homebuyers without having to put their reputation on the line (that's the DOE's job) behind well-intentioned, but unsubstantiated, energy advice, and without having to devote weeks of time in a classroom and thousands of dollars on training and equipment costs toward delivering the kind of full-blown energy audits that have never been a good match for an inspector's primary role.
Word has been getting out across the industry that delivering energy-usage and comfort-related information is now a viable customer-pleasing and bottom-line–enhancing service, and what began a year or two ago as a faint trickle of interest from ambitious, trail-blazing inspectors has now become a steady stream of whole-hearted participation from inspectors representing every business type in the industry.
The Usual Suspects
One might reasonably expect that any industry push behind an initiative like this one is driven primarily by the young, the modestly scaled, the innovation-embracing and, yes, the tree-hugging among us. And while that's decidedly not the case any longer, there are some great examples of this energetic up-and-coming contingent within the new Home Energy Score wave of Certified Assessors™.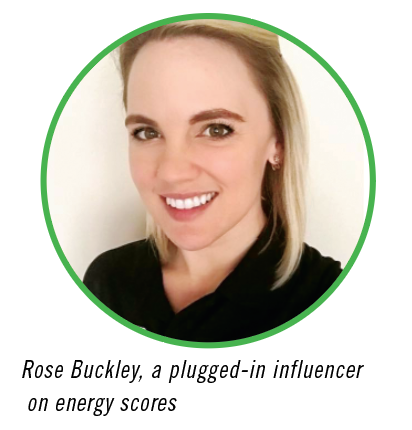 One of them is Rose Buckley. If you spend any time on inspector-focused social media, you probably feel like you already know Rose even if you've never met her in person. An established US Inspect team member in the Washington, D.C., area, Rose has unforgettable energy, technical knowledge and talent for social media, a fact attested to by her many followers and her lively, engaging comment sections.
Christened the first-ever HES "Assessor Ambassador" by ASHI Partner ID Energy, Rose sees her prominent use of the Score (she includes one with every inspection) as an extension of her broader mission, both as an inspector and as an "influencer" on social media.
"Definitely being a HES Certified Assessor™ is a way to honor our industry's environmental responsibility and also just our goal of providing good service in alerting buyers to issues that will affect how comfortable they will be in their homes," she told us recently. "But for me, it's also about building community with other inspectors, and really empowering buyers and homeowners to be more confident in what they know and in what they're able to do for their homes."
And if the HES is a great fit for that lofty objective, it's also a savvy way for Rose to build business with her agent network. "They've heard everything already, so it's hard to get in," she told us, "… but even though they know that energy performance is important, nobody's showing them a way to talk about it and so they're definitely taking my calls when I explain that I can."
The Lifeblood of the Industry
Whatever buzz a new offering can arouse among the early adopters, any practice that doesn't produce results for veteran single operators delivering tried-and-true services isn't going to go very far in this industry. Ease of entry, minimal operational impact and positive marketability are the key factors for these no-nonsense operations, so it's especially telling when the Home Energy Score proves itself a winner for this dominant category of inspector—a group exemplified by John Rodkey at JMR Inspections.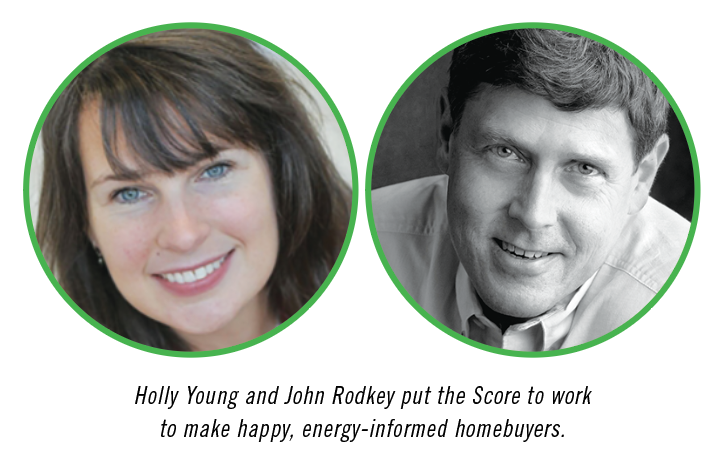 John is something of a rock star with the DOE. If you were at ASHI's InspectionWorld® in San Diego last month, you might have seen him accept an award from the Home Energy Score or watched him bypass the "pay here" registration desk because ASHI covered his registration costs in recognition of his vaunted HES status. John has been quietly including the Score on every inspection he's done for more than a year, totaling over 300 during 2018. John checks all the boxes for what it takes to be a top-tier single operator and we spoke to a couple key members of his network to understand how energy scores fit into the equation.
Not surprisingly, John has a loyal group of real estate agents in his referral group who provide the lion's share of his leads. And although many inspectors with similarly hard-won networks are careful not to rock the boat by introducing any new service that could scare off agents who might view the Score as a possible impediment to a quick sale, John happily offered up several agents with whom we could speak about their experience with it.
Holly Young with Delap Realty has performed almost 100 inspections with John over the years and a dozen of the most recent ones included the Home Energy Score. "I think it's great!" the high-performing agent told us about the HES when we caught up with her. "It's tailored to that individual home, helps my buyers save money and it's really easy to understand during a period when people are making a hundred other decisions." In keeping with the results of a recent study that showed 81 percent of today's homebuyers would buy a more energy- efficient home over a less efficient one, Holly makes no bones about her willingness to stand behind inspectors who offer the service. She told us, "I can definitely can see the Score being a factor in how I refer inspectors in the future."
Another member of Rodkey's success team is Mr. Needs-No-Introduction Mike Crow, whose Mastermind Inspection Community just awarded John its "Better Year Best" award and further recognized him for being one of only six single operators in the country to earn "Iron Man" status for exceeding the $300K gross revenue barrier. Mike reminded us that one of the primary reasons that businessmen like John can achieve these levels of success within his system is because they've adopted viable "unique sales points" to differentiate their businesses and win clients.
"We train our members to stay focused on being that one-stop shop,"
Mike told us when asked about how the Home Energy Score fits into his proven system. "I love how John has put the Score to use that way, especially because he's doing it without any subsidies or mandates. He's proven that it's a viable service anywhere in the country."
Turning the Big Ships Around
It makes sense that after gung-ho early adopters and bedrock single operators, the larger multi-inspector and franchise firms would be the last dominoes in the energy information equation to fall, but falling they are. ID Energy and the Home Energy Score team from the DOE just completed a training session last month for more than 100 inspectors at the WIN Home Inspection national conference, which means that the HES is now being offered through the WIN network in almost all major markets across the country.
The DOE tells us that they're hearing of interest from several of the major firms in this category, which likely reflects a recognition on these firms' part of both a changing homebuyer market and the flood of jurisdictions around the country that are building the Home Energy Score into various types of legislation. An example of an established multi-inspector firm taking advantage of the latter scenario is Denver-based Call2Inspect.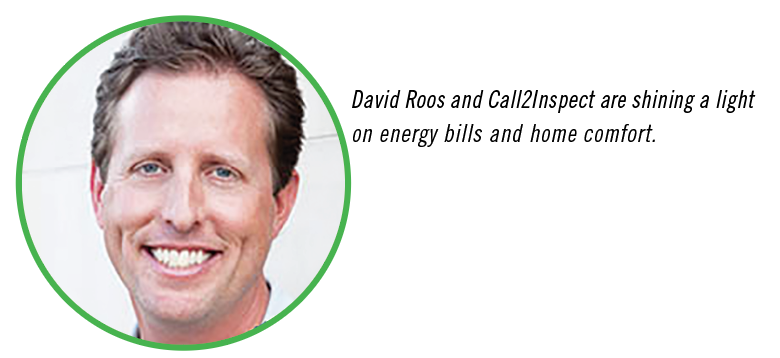 President David Roos' team of four inspectors has served that fast-growing market for 14 years, and boasts the #1 ranking in the area on Yelp. When David learned that the City of Denver was launching a pilot project to show the value of energy information delivered to homebuyers as part of an inspection, he jumped at the opportunity.
"We've always wanted to be able to deliver this kind of information,"
explained David, whose team had actually trained for the HES three years ago, while the program was still having growing pains.
"It's the kind of valuable but outside-the-Standard-of-Practice guidance that has never been encapsulated and presented in a credible way, and it's the DOE rather than my business that backs up the quality of the information."
David's excitement about the Denver pilot, which will conduct 1,000 inspection-based Home Energy Scores throughout 2019, stems in part from a marketer's awareness of the value of co-branding with trusted parties like the U.S. DOE, and of how energy expertise translates for prospective customers into an impression of overall competency and professionalism for his company. But there's something else at work for David's vision of how the Score will serve his business. He says, "You just know that a lot of these places aren't going to make people happy—it's going to cost them a fortune to heat, it's not going to be comfortable…We're not serving our clients if we leave them in the dark that way."
And that sentiment is consistent with many of the success stories that we've heard from inspectors who have adopted the Home Energy Score as a key part of their businesses in the last year—that, sure, it's necessary to stay in front of industry trends and to respond quickly to shifting market realities in real estate to ensure that our businesses prosper, but also that it's important to remember that most of us got into this industry to play an essential role for real people going through a world-changing experience, and there are proven tools out there to help us fulfill that role better.
And in light of all the literal "world changing" that we live through every day, these same tools might be just the thing to allow our industry to do its part to see that those changes are to everyone's benefit, both now and in what will surely be fine, "interesting" years ahead.