You can't use duct tape to seal a chimney. But wait, how about garbage bags and plastic wrap?
Blaine DeVoy
HKI Building Inspections
Tacoma, Wash.
Battle of the bulge
The owner told his tenants not to go into the basement. This is below their bedroom.
Paul Luczyk
"A" TEAM Inspection, Inc.
Mukilteo, Wash.
Defect as design
If the walls are eroding away … just make it a feature!
Martin Newmark
Abacus Inspection Service
Louisville, Colo.
Nope
This deck is on the edge of a 100 foot drop off to the woods. Would you trust it?
David Grudzinski
Advantage Home Inspections
Cranston, R.I.
Plenum origami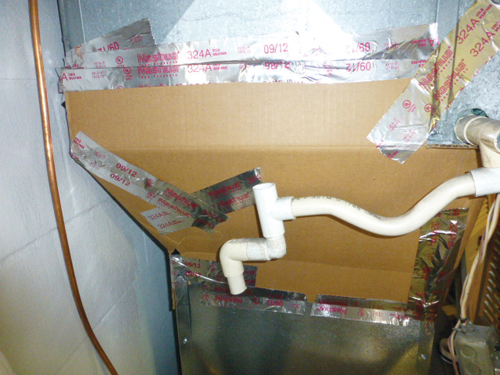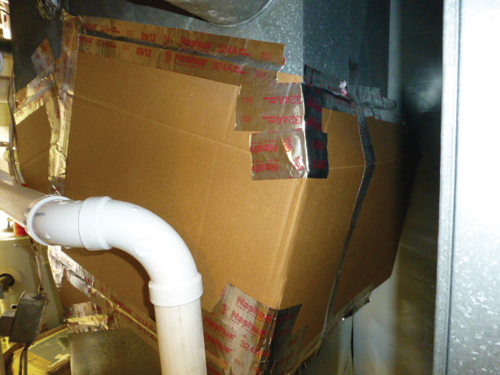 I've seen some bone-headed things in this line of work, and this one is up there on the list. It's a cardboard plenum on a forced air furnace! Maybe it was a template trial run that turned into a "permanent" install.
John Pasquella
HomeTeam Inspection Service
Pittsburgh, Pa.
Lonely 'lil cactus
This valley flashing needs a cleaning, or this cactus needs a friend.
Mike Lauby
Sunland Home Inspection
Phoenix, Ariz.
Welcome to the crawl space. Zap!
When you don't know where to mount the main panel box, just mount it in the access opening to the crawl space. The panel will be easy to get to when you want the shock of your life.
Scott Hagan
National Property Inspections
Abbottstown, Pa.
How about calling it the Flame-o-Matic?
This is a fireplace with a closet enclosure and rod. I call it the closet, clothes dryer and heat source all in one.
Joel Webber
Old Dominion Home Inspection Services
Stafford, Va.
Eye spy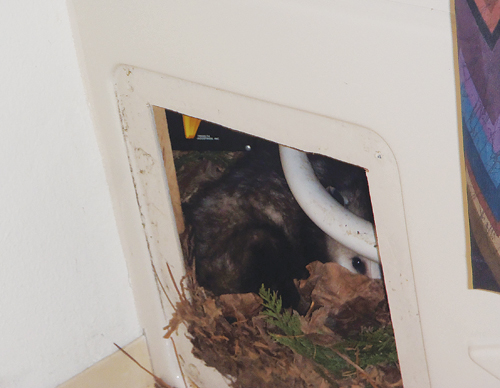 Is this opossum taking a Jacuzzi bath? No just hiding underneath! Scared the heck out of us!
Jim Estrada
Property Inspector, LLC
Woodinville, Wash.
How kooky is thy roof valley?
This is a new roof install on a 20-year-old home! Sometimes you just have to wonder "What were they thinking?" But then, that's why we have such a good job!
Charlie Yates
WIN Home Inspection Crown Point
Crown Point, Ind.
Headed in the right direction
After 40 faithful years of marriage, I'm glad my wife trusts me to go anywhere needed to perform a home inspection.
Dwayne Hoffman
Hoffman Home Inspections
Lancaster, Ohio