Marketing is a very important part of your business. Having a solid marketing strategy can be what sets you apart from others and what ultimately sells your service. Many inspectors focus on their business cards, websites, brochures and the list goes on. These marketing tools are certainly important; however, don't forget that a client's first impression of your business may begin with your appearance. How you look can give or take away business from you. Your appearance matters!
As ASHI Past–President John Heyn stated, "When I started, I always wore a tie because I wanted to show the real estate agents that a home inspector is a professional, just like they are. I started the business not as a tradesman, but as a professional, on the same level as the real estate agents, and I built some respect for that."
How we dress and look gives others a perception of how serious we take ourselves and our business. In March 2013, Forbes magazine published an article titled "You Are Judged by Your Appearance," about the importance of appearance in society and business. Ty Kiisel, the author of the article, shed light on how "we are under the microscope every day" and that we are judged by how we are dressed and groomed. Read the whole article here.

For a home inspector, it's obvious that a suit or dress would be uncomfortable to wear on the job, but a collared shirt, tucked in, with a pair of tailored pants and polished boots can do the trick.
At IW in January 2018, I had the pleasure of meeting a member who is very successful in his business. He has mentored home inspectors and whenever anyone joined his company, he made one thing clear: You need to be well groomed and dress well. He expects every person who works for his company to see themselves as a representative of the company and to dress the part…as a home inspector who belongs to a successful, professional company.
You can even use your clothing as a way to market your business, by adding your company logo to your shirts or jackets. The ASHI Store offers a great variety of shirts, jackets and hats that can be customized with the ASHI logo and your company logo. Visit the ASHI Store for more information on pricing and sizes: www.ashistore.com
If you are new to the profession or need some help, here are some tips on what to wear: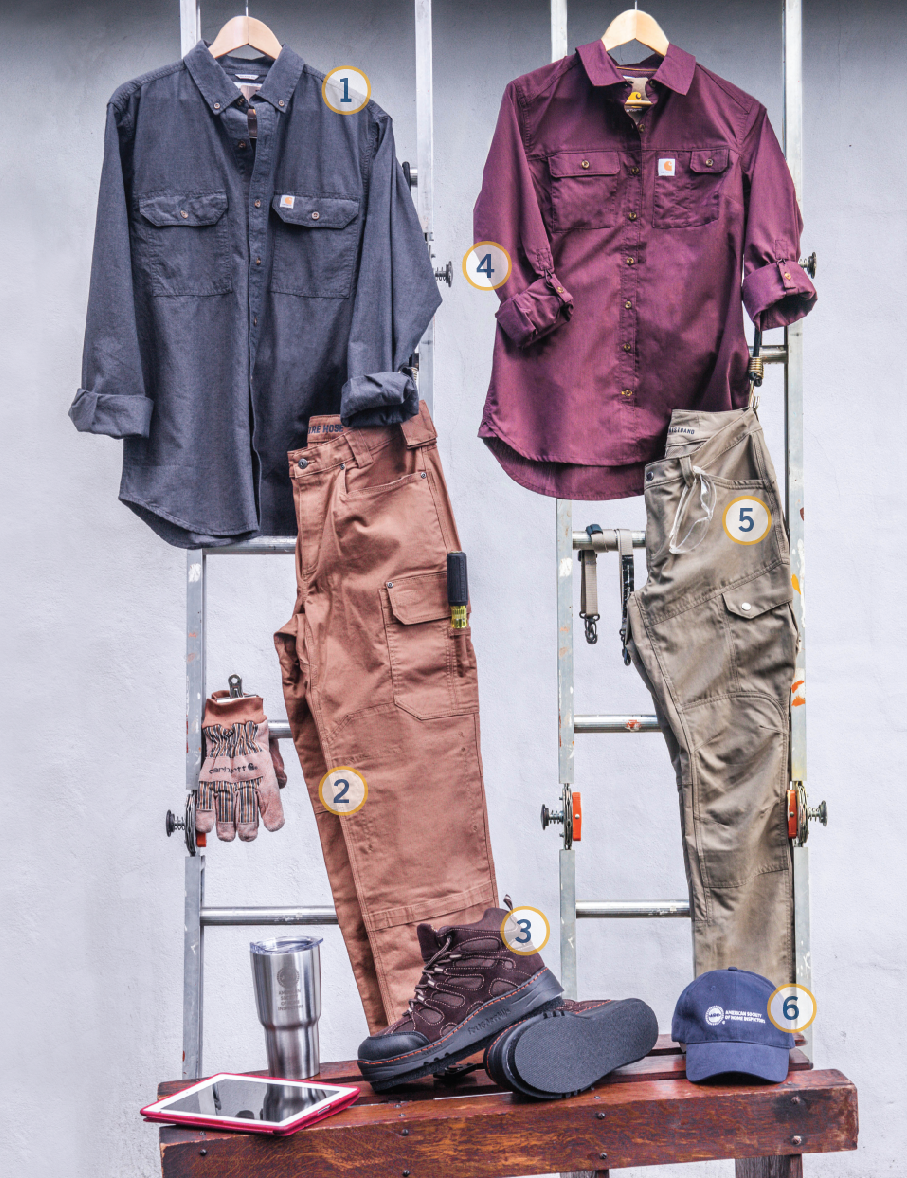 1. Carhartt Men's Fort Lightweight Button Front Relaxed Fit, Black Chambray
Sold by: Amazon.com Services, Inc. $34.99
This shirt comes in four different colors and is made with durable 100% cotton. Staying comfortable while keeping a professional look.
2. Men's DuluthFlex Fire Hose Cargo Work Pants, Brown
Sold by: Duluth Trading Company $74.50
These pants are made with cotton canvas and have 3% spandex to provide flexibility when you climb or bend. Bonus feature: The pants have a built–in kneepad pocket that allows you to insert kneepads.
3. Cougar Paws Men's Estimator Roofing Boot 10 Brown
Sold by: Cross Country Distributing, Inc. $144.00
These boots are worth the splurge! They keep your feet in place while you're walking on sloped roofs. To read a review written by one of our members, visit www.StructureTech1.com
4. Carhartt Women's Force Ridgefield Shirt, Deep Wine
Sold by: Amazon.com Services, Inc. $49.99
This shirt has a mesh-lined vent at the center back, which allows flow-through ventilation. Designed to keep you cool on inspections.
5. Women's Flextra Tough Slim Leg Work Pants, Marsh Green
Sold by: Duluth Trading Company $59.99
These pants are abrasion-resistant and have reinforced double–layer knees for extra durability. They are UPF 40, which helps block harmful rays while you work outside, and are super comfortable
6. Embroidered Accesory
Sold by: Vendor of your choice
Adding an embroidered accent such as your company name or the ASHI logo will give you an added professional touch!
If you have suggestions for great work wear or would like to comment on this topic, please contact me at jeng@ashi.org.