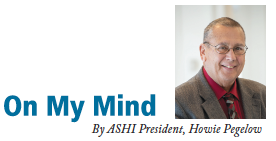 From time to time over the many years I've been involved within ASHI, I've heard questions like these: Who are the leaders of ASHI? How exactly did they become our leaders?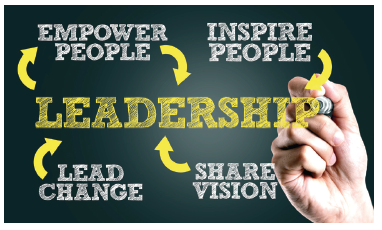 To answer these questions, I begin by noting that leadership usually starts at the chapter level. As soon as a new associate member joins ASHI, he or she is listed in our records within a geographical chapter area. In turn, designated chapter representatives routinely receive a New Member Listing for the purpose of making a personal contact with each new member. This contact is intended to introduce our new members to ASHI on the chapter level.
Once a new member has been contacted by a chapter representative, it is up to the associate member to decide what his or her involvement with the chapter's programs will be. New associate members tend to join the chapter in closest proximity to their home and
business; however, some new members join multiple chapters that cover a wider regional range. Then again, for various reasons, many new members opt to not join a chapter.
Members who do join a chapter tend to attend the chapter's meetings for education and for camaraderie. Within chapters, long-lasting friendships are made and nurtured. Words of encouragement from fellow chapter members may lead others to accept assignments within the various chapter committees. Once a person has experience on a committee, he or she is just one step away from becoming a member of the chapter's board of directors or an officer. Each member's involvement is limited only by the time and energy the member decides to put forth, and the level to which he or she wants to participate.
In addition to leadership at the chapter level, members can start on a path to become part of the national leadership by joining one of ASHI's national committees or the Council of Representatives (CoR).
The CoR is comprised of chapter members who are selected to represent each chapter's best interests. The CoR is made up of area group leaders, led by a speaker and an alternate. The Speaker of the CoR is an ex officio member of the ASHI Board of Directors; this person's role is to collect information from the various chapters and present that information to the Board. At times, ASHI's board members will request assistance from the Speaker and members of the CoR on special tasks that involve the chapters and their members.
Members of the ASHI Board of Directors are selected and elected from the CoR, and they serve a three-year term. So, even though the ASHI Board is a diversified group of individuals, their respective roots start at the chapter level as members of the CoR.
Usually, once a director completes his or her term on the national level, he or she returns to the chapter level and continues to work
on various committees. Some former directors continue to serve on national committees, such as the nominating committees for directors and officers.
ASHI members also may decide to seek election for an officer's position. If elected, the member then has the option to seek even higher levels within the ASHI leadership, all the way up to attaining the position of ASHI President.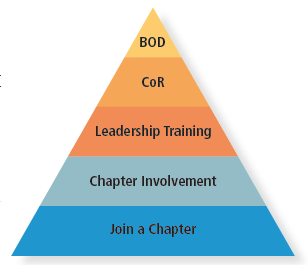 I hope you'll see in this brief overview what can happen when an ASHI member wants to explore his or her options in the ladder of ASHI leadership. If you'd like to achieve one of these positions of leadership, I encourage you to reach out to your fellow chapter members or any of the members of the ASHI Board of Directors.
Maybe a new associate member who is reading this article today will become ASHI President someday. Could that someone be you? Become involved in ASHI at the chapter or national level and find out just how far you can go!